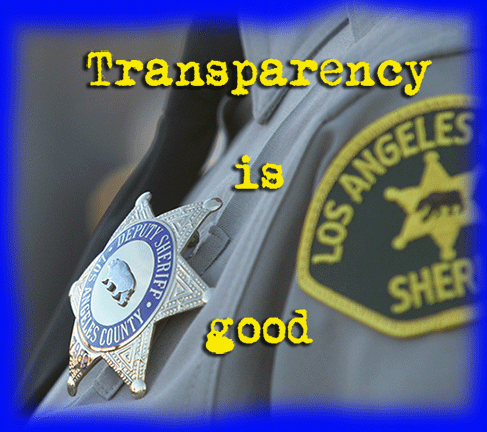 FOUR LA SHERIFF'S DEPARTMENT MEMBERS INVESTIGATED FOR THEFT AND BRIBERY ALLEGATIONS
Four members of the Los Angeles County Sheriff's Department have been relieved of duty without pay pending the outcome of a criminal investigation into reports that the four engaged in a scheme of thefts and bribes regarding towed vehicles or vehicles about to be towed.
According to a statement released by the LASD on Monday morning, the department became aware in December 2014 of evidence that three deputy sheriffs and a parking control officer were implicated in individual incidents of theft from towed vehicles or accepting cash from vehicle owners to avoid towing and impounding of their vehicles. All four of the department members relieved of duty worked out of Century Station located in Lynwood.
As of now, department investigators do not believe that any additional personnel were involved in the alleged theft and bribery.
"As a law enforcement organization, it is imperative that we earn the public's trust each day," Sheriff Jim McDonnell said in an email that went to all department members. "Acts such as those described above tarnish the badge all of us wear and erode the confidence the public has in law enforcement.
"We will respond swiftly and resolutely whenever acts of this nature come to our attention," McDonnell continued. "We must demonstrate to the public and to our own Department family that conduct which violates the public trust will not be tolerated. In doing so we also reaffirm that the vast majority of our personnel perform their duties in an exemplary manner."
The department is pointing to the announcement of the investigation as evidence of a new policy of transparency.
Those department members—working and retired—we spoke with about the matter on Monday said they appreciated the strategy.
"It sets a good tone," said one retired LASD lieutenant. "It says the department is no longer going to tolerate this kind of nonsense."
(Los Angeles County Sheriff's Department badge and patch photo above by Jaime Lopez, LASD)
---
ARE SOME OF CALIFORNIA'S POOREST CRIMINAL DEFENDANTS GETTING A CUT RATE DEFENSE?
In the 1963 landmark SCOTUS decision of Gideon v. Wainwright, the U.S. Supreme Court ruled that the assistance of counsel for a defendant who could not afford to hire a lawyer was a fundamental right under the United States Constitution. The court's ruling specified that such legal assistance applied to the preparation for trial as well as the trial itself.
According to a new report by the California Commission on the Fair Administration of Justice, more and more of the state's counties are cutting funds formerly allocated to provide lawyers for those in need of counsel—and many defendants are getting inadequate "cut-rate" representation as a consequence.
Karen de Sá of the San Jose Mercury News has more on the story. Here are some clips:
Counties are increasingly hiring legal firms that offer cut-rate representation by failing to spend money on investigators or experts that are needed for adequate defense, said the report issued by the California Commission on the Fair Administration of Justice, created to examine ways to guard against wrongful convictions.

"This is like a cancer within the system of providing indigent defense, and it's spreading," said Gerald Uelmen, executive director of the so-called Fair Commission, calling the spread of low-bid, flat-fee private firms "a race to the bottom."
Traditional public defenders in the pay of the various California counties are generally okay, said the report.
But lawyers who are paid a flat fee for representation, the report said, may be tempted to cut corners on pretrial preparation and avoid going to trial to save time and money.

As a solution, commissioners recommend that the state Legislature establish a body to oversee the way counties provide representation to criminal defendants, and also recommend a law to ensure that funding for experts and investigators is separate from the fee paid to the lawyers in publicly funded cases.

The Fair Administration of Justice Commission report cited research by California Western School of Law Professor Larry Benner, who found that inadequate investigation is a recurring problem in cases in which convictions were overturned because of poor representation….
The new California-based report reflects other dismal reports outlining a national crisis in indigent defense that prevents a growing number of Americans from getting adequate legal representation when they most urgently need it.
---
ARE FEDERAL PROSECUTORS GUNNING FOR BACA AND TANAKA WITH NEW GRAND JURY SUBPOENAS?
For the last month or so we'd been hearing that various current or former members of the Los Angeles Sheriff's Department had received subpoenas to appear in front of a federal grand jury, as part of an ongoing investigation into the events that resulted in the conviction of seven LASD members for obstruction of justice last year.
Moreover, several of those who were asked to appear were among the seven former department members who have already been convicted. Since all seven contended that the actions that led to their convictions were the result of orders that originated at the LASD's highest echelon—namely from Baca and Tanaka—there has been much speculation that federal prosecutors are now hoping to indict some of those very former department higher ups.
Over the weekend, the LA Times' Cindy Chang reported on the matter of the new grandjury subpoenas.
She wrote:
The questioning has focused partly on meetings where then-Sheriff Lee Baca and his No. 2, Paul Tanaka, discussed how to deal with the discovery of a cellphone provided to a county jail inmate by the FBI. In addition to the convicted officials, some current Sheriff's Department officials have also received grand jury subpoenas.

Many in the Sheriff's Department believe that low-ranking officials took the fall for following orders from Tanaka and Baca. Now, with the convening of the grand jury, it appears that prosecutors are attempting to target more sheriff's officials after convicting seven last year for obstructing justice.

Of the seven, Gregory Thompson, a former lieutenant, and two ex-deputies, Gerard Smith and Mickey Manzo, are known to have testified before the grand jury in December, according to a source.
Brian Moriguchi, president of the L.A. County Professional Peace Officers Assn. (PPOA), the union that represents sheriff's department supervisors, said that he knows of at least one more grand jury subpoena related to the obstruction of justice issue. But, he said, he has heard credible reports of still more such subpoenas.
So will there be new indictments?
When LASD Captain Tom Carey testified at the trials of the seven last year, he admitted that he was the subject of an ongoing federal criminal investigation. And, as WLA has previously reported, Carey was relieved of duty in December pending the result of an internal departmental investigation.
Tanaka also admitted last year to knowing he was the subject of a federal criminal probe.
Yet, despite much pestering on the part of reporters, WLA included, federal prosecutors and a spokesman for the U.S. Attorney's office have repeatedly declined to comment on the possibility—or lack thereof—of more indictments, and will say only that the investigation is ongoing.
Still, the new grand jury hearings have fueled new rounds of speculation.
"Of course, many of us hope the government is going to reach higher than those who have already been convicted," Moriguchi said. "But in the end all we can do is speculate. It's hopeful speculation, but it's speculation, nonetheless."
NOTE: Chang's story has more that you'll likely find interesting, so be sure to read the whole thing.
---
LA PRESS CLUB 2015 AWARD FOR COURAGE & INTEGRITY IN JOURNALISM TO GO TO CHARLIE HEBDO
The Los Angeles Press Club announced on Monday that its 2015 Daniel Pearl Award for Courage and Integrity in Journalism will go to Charlie Hebdo.
"We are deeply honored. Of course, we'll accept, said Gerard Biard, Editor-in-Chief of Charlie Hebdo.
"No act of terrorism can stop freedom of speech. Giving the Daniel Pearl Award to Charlie Hebdo is a strong message to that effect," said LA Press Club President Robert Kovacik of NBC LA.
Since 2002, the Los Angeles Press Club in conjunction with Judea and Ruth Pearl, the parents of Wall Street Journal journalist Daniel Pearl—who was kidnapped in 2002 by Pakistani militants and later murdered by Al-Qaeda's Khalid Sheikh Mohammed—have handed out the award to those who have displayed unusual courage in reporting.
Past recipients have included Richard Engel, the NBC correspondent who covered multiple mid east wars on the front lines, before being abducted in Syria in 2012, and Anna Politkovskaya, the Russian journalist/author who became famous for her reporting on the conflict in Chechnya, who was murdered in 2006 in the elevator outside her apartment in what was widely viewed as an ordered assassination to prevent her latest deeply reported story from being published.
The 2015 award will be presented by Judea and Ruth Pearl at a gala awards dinner held at the Biltmore hotel in Los Angeles on Sunday, June 28th.
In the meantime, Charlie Hebdo's first cover since the murderous attack on its Paris offices that killed 12 people, will feature a tearful prophet Mohammed holding a sign that reads "Je suis Charlie." The magazine's headline says "All is forgiven."
The magazine, which will go on sale on Wednesday, will reportedly print as many as record 3 million copies in 16 languages, instead of its usual 60,000.
The cover cartoon, which you can see below, was drawn by the weekly's cartoonist Luz, who survived the massacre because he was late arriving at the office.
(Click on the Charlie Hebdo cover image to enlarge it.)