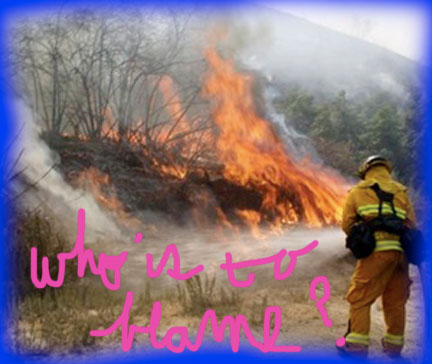 While there have been no suspects arrested yet in the deadly Station fire, Wednesday police had a press conference to announce they had a suspect in the recent (and still burning) fire near Yucaipa. Here's what the LA Times said about the arrest:

A 16-year-old boy seen riding a bike away from a brush fire near Yucaipa on Wednesday is suspected of starting a dozen fires that ravaged the area over the last three years, including two large blazes earlier this month.
San Bernardino County prosecutors are trying to figure out if they should try the 16-year old as an adult. (Answer: No. You shouldn't.)
But the rather mind boggling thing is the fact that the cops believe their teenage suspect may have set between 12 and 14 other fires in the past three years.

Really? 12 to 14 fires? Where were the adults when this adolescent firebug was striking matches? This boy has been setting blazes since he was 13-years-old and no one has thought to intervene until now? And, now, of course, we want to send him to adult prison?
If I were an editor with reporters to assign, I would put someone on the boy the minute that his name is released. Who is this kid and why has he (allegedly) been setting fires? And who else should have known about his arsonist's proclivities? The answer is bound to be telling.
[NOTE: Light posting this morning. Back with more soon.]