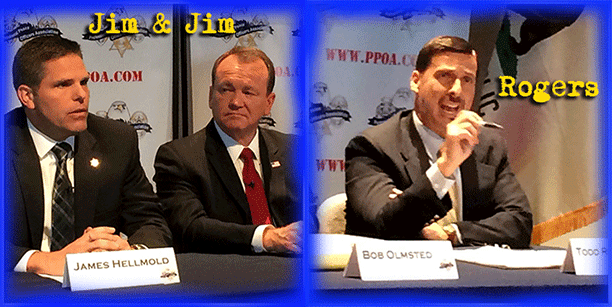 GENE MADDAUS ON RELATIONSHIP BETWEEN BACA + HELLMOLD
When Lee Baca resigned as LA County Sheriff, he announced his support of either Assistant Sheriff James Hellmold or Assistant Sheriff Todd Rogers to take command of the department.
Since that announcement, however, Baca has shifted away from Rogers, who has made it clear in interviews and debates that he is not afraid to criticize the former sheriff and the condition he left the department in. Baca now supports outsider Long Beach Police Chief Jim McDonnell, if Hellmold doesn't win.
LA Weekly's Gene Maddaus takes a refreshingly balanced look at the Baca-Hellmold connection and its implications. Here's a clip:
Though he is generally cast as an "insider" in the race, Rogers has been vocal in criticizing a culture of cronyism in the department. Among other things, Rogers has accused Baca of giving out concealed weapons permits to his wealthy friends.

At a recent candidates' forum, Rogers said that when Baca promoted him to assistant sheriff in 2013, "there was a giant bowl of Kool-Aid in the office and people were drinking from that. I took that Kool-Aid and dumped it out."

Baca now considers Rogers to be a "back-stabber," according to the source. In fact, Rogers is no longer even Baca's second choice to be sheriff. If Hellmold does not win, Baca prefers James McDonnell, the Long Beach police chief.

This is not news to Rogers. In an interview, Rogers says it was "common knowledge" among those involved in the race that Baca is supporting Hellmold behind the scenes. Rogers says his own supporters have called him to say that Baca encouraged them to back Hellmold.

Rogers also says he remains "flabbergasted" that Baca ever publicly supported him, in light of how critical Rogers had been of Baca's management of the department.
Although Hellmold has said he will continue many of Baca's programs and policies, and still regularly speaks with the former sheriff, he maintains that he is not receiving any help from Baca or his former supporters. (We at WLA would like to know a little more about Hellmold-donor Ryan Kavanaugh, a former big-time supporter of Baca's Sheriff's Youth Foundation.)
In a separate interview, Hellmold says that he still talks to Baca regularly, but that Baca has done nothing – even behind the scenes – to back his campaign.

Told of Rogers' statements, Hellmold says "It's all in his head."

Hellmold has raised $439,000, more than double what Rogers has raised.

"Everyone was shocked that within a month we raised $100,000," Hellmold says. "Not one penny came from any of Baca's previous supporters."
AND IN RELATED NEWS…
The LA Times' Cindy Chang has a new profile of Long Beach Police Chief Jim McDonnell. Here's a clip:
As the only serious contender without roots in the department, McDonnell has attracted high-profile endorsements and a substantial war chest from those who believe that change can best come from outside. A McDonnell victory would be historic: For a century, L.A. County voters have chosen a sheriff from inside the department.

McDonnell's opponents in the Tuesday primary, who include two assistant sheriffs and a retired undersheriff, argue that only someone steeped in the department's unique mix of jail management and street-level policing can turn the place around.

"He's a very respected law enforcement professional…. To me it's not about whether he has the knowledge or capability, but it's the internal knowledge within the Los Angeles County Sheriff's Department," said Assistant Sheriff James Hellmold, a candidate with 25 years in the department.

McDonnell, 54, deflects those criticisms by promising to appoint top aides from within. He cites his service on the Citizens' Commission on Jail Violence, which issued influential recommendations on how to fix the nation's largest county jail system.

"I bring a fresh perspective from the outside. I'm not encumbered by internal alliances," McDonnell said. "I didn't grow up with people in the organization. I don't owe anybody anything."

[SNIP]

In Long Beach, McDonnell leads a force diminished by budget cuts to just over 800 sworn officers. He has been criticized for a rise in officer-involved shootings, as well as the 2013 beating of an unarmed man. Last month, Long Beach officers fatally shot a 36-year-old man who was allegedly armed only with a wooden stick as he fled down a set of stairs. The man's family has filed a $10-million claim against the city.

…McDonnell said the department is always trying to improve.

"We're looking for red flags: training issues, equipment issues, tactical issues," McDonnell said. "Are there things we need to do with the individual officer, with the unit or department-wide training?"
---
NEW CALIFORNIA RESOLUTION TO ADDRESS KIDS' EXPOSURE TO TRAUMA AND TOXIC STRESS
California Assemblymembers have introduced a promising new resolution urging the state to find evidence-based solutions to minimize kids' exposure to adverse childhood experiences (ACEs) and toxic stress.
The resolution calls for preventative health care and mental health interventions to counteract trauma exposure and help kids have better outcomes and fewer encounters with the justice system. The resolution is co-authored by Assemblymembers Raul Bocanegra (D-Los Angeles), Rob Bonta, (D-Alameda), Bradford, Joan Buchanan (D-San Ramon), and Ian Calderon (D-City of Industry), and co-sponsored by the Center for Youth Wellness, Children Now and Californians for Safety and Justice.
Here are some clips from the announcement:
"Far too often, the impact of trauma in our children's lives goes unnoticed and unaddressed," said Asm. Bocanegra. "ACR 155 emphasizes our commitment to ensuring that all kids have a chance to thrive. It is more effective and less costly to positively influence the architecture of a child's developing brain than to attempt to correct poor learning, health and behavior later on."

Adverse childhood experiences (ACEs) are traumatic experiences, such as abuse, neglect and household dysfunction, which can result in toxic stress and have a profound effect on a child's developing brain and body. Research shows that exposure to childhood trauma is surprisingly common; a study of over 17,000 Californians found that two-thirds reported at least one adverse childhood experience, while 20 percent of participants reported three or more ACEs.

"Every parent, pediatrician and policymaker should be familiar with the words 'toxic stress' and 'adverse childhood experiences," said Dr. Nadine Burke Harris, founder and CEO of the Center for Youth Wellness. "The data around ACEs and their impact on children's long-term health exposes the scope of the problem and the opportunity we have to heal. By identifying effective solutions and interventions to prevent ACEs and heal toxic stress, we can make kids healthier and build stronger families and communities."

Exposure to adverse experiences is linked to increased risk for lifelong health and behavior problems. For example, research shows that an individual with four or more ACEs is more likely to have a stroke, chronic obstructive pulmonary disease, cancer and diabetes. A person with four or more ACEs is also likely to experience depression, be more suicidal, or be an alcoholic.

"Trauma in its many forms can profoundly affect children's healthy social, emotional and physical development, and their ability to learn and thrive," said Ted Lempert, president of Children Now. "California must ensure that every child has access to evidence-based preventive and intervention programs to reduce the impacts of ACEs on individuals and inflated costs to our health care and public health systems."

[SNIP]

"Addressing the impact of trauma on children is not just a response to violence but also a step toward preventing future trauma," said Lenore Anderson, executive director of Californians for Safety and Justice. "The right interventions can help a vulnerable child avoid future exposures to violence that could otherwise have devastating effects on their ability to stay in school, stay healthy and stay out of trouble."
---
CALIFORNIA HIGH COURT SAYS PUBLIC HAS A RIGHT TO KNOW NAMES OF OFFICERS INVOLVED IN SHOOTINGS
In 2010 the city of Long Beach released the names of police officers involved in shooting incidents to the LA Times. The Long Beach Police Officers Association sued the city, arguing that the information would endanger officers.
On Thursday, the California Supreme Court ruled 6-1 that law enforcement agencies have to disclose the names of officers involved in shootings (per the Public Records Act), unless the department could establish that such an action would threaten the officers' lives.
The Long Beach Press-Telegram's Greg Yee has the story. Here's a clip:
In a 6-1 decision, the Supreme Court rejected the arguments of the Long Beach police union, concluding there is a presumption that the public has a right to know the identities of officers involved in shooting incidents. While the justices indicated there may be circumstances that would permit keeping the information secret, particularly if an officer's safety might be jeopardized, departments do not have a sweeping right to withhold the officers' identities in the aftermath of shootings.

"We reject that blanket rule," Justice Joyce Kennard, who retired this spring with the case pending, wrote for the majority.

Long Beach Police Officers Association officials said in a statement it was "unfortunate that the majority of the Court does not recognize the safety concerns created for officers and their families involved in critical incidents when their names are released publicly."

Union officials went on to say the organization "respectfully disagree(s) with the Court's majority opinion that the public's interest in this information outweighs the safety of the involved officers and their families. Police officers and other public safety personnel already face a wide range of risks. It is unfair and unconscionable that we should add the safety of their families and homes to that list as well."

Justice Ming Chin was the lone dissent, siding with the Long Beach police union, which was joined by some other law enforcement groups in the case. Chin argued that the information is exempt from public records laws because it threatens police rights to privacy.

Long Beach Police Chief Jim McDonnell, who is running for Los Angeles County sheriff, said in a statement Thursday that he is committed to "transparency, openness and public access in regard to the work of law enforcement. Indeed, it is my view that too often law enforcement treats the vast majority of what it does as a secret and dissuades public involvement, when in fact very little need be kept confidential and the engagement of our community should be embraced and welcomed."

However he said the privacy needs of officers and their families needs to be balanced with this.

"I look forward to the direction from our City Attorney in regard to the implementation of this decision," McDonnell said.