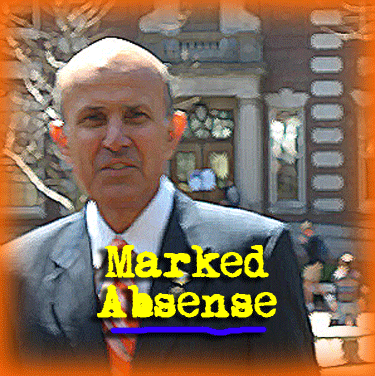 SHERIFF BACA'S WELL-TIMED AND FREQUENT TRIPS AWAY FROM LOS ANGELES
As we look toward the Jails Commission report Friday, LA Weekly calls our attention to data showing that Sheriff Lee Baca was absent from the county for over a month between January and July at the height of LASD's expanding scandal. The information came to light as a result of a records request by eagle-eye county-watcher Eric Preven.
LA Weekly's Simone Wilson has the story. Here's a clip:
Instead of providing answers to dozens of black-and-blue L.A. County jail inmates and the ACLU, or addressing his deputies' brutal, gang-like policing tactics…

… Baca apparently split town as much as his travel budget would allow, making himself into some kind of international ambassador for feel-good cop philosophies like "public trust policing" and "education-based incarceration." (Although we're really not sure how anyone takes him seriously on those issues, considering that the level of mistrust between his department and the Los Angeles public is at an all-time high.)

Baca's travel record shows that he took a total of 18 trips between January and July, spending thousands of taxpayer dollars on flights and hotel rooms so that he could sprinkle his L.A. Sheriff's wisdoms all across the globe.

Here, his five strangest/silliest appearances in 2012 so far:

Feb. 11 in Washington, D.C.: Meeting with Foreign Minister of Turkey
April 13-14 in Seattle, Washington: The Pacific Institute Spirit Board Meeting
April 21-23 in Las Vegas, Nevada: Baker to Vegas Challenge Cup Relay
May 18-22 in Doha, Qatar: Doha Forum
June 22 in Washington, D.C.: Keynote Speaker at American-Arab Anti-Discrimination Committee Conference
---
SHORT-COMINGS OF CIVILIAN OVERSIGHT OF LASD
The LA Times reports flaws in civilian oversight of the sheriff's dept. Jack Leonard and Robert Faturechi have the story. Here's how it opens:
Revelations of brutality by Los Angeles County sheriff's deputies and cover-ups inside the jails have exposed significant shortcomings in the department's civilian watchdog system, which was created to prevent such misconduct.

The watchdogs have come under scrutiny from county supervisors and investigators for a commission examining jail abuse. The investigators found that neither of the two main civilian monitors regularly analyzed data that tracks violent encounters between deputies and inmates or examined how the department handled inmate complaints.
---
ALMOST INSTANT PHILADELPHIA ARREST DATA SENT DIRECTLY TO YOUR INBOX
Pennsylvania reporter Andrew McGill developed an arrest-tracking tool called Philly Rap Sheet. "It's a small entry in the growing tradition of data-journalism innovation on the cops-and-courts beat — from chicagocrime.org to EveryBlock to Crime L.A. and many more," writes Adrienne LaFrance of Harvard's Nieman Journalism Lab. This may be a good thing to consider for compiling statistics in other parts of the nation. While this technology is pulling data from public records that anyone can access, there seem to be some questions of ethics in regard to publishing—via mass email alerts—the names of those who later get their charges dropped or their records expunged.
LaFrance interviewed Andrew McGill on his arrest-tracking tool. Here's a clip from the Q & A:
LaFrance: So what's your vision for this thing?

McGill: I don't know. It's tough. I want to add historical data. So I spent a little bit of money to get data back to around 2005, which is not that far back, but at least it's historical data. I want to backload that in. But in terms of the next step, it's tough to say.

I want to get into a little bit more analytics. I think it'd be nice to add more realms of information to cross reference. I might look again at some things and see if I can pull some more data out of the existing sheets. Geography-wise, I do have what police district arrests are in, and I haven't done a lot with that. So I want to try to start doing that, and maybe have a newsletter. Right now, I just have alerts.

LaFrance: And as a reporter, those are so helpful, I'm sure. You can be tracking all the murders.

McGill: That's what I have set up for my alert. Unfortunately, it also pulls in attempted murder and stuff like that. I want to be able to get a summation newsletter out that you sign up for and say, "Okay, you're in this neighborhood, and these crimes happened in your vicinity, and this is how it compared to last year," and you would get this once a month or something. I don't want to inundate people, but I think there's room for a little more statistics pushing.
---
FREE MUSEUM DAY! (MUSEUMS ARE GOOD.)
By the way, this Saturday is Smithsonian's "Museum Day Live!", a day of free museum entry across the nation. Of course, there are lots of museums and art exhibits you can visit for free all year long (like the California Science Center's permanent exhibits and the Getty), but for those participating museums you can't visit any time, you can download two free tickets per person here. Beware: this weekend is Carmageddon Part 2, so take that into consideration and plan accordingly.