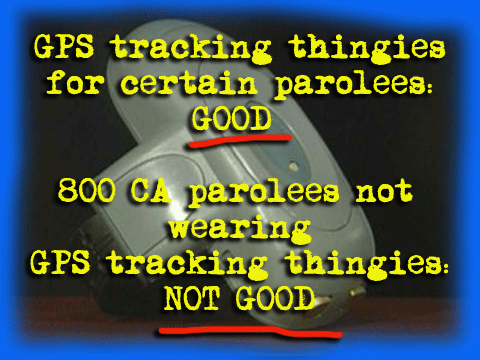 According to State Senator Ted Lieu, around 800 California parolees who were assigned GBS monitoring have either cut off their devices, or never kept their appointments to get the things put on the first place.
With these GPS scofflaws in mind, Lieu told KPCC's Rina Palta, that there needs to be a bigger, badder consequence for not wearing your GPS on when you've been assigned one. In January, Lieu plans to introduce a bill to fix the matter.
Here's a clip from Palta's story in which Lieu explains the problem:
"It is not a crime, it is a parole violation, and you will get up to 180 days in county jail," Lieu said. He notes: "when you count in the overcrowded county jails and good time, sometimes they don't serve any time or sometimes it's just a few days."

Under California's realignment policy, most parole violations are no longer punished with prison time, to avoid overcrowding. But Senator Lieu wants to change the law in this case. He plans to introduce legislation next month to make it a felony to cut off a GPS monitor. Lieu says the threat of serious prison time would be a powerful deterrent.
Frankly, I completely agree. As we've made clear here at WLA, we believe that realignment is a positive step forward in much needed corrections and parole reform. BUT, there are parts of realignment that are going to need a lot of fine tuning, this business with the GBS devices being a prime example.
(Non-revokable parole is another important reform that still needs some rejiggering as this new proposal from the LA County Board of Supervisors indicates. But lets us hope that we do it with a scalpel, not a meat cleaver wielded in response to the latest crime. More on that soon. In the meantime, the Daily News has this report)
---
TUESDAY MORNING I WAS ON AIRTALK WITH LARRY MANTLE, briefly discussing Senator Lieu's proposed bill.
You can find the podcast here. I'm in the second half of the segment, after my pal Frank Stoltze.
(However, as you will note, I was so stuffy-headed and miserably cold ridden that, at one point, I suddenly called Larry Mantle "Warren"—as in Olney. Note to self: Avoid doing live radio after taking large doses of over-the-counter cold medicine.)
---