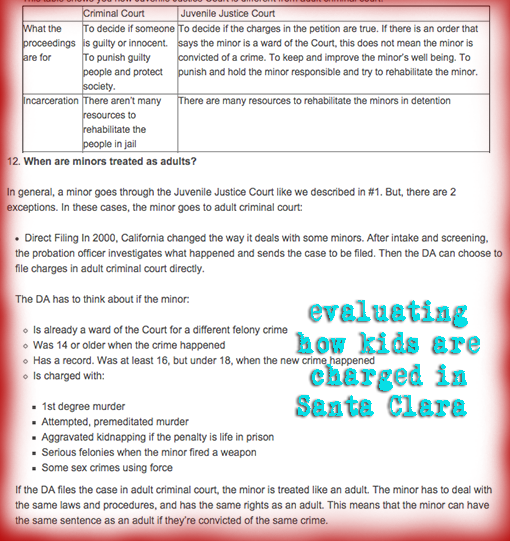 SANTA CLARA PROSECUTORS LOOK TO ADVOCATES TO ANALYZE HOW KIDS ARE TRIED
In 2013, the Santa Clara County District Attorney's office invited a team of advocates and public defenders to evaluate how and why county prosecutors charged teenagers as adults.
Prosecutors sat down with the team and discussed each case in which a kid was sent to adult court. The advocates, all against charging kids as adults for any reason, showed prosecutors where they felt different outcomes could have been achieved.
The goal of the DA's office is to simultaneously keep kids out of the adult system while still maintaining public safety. This particular effort to increase oversight of how teens are prosecuted is unlike anything else we have seen in the state (and is certainly worth emulating).
The San Jose Mercury's Mark Gomez has more on Santa Clara's important program and its significance. Here are some clips:
"It's very easy to close the books and not account for what you did and why," said Frankie Guzman, an attorney with the National Center for Youth Law who was one of the advocates invited to review the cases. "I respect the fact this interaction and conversation happened, because it's not happening anywhere else."

In the majority of cases in Santa Clara County, prosecutors choose to keep the youth in the juvenile system, where the focus is on rehabilitation.

But in about 18 percent of such cases in Santa Clara County since 2010, prosecutors charged juveniles as adults, often resulting in prison sentences. The decision to bring in youth advocates was made following an internal review in 2013, which revealed that a higher percentage of Latino kids face adult charges than other ethnicities. So the District Attorney's Office pulled together a team of people from the county public defender's office and Bay Area youth advocacy groups to scour every single case filed that year. Prosecutors explained each decision, and the team discussed what they might have done differently.

"If we can keep a kid in the juvenile system and still protect public safety, we're going to make that decision," said Chris Arriola, supervising deputy district attorney of the juvenile unit. "But sometimes we have to make that decision to take them out. We do not take it lightly.

[SNIP]

In many California counties, the decision to charge a youth as an adult is made by one prosecutor, according to Bay Area youth advocates. District attorneys are not obligated to detail their reasoning for charging a juvenile as an adult — known as "direct file" cases.

In Santa Clara County, a team of four senior prosecutors considers several factors, including the youth's criminal history, the sophistication and gravity of the offense, the outcome in previous attempts to rehabilitate the youth, and the ability now to rehabilitate the minor in the juvenile justice system. All four prosecutors must agree the youth should be criminally prosecuted as an adult.
---
SHOULD THE LASD CIVILIAN OVERSIGHT PANEL HAVE AUTHORITY TO SUBPOENA DEPARTMENT DOCS?
KPCC's Frank Stoltze takes a look at the hotly-debated issue of whether to equip civilian oversight commission with the power to subpoena documents as part of its oversight of the Los Angeles Sheriff's Department.
Members of the group planning the new civilian panel have differing opinions, and Sheriff Jim McDonnell is still not too keen on the idea, according to Undersheriff Neal Tyler.
The planning group is slated to present their recommendations to the LA County Board of Supervisors in May.
Here are some clips from Stoltze's story:
"Its certainly a club should you ever need it," said Dean Hansell, who chairs the working group which is designing the new oversight panel.

Subpoena power would give the panel the ability to force reluctant Sheriff's officials to testify before it and to obtain certain documents. It would not give the panel access to personnel records – that would require a change in state law.

[SNIP]

Sheriff Jim McDonnell remains reluctant to support subpoena power, according to interim Undersheriff Neal Tyler. He said change already is underway at the department, which is under federal investigation for civil rights abuses and corruption. There's no need for "the hammer" of subpoena power after the election of McDonnell, said Tyler, who also sits on the working group.

"We have a hammer right now and its Sheriff Jim McDonnell," the undersheriff said. He also noted McDonnell is providing Inspector General Max Huntsman broad access to the department.

"We are working so cooperatively with him now that it's not necessary to codify it," Tyler said. Huntsman has said he needs still more access to adequately oversee the department, and that subpoena power would help.
---
WHERE WE ARE WITH SCHOOL DISCIPLINE IN CA
News 10's Michael Bott and Ty Chandler have good overview of the state of school discipline in California, both the racially disparate use of "willful defiance" suspensions, and the restorative justice alternatives that are starting to reverse some of the damages done to kids of color across the state.
Bott and Chandler's story includes some interesting videos and an interactive map of willful defiance suspensions at schools in the Bay Area (only one SoCal school is featured). Here's how it opens:
Teenager Dwayne Powe Jr. got a suspension in eighth grade. He didn't get into a fight. He wasn't caught with drugs. He committed no crime.

"I actually was asking for a pencil," Powe said.

Powe said his class began an exercise and he asked to borrow a pencil from another student. That's when his teacher told Powe he was being disruptive and made him leave class. Powe tried explaining he had only asked for a pencil, but that only dug his hole deeper, he said.

He was technically suspended for "willful defiance".

Nearly 200,000 California students who were suspended for willful defiance last year can relate to Powe's story.

What constitutes willful defiance is somewhat vague, but it generally allows teachers to remove students from the classroom if their behavior is thought to be disruptive or defiant. It's the most common reason California students were suspended—and students of color are overwhelmingly targeted.

But there is a growing consensus that keeping kids out of the classroom for non-violent behavioral issues has done more harm than good, and students of color are paying the heaviest cost for this policy.
---
EDSOURCE LAUNCHES NETWORK TO CONTINUE COMBATTING EFFECTS OF HARSH SCHOOL DISCIPLINE
In the 2013-2014 school year in California, expulsions plunged 20%, and suspensions fell 15%.
In an effort to keep those numbers dropping, and to divert kids from the "school-to-prison-pipeline," Ed Source has assembled the Educators Network for Effective School Discipline, backed by the California Endowment.
The group intends to connect school officials, educators, and others to share and discuss programs and practices (like restorative justice and Positive Behavioral Interventions and Supports) that are successfully keeping kids in class, creating better relationships between kids and teachers, and promoting school safety.
Current chairman of the Educators Network for Effective School Discipline, Carl Cohn (who is also a former school superintendent and former State Board of Education member), has more on the new network and why this issue is so important. Here's a clip:
Leaders of California public schools are seriously re-examining discipline practices and questioning the value of practices that are ineffective and counterproductive – measures that may put youngsters at greater risk for dropping out and for involvement with the juvenile justice system.

These leaders are listening carefully and responding appropriately to the long-standing accusation in the civil rights and advocacy community that some of our schools are, in fact, "pipelines to prison." Nothing better represents this point of view than the thousands of students suspended each year for willful defiance, which could include behaviors such as eye rolling, talking loudly or standing in a menacing way….

As a first step toward ending this practice, Gov. Jerry Brown recently signed AB 420, which bans suspending students in the K-3 grades for willful defiance.

In order to sustain this momentum, EdSource has convened the Educators Network for Effective School Discipline, with support from The California Endowment. The idea is to bring together principals, teachers, superintendents and others to look at ways to keep youngsters in school and to share best practices and model programs that are especially effective at accomplishing that goal while also making sure that schools are safer as a result of the effort. It's not just about bringing the numbers of suspensions and expulsions down; it's also about creating a school climate that contributes to positive relationships among students and staff.

In our discussions with educators, both Positive Behavioral Interventions and Supports (evidence-based interventions that work) and "restorative justice" (where students are called on to repair the harm caused by bad behavior) have emerged as just two effective routes toward creating a school climate that helps keep kids in school and maintaining a safer school environment overall. Like most ambitious school reforms, issuing directives from district headquarters will probably not yield the best results. These are changes that must be owned by principals, teachers, assistant principals and school counselors – those closest to meting out school discipline.
---
NEW YORK'S SURPRISING NEW EFFORT TO COMBAT PRISON RAPE
Funded through the Prison Rape Elimination Act, New York state prisons will start showing two new inmate orientation safety videos to educate men and women about how to avoid rape behind bars. The twenty-minute-long videos are directed by T.J. Parsell, who was raped on his first day in prison.
The Marshall Project's Eli Hager has more on the safety videos. Here's a clip:
Prisons will show inmates — both male and female — an orientation video offering advice on how to identify, and avoid, sexual predators behind bars….

They will be premiered for the inmates who participated in the filming — at Bedford Hills Correctional Facility for Women, Fishkill Correctional Facility, and Downstate Correctional Facility — then rolled out in prisons across the state.

New York has had an uneven record on prison rape. In 2010, according to PREA surveys, three of the eleven prisons in the U.S. with the most staff-on-inmate sexual violence were in New York…

The orientation videos are an attempt to confront that legacy and to change a prison culture in which sexual assault, and the code of silence surrounding it, remain all too common.