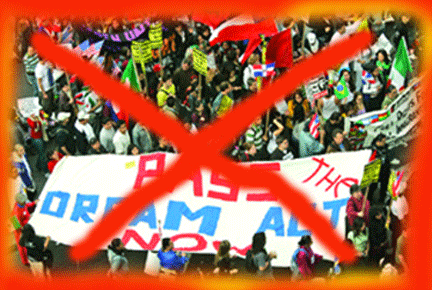 What with the fire and other distractions, I'm late in talking about this. But it's been bothering me for the past few days, so I'm going to bring it up now:
Americans are not thinking clearly on immigration. If they were, they would have urged their representatives to pass The Dream Act, which instead failed to get the needed 60 votes in the Senate this past Tuesday.
The Dream Act, if you'll remember, is the bill that, if it had passed would have given certain students brought here illegally as children an opportunity at citizenship—if they go to college or into the military. As the Dallas Star-Telegram reported it, "Roberto Gonzales, a researcher with the University of California, Irvine, estimates that the DREAM Act "would provide 360,000 undocumented high school graduates with a legal means to work, and could provide incentives for another 715,000 youngsters between the ages of 5 and 17 to finish high school and pursue post-secondary education."

Opponents claimed, with nothing resembling proof to back them up, that the plan would provide amnesty for parents and adult siblings and would be rife with fraud. Contras also blasted it as a "reward" for illegality, and a way that undocumented immigrants could "cut in line ahead of law abiding immigrants"…blah, blah, blah.

So instead of giving the approximately 1 million, seventy-five thousand kids an opportunity to better themselves, become tax-payers, serve in the army and, in general, make the country fiscally and sociologically healthier, we keep them at the fringes. How clever of us!


Look, these kids didn't choose to come to this country, and the fact is, they aren't going any where. So, even from a selfish viewpoint, you'd think we'd figure out that the smart money would be on finding a way to help/motivate/allow these kids and adolescents—who, like it or not, are permanent fixtures in our Amercan landscape—to become productive citizens.
But no. Out of all the genuine problems facing this country (like, say, global warming, poverty, terrorism, the lack of comprehensive health care, a screwed-up public education system), "no amnesty" is the one whacked out principle that, by God, we will go to the wall to defend.

(As Bill Maher put it the other night, he wonders if one day, ten or 20 years from now, after the polar ice caps have turned entirely to mud, and the Middle East is in ashes, Lou Dobbs will suddenly sit up, slap his forehead and shriek, "Oh, my God! I focused my entire career on…THAT????")

And by the way, the split on the issue isn't entirely a conservative/liberal one. Not all Democrats voted for it, as Blogfather Marc Cooper, points out in an excellent post on the matter.
And not all Republicans voted against it. Prominent among those conservatives who had a supremely sensible take was Republican Senator Kay Bailey Hutchison. As the Dallas-Star Telegram reports, she said the legislation would take young people out of a "limbo" not of their making. "We need to do it in a way that helps assimilate these young people with a college education…"
Right you are, Kay Bailey!
Here's how the Chicago Sun-Times summed things up in an editorial:
The Senate wasted an opportunity to make America stronger. They had already failed to enact comprehensive immigration reform this year, and this could have made up a bit for their colossal mistake by crafting a win-win: Illegal immigrants who went to college or served in the military would get to stay legally, and we would get soldiers and educated taxpayers.

But that's not what happened. Worse, the debate turned ugly. Republican Rep. Tom Tancredo of Colorado called on immigration officials to raid a news conference Tuesday where Durbin featured students who would benefit from the act. Luckily, someone was thinking over at Immigration and Customs Enforcement, and they refused to send agents. As it turns out, the students at the news conference have temporary legal status. Durbin said the immigration debate has reached a "low point in America."
Yep. The Dream Act would have made us stronger. But we blew it.