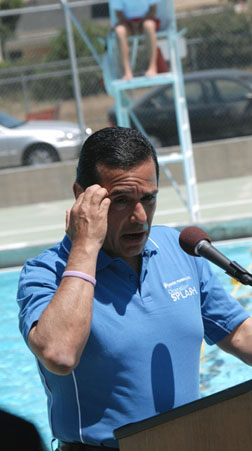 Come on, Mr. Mayor, no deep thought needed. Just book the flight to Sacramento.
A year ago, State Sen. Gloria Romero's bill to restore some degree of public accountability to police disciplinary proceedings died. The cowards on the Assembly Public Safety Committee couldn't even muster the courage to vote on the bill because of all the lies and threats from police unions.
Now, SB 1019 is back in a scaled-back version limited to shedding light on how the LAPD deals with bad cops.
Last year, the mayor and Police Chief Bill Bratton, both early supporters of the bill, failed to attend the hearing to knock down bogus claims that police unions up and down the state made about officer's lives being endangered if the hearings were open, as they had been for decades.
Turns out the mayor has no plans to attend the committee meeting next Tuesday. Not sure about Bratton.
I caught up with Mayor V today in Hollywood, where he christened the first day of the public pool season. He's lined up on the right side, again, but he should be waging an all-out fight to defeat the whiny, hysterical Los Angeles Police Protective League (the cops' union) and bring back a dose of accountability to LAPD misconduct hearings.
"I'm not going up to Sacramento," he told me. "But I called up the chair of that committee, Mr. Solorio yesterday and indicated my support. I'll be calling all of the members of the committee. I left a message for and will be talking with the speaker to let her know just how strongly we support this bill and how strongly we need this bill. For 20 years, the charter spoke to this issue and allowed us to open these hearings to the public. I just think it's very important to indicate the will of the people of this city."
Hey, if I were the mayor, I'd be checking Southwest Airlines schedules right now and would stand side-by-side with Romero to refute the lies and deceptions that the police union will lob at the committee Tuesday. Ditto for the chief.
You, too, can contact members of the committee. There are two Republicans: Joel Anderson of El Cajon and Greg Aghazarian, Stockton; and four Democrats: Chairman Jose Solorio of Santa Ana, Anthony J. Portantino of La Canada, Hector De La Torre of South Gate, Fiona Ma of San Francisco.
Here are their e-mail addresses:
Assemblymember.Anderson@assembly.ca.gov
Assemblymember.aghazarian@assembly.ca.gov
Assemblymember.solorio@assembly.ca.gov
Assemblymember.Portantino@assembly.ca.gov
Assemblymember.DeLaTorre@assembly.ca.gov
Assemblymember.Ma@assembly.ca.gov
For an excellent treatment of the issue, check out today's editorial in the Los Angeles Times. Here's an excerpt that takes on the cop union tactics of a year ago and now:
Leave it to the Los Angeles Police Protective League, in its zealous desire to represent its members, to thwart good public policy. The league and other police unions lobbied and resorted to outright threats — one union leader not from Los Angeles promised to campaign against term-limit reform unless legislators defeated Romero's bill. Legislators folded, and the bill died. This year, Romero has narrowed her bill — in its current form, it would affect only those police departments under federal consent decrees, meaning only the LAPD — and the league is at it again. It has launched a radio campaign that manages to combine disregard for public accountability and snarky sexism. "Now," League President Tim Sands proclaims in the spot, "the senator is back at it. Only this time, in a legislative tantrum, she has crafted a narrowly worded bill aimed solely at the brave men and women of the LAPD."

Now, really, who's throwing the tantrum? The police union that threatens political retaliation and accuses an elected official of making it easier for gang members to access police files? Or the state senator who defends public accountability with a bill that merely restores Los Angeles' time-tested procedures?

"After a decade in Sacramento," the ad concludes, "the politician must have forgotten who she works for." We submit that the opposite is true. Romero is acting in the best traditions of her office, braving criticism to support public oversight. She deserves the support of Mayor Antonio Villaraigosa, Police Chief William J. Bratton and all other defenders of accountability in government.
.