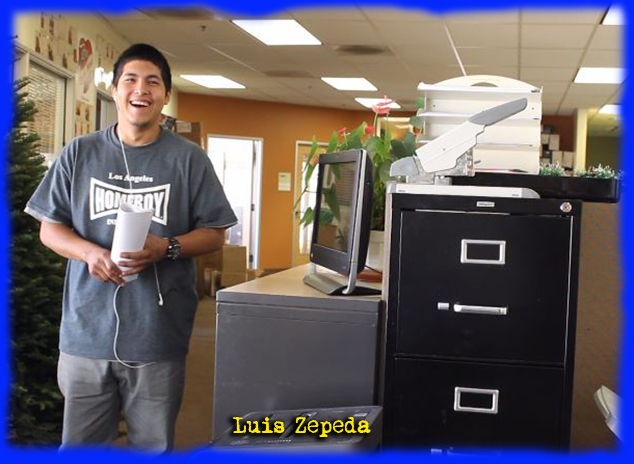 LA COUNTY PROBATION'S JUVENILE REENTRY CRISIS
More than two years ago, LA County Probation pledged to improve its awful juvenile reentry statistics by instituting a new program to help kids when they get out of the county's juvenile camps and halls. But a new series of reports says the program is still failing most of the youth it claims to serve.
by Alex Reed and Veronica Quezada
---
In Los Angeles County, one in every three young people released from a juvenile camp or other placement are arrested again within a year. And even if a kid manages not to return to juvenile hall or camp, the reentry process can be difficult, and the young person often faces it without any help.
Smith Chan, 22, felt constantly on the defensive for a long time after he was released from an LA County juvenile camp in late 2011.
He didn't receive any help with reentry into his community from any of the camp staff, and he doubted they could help at all, he said.
"There's not really that much resource they can give you, just probably a couple hotlines you can call when you're like in distress or something," Chan said.
He had a probation officer when he got out, he said, though they had little interaction.
"She didn't really talk to me," Chan said. "I was supposed to see her once every two weeks, but I never seen her."
Chan's camp-induced paranoia gradually subsided and life began to normalize when he got a job several months later, without the help of his probation officer or anyone else in the probation system. He said the county should have a program for helping people like him find jobs so "they understand how it works to be a grown person."
Since Chan was released, LA County Probation has introduced new resources to combat poor outcomes for youth coming out of juvenile camps and halls. Primary among them is the Camp Community Transition Program (CCTP). The program, which was put into place two years ago, was meant to provide services for young people transitioning from a juvenile camp or other placement to their home community.
CCTP aimed to be unique in that services and interaction with a probation officer would begin before release. After release, the goal was to have a probation officer supervise each kid intensely for 30 to 60 days to ensure school enrollment, and involvement with other community-based organizations and programs, as needed.
However, many young people who have been released since CCTP began have not seen much difference in the quality of reentry services.
Luis Zepeda, 19, has gone to juvenile camp three times. His most recent release was about a year ago, but his interaction with probation officers in camp and after his release was similar each time.
"I didn't get no resources," Zepeda said. "It was always punish, punish, punish, punish."
He added: "Once you're out, it's like, [the probation officers are] done. They did their job once you're in there. Once you're out, you're on your own."
Zepeda eventually found help at Homeboy Industries, the nationally-known LA-based gang recovery program founded by Fr Gregory Boyle. Homeboy gave Zepeda a job and the opportunity to participate in classes, attend therapy, and to build professional skills and life skills. Zepeda has a younger brother, who also ended up in the system, and a newborn son, both of whom he feels responsible for showing them the way and keeping them out of trouble.
Most young people who get released from a juvenile camp "don't know what's in store for them," he said.
"They don't know how to go about getting a job. They don't know how to be respectful because I don't think they were ever taught to be like that," Zepeda said.
Eduardo Mora, 18, who was released from a juvenile camp for the fourth time a few months ago, expressed similar feelings toward LA's juvenile probation services.
"[Probation officers] tell me, 'You're a gang member,' like 'You're not going to do anything in life, you're just gonna keep getting busted,'" Mora said.
Mora, who has also landed a job at Homeboy Industries—no thanks to the county—said he feels that probation officers negatively stereotype the young people they work with.
"They see someone walking and they'll be like, 'Oh, that's a gang member,' and he could just be a normal person who just wanted to shave his head," Mora said.
---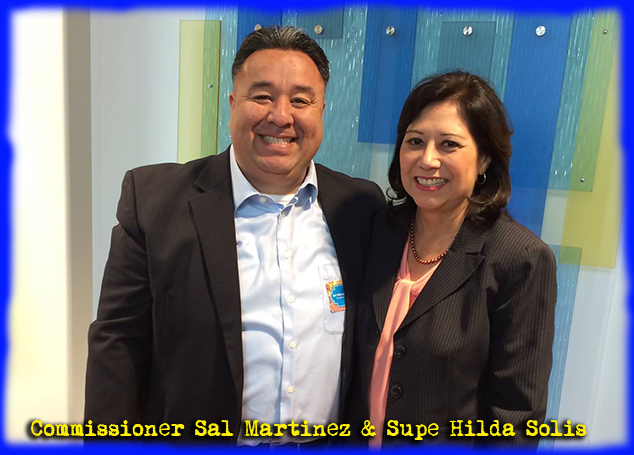 SCATHING REPORTS
LA County Probation Commissioner Azael "Sal" Martinez, a former gang member who also made several trips through LA County's juvenile justice system when he was younger, agreed with Mora's observations. How a juvenile looks can affect the help they get from their probation officers, although this shouldn't be the case, Martinez said.
"I can have a tie on, dress really nice and your assessment, based on my appearance, is that I can be helped, versus me coming in with a beanie, white shirt and baggy pants," Martinez said. "Too often, probation has already given up on the kid with baggy pants and a beanie—not because of assessment, but because of appearance."
In LA, the Probation Commission is largely an advisory body, with two commissioners appointed by each member of the county board of supervisors. (Martinez was appointed by Hilda Solis, the former U.S. Secretary of Labor, now an LA County Supervisor.) But, in his most recent term, Martinez has made it his special mission to make sure the department is giving young people adequate resources when they're released.
With this goal in mind, starting in August of last year, Martinez conducted a series of unannounced visits to probation field offices. One of his primary purposes was to observe CCTP at work to see how the program was working. The reports from his visits make clear he was not pleased.
For instance, after his August 27, 2015, visit to the CCTP's San Gabriel area office, his report was scathing:
"… there are serious issues and concerns," he wrote. "The visit was alarming and extremely unacceptable. There appears to be a disconnected relationship with the community and client. There is no relationship between staff, their clients and community based organizations."
San Gabriel probation officers he observed seemed "complacent" and unprofessional, he wrote. Their methods of case planning were not consistent and they were not effectively using the resources available for their clients.
Most of these officers had less than 10 cases assigned to them, he wrote. Despite the low caseload, none of them could discuss a client's case sufficiently when asked.
When Martinez made an unannounced field visit to the Pomona office in October 2015, he found conditions similarly "unsatisfactory."
All the minors were listed as being gang members or gang-involved in their files, but few had been offered appropriate resources for kids struggling with gang involvement, such as a referral to something called the Prospective Authorization Utilization Unit (PAUR), which offers an array of extra programs and services. "Or the kid's probation officer could tell the gang probation officer in the area to keep an eye out for him, so there was an extra set of eyes on him out in the street, to make sure he was doing okay."
Additionally, according to Martinez, while the juvenile probation officers in the Pomona office had no more than eight kids on their individual caseloads at the time of the visit, he found their files showed they were not coming close to exhausting all the appropriate resources in any of their cases. He also found that violation reports "requesting an excessive sanction on a minor" were filed for some of the youth, without any record of utilizing less extreme methods first. "In one case, a few weeks before, the probation officer had written in her report that the probationer was an excellent kid. And now, without trying any kind of services or intervention, she wanted to lock him back up in juvenile hall," he explained.
"After all my visits it is felt that the CCTP program has to ensure that services are in place prior to a minor leaving camp," Martinez wrote. "There is a delay of services and breakdown in providing services."
Proper assessment by probation officers is crucial, or "we're going to lose [kids] to the pipeline and they're going to end up in prison," he said.
---
SPENDING TIME MATTERS
Though Martinez's reports reflect poorly on some juvenile probation officers and their supervisors, he made a point of saying that, in spite of the problems with the system, there are other probation officers who work hard to help their young clients, beginning by conducting thorough assessments of their needs.
Lily Anda is one such officer. She says the necessary services are available for released youths. However, the officer must spend time getting to know the client, and often their family, to determine exactly what resources will benefit the person most, she said.
In cases where the family is part of the problem, the job of the probation officer, and other adults in the juvenile's life, such as school counselors, is to be the support system.
"No matter what, you can't change your family and you can't change your parents. But if you have a probation officer who's pushing you, and a counselor who's pushing you, and your teacher who's pushing you," this constitutes a positive support group, "and then you will see change," Anda said.
---
"UNSOUND" PRACTICES
In April 2015, a team of researchers headed by Dr. Denise Herz, of California State University, Los Angeles, released a study measuring outcomes of juvenile probation in Los Angeles County. The study, which was overseen by The Advancement Project, and funded by the W.M. Keck Foundation and the California Wellness Foundation, looked at the cases of every juvenile released from a camp or other placement during 2011.
The researchers found "a lack of integration between county departments," said Kristine Chan, MSW, who was one of the primary researchers on the project.
Probation officers don't have all the access they need to be as effective as they could be, she said. They are limited in the help they can provide a recently released young person because they don't have a full picture of their background and individual needs.
The study triggered a motion passed by the LA County Board of Supervisors in September 2015 to establish a work group that would address the issues the report raised.
The motion, written by Supervisor Sheila Kuehl and co-sponsored by Supervisor Hilda Solis, stated: "The report underscores the need for service integration, collaboration and data sharing that protects confidentiality across County departments to better serve juvenile justice youth and their families who may require evidence-based trauma informed mental health services, substance abuse treatment, health services, educational services, housing or other supports … It is unsound to continue placing these youth back into the same situations without additional support and then expect different outcomes."
So far, according to Sal Martinez and others, little has improved.
---
A FUNDAMENTAL DISCONNECT
David Muhammad, the former chief of probation for Alameda County, now a leader in criminal and juvenile justice, also has ideas about how the reentry system in Los Angeles County can become more effective.
"We, first and foremost, need to continue to reduce the number of youths in the system," he said.
If there are fewer young people put in juvenile camps and other placements, fewer young people will need reentry services, Muhammad explained. Additionally, fewer young people in the system means more resources and services can be refocused on the kids who need it most.
The population in juvenile halls and camps has decreased by 34 percent since 2004 in an attempt to only commit individuals who commit higher level offenses, according to the LA County Probation Department's website. With lesser offenses, such as "shoplifting, fare evasion, or possession of alcohol," according to the department website, probation attempts to divert some young people to other programs such as community service, counseling, or some form of "educational classes."
But Muhammad believes that the camp and hall population can and should be reduced more. There is a lot more state funding now for reentry services, but the money is not being appropriated effectively, he said.
"If you talk to young people and their families, they don't see that resource, very little of it," Muhammad said. "A lot of that is pure bureaucracy and a lack of interest and passion of folks who are resource holders that don't do enough to get that money and those resources to youths, to families directly and also to service providers."
Muhammad is now working for Impact Justice, a national innovation and research center focused on reducing the number of people involved in the justice system. And in the last few years he has helped develop the Anti-Recidivism Coalition (ARC), a nonprofit organization founded by film producer Scott Budnick in 2013.
ARC is a membership-based support network for those who "pledge to live crime-free, gang-free, drug-free, be in school and/or working and be willing to serve their community."
Though ARC has seen tremendous growth in the three years since its founding, Muhammad said they, along with all reentry-focused organizations, could be doing more for formerly incarcerated young people.
"Service providers, [ARC] included, have to improve. We have to improve our reach in terms of making sure that all of the young people that are coming home from those areas of detention camps and out-of-home placements know about our services and that we're providing quality services to those young people," he said.
But Sal Martinez and other juvenile advocates, say there is a fundamental disconnect between the young people coming out of LA County's juvenile camps and the help the county can and should be giving them.
"They're trying to survive in an environment that doesn't open doors for them," Martinez said. "It's the probation department's job to open those doors."
---
---
This story is the 2nd in a series by reporters from the USC Annenberg School of Communication and Journalism. The series is part of a collaboration between WitnessLA and the Juvenile Justice Information Exchange.
---
PHOTO CREDITS: Top photo by Veronica Quezada, 2nd photo courtesy of Sal Martinez, video by Veronica Quezada