Editor's Note: I first met criminologist Joan Petersilia in 2003, after I read her book "When Prisoners Come Home: Parole and Prisoner Reentry," which had been published that year, and quickly became the seminal work on the subject of prison reentry, a topic that, at the time, most policymakers seemed to be studiously — and disastrously — ignoring.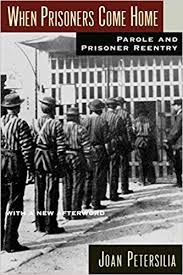 I dog-eared the book's pages with enthusiasm.
By that time Joan was already a star in the world of criminology, a Professor of Law at Stanford Law School, and a consultant to the U.S. Department of Justice and to many state and local agencies.
Around the time I was reading her book, I was working on a story for what was then the Los Angeles Times Magazine, which related to many of the themes she'd covered. I decided I needed to talk to her.
Back then, however, Joan wasn't initially all that interested in talking to a reporter. But, I persevered.  Finally, she relented, and we did talk. Her spectacular intellect combined with her deep well of compassion blew me away.
Since then, Petersilia and I talked whenever I needed her one-of-a-kind perspective on something I was writing or puzzling over or both. It was a professional relationship I called on judiciously, treasuring each interaction — whether quick and purely informative or longer and more exploratory, both categories of exchange very often punctuated by laughter.
When Petersilia died in late September, like so many, both WitnessLA Assistant Editor Taylor Walker and I were devastated by the death of this irreplaceable person whom most people in California had never heard of, despite the influence she came to have on the evolution of the state's justice policies.
With all this in mind, we are happy to be able to publish Sharon Driscoll's rich and wonderful interweave of homages to Joan Petersilia that you'll find below.
Whether you read all of it, or just selected parts that catch your eye, do read it. Joan Petersilia is not someone you will want to have missed.
---
Remembering Joan Petersilia
by Sharon Driscoll
Joan Petersilia was an empirical researcher who pointed to clear-eyed data rather than emotions in a field often dominated by public fear and sentiment.
"I have always considered myself an applied criminologist, and I believe that research is valuable only if it ultimately affects policy and practice. I have tried to produce a body of research worthy of policy attention, and then searched for ways to position myself 'front and center' in policy circles, where I could interject my findings to influence policy directions," Petersilia wrote in Influencing public policy: an embedded criminologist reflects on California prison reform for the Academy of Experimental Criminology's 2007 Joan McCord Prize Lecture.
And that she did—and so much more. Over the course of a career spanning 40 years, she not only published a wealth of groundbreaking research but also gained the trust of policymakers who eagerly sought her help in solving some of the toughest challenges facing America's bloated and complicated criminal justice system. She was on speed-dial for two California governors and countless state, county, and city officials –advising on the implementation of California's innovative "realignment" program to alleviate the state's extreme prison overcrowding, seeking ways to end the revolving door back to prison, and more. Her work was ultimately recognized in 2014 when she received the Stockholm Prize in Criminology, the Nobel Prize of the field.
Petersilia, the Adelbert H. Sweet Professor of Law, Emerita, at Stanford passed away on Monday, September 23, 2019, from ovarian cancer one year after retiring for health reasons. She was 68. She is survived by her husband, Steve Thomas, two sons Jeff and Kyle Petersilia, two sisters Margaret Ann Johnson and Jeanne Cora Sydenstricker, several nieces and nephews—and hundreds of colleagues and former students who counted her not only as a mentor and collaborator but as a friend.
"Joan was a giant intellect whose contributions to improving our criminal justice system are immense and will thankfully survive us all."  Former governor Jerry Brown.
"The word 'transformational' gets overused, but it applies perfectly to Joan's role at Stanford. At a time when mass incarceration had become the key civil rights and social justice issue of our time, she was already the nation's leading expert on sentencing and corrections.  So when we persuaded this great non-lawyer to make the leap to a law school, she brought with her profound expertise and deep wisdom on a subject so crucial to our law students and to the faculty as well," says Robert Weisberg, Edwin E. Huddleson, Jr. Professor of Law, who codirected the Stanford Criminal Justice Center (SCJC) with Joan for 10 years. "She also brought a rare combination of passionate commitment to legal reform and a commitment to empirical rigor in research and pragmatism in transforming research into policy. Almost instantly she became a pied piper to law students, convincing them they could become apprentice social scientists and could deliver constructive lessons about reform directly to policymakers. She built bridges between the academic world and the day-to-day world of police, prosecutors, parole and probation officers, and prison wardens, and she taught her students to traverse those bridges."
"For all of her brilliance and achievements, she stood out most of all for her genuineness, warmth, and generosity of spirit. The national and international worlds of criminology will also be mourning and celebrating Joan, but we at Stanford  Law School can both proudly and gratefully claim to be the place where she did some of her greatest work," says Jenny Martinez, Richard E. Lang Professor of Law and Dean of Stanford Law School. "At a personal level, she leaves a giant hole in our community because she was such a cherished colleague and friend."
"Joan was a giant intellect whose contributions to improving our criminal justice system are immense and will thankfully survive us all. I was honored to know and work with her. Anne and I send our warmest regards to her family and colleagues," said former California Governor Jerry Brown.
"Joan was one of kind.  Her work was deeply compassionate, but at the same time scrupulously objective and nonpartisan. No one knew more, or cared more intensely, about what actually happened to people convicted of crimes in the United States. No one thought harder or with greater sophistication about how to make prisons, jails, parole, and probation work better and more humanely," says David A. Sklansky, Stanley Morrison Professor of Law at Stanford, who joined the SCJC team including Petersilia, Weisberg and executive director Debbie Mukamal in 2014.
After receiving her graduate degree in sociology, Petersilia began her career at the RAND Corporation, where she was director of the Criminal Justice Program, publishing landmark works including Crime and Public Policy(a series, now in its fourth edition, that she edited with renowned political scientist James Q. Wilson), Community Corrections, and California's Correctional Paradox of Excess and Deprivation.
"Joan and I joined RAND at just about the same time, in the early 1970s. The early 1970s at RAND offered exciting opportunities for empirical research on domestic policy issues but opportunities for women to assume leadership positions were far more limited. It was a great tribute to Joan's analytic expertise, communication skills, managerial instincts and interpersonal style that RAND appointed her the director of its Criminal Justice Program," says Deborah R. Hensler, Judge John W. Ford Professor of Dispute Resolution at Stanford Law School.
While at RAND, Petersilia finished her doctorate degree in criminology at the University of California, Irvine, and in 1992 became a member of the faculty, where she taught PhD students in the School of Social Ecology and was the founding director of UCI's Center for Evidence-Based Corrections. She published When Prisoners Come Home in 2003—and her work came to the attention of California's then-governor, Arnold Schwarzenegger. She understood the importance of the moment and seized the opportunity to share her research and experience at a critical time in criminal justice reform in the state. She served as a special advisor to him, helping to reorganize juvenile and adult corrections and working with the California State Legislature to implement prison and parole reform.
Petersilia first came to Stanford Law School in 2005 as a visiting faculty member, teaching California's Prison Reform and Crime & Punishment in Calif: Advocacy & Reform. She joined the faculty in 2009 and quickly found her way to the SCJC, becoming a faculty co-director.
"Joan was an unusual hire for the law school, as she had no formal legal background or training. The controversy about whether to hire her, however, lasted exactly as long as a first conversation, because her intelligence, creativity, ability to communicate, and passion for the work came through quickly and clearly. She had a deep scholarly sensibility combined with a remarkable ability to carry that into real-world issues and practice. And she seemed to know everyone and was respected by everyone who knew her," recalls Larry Kramer, dean of Stanford Law School from 2004-2012, now president of the William and Flora Hewlett Foundation.
Petersilia brought with her a wealth of knowledge about the criminology field and methodology. She also came with a track record of "embedded research," direct research specifically for policymakers, which she helped to develop. Her expertise was put to the test when in 2011 California passed some of the most innovative criminal justice reform in the country.
"Joan was a committed visionary who saw what is possible, even when others couldn't see it." Senator Kamala Harris
Some careers have a moment. Joan Petersilia's had many, but 2011 stands out.
Petersilia knew well that prison over-population across the United States had reached a crisis point. And she was ready when a class-action lawsuit filed in April 2001 on behalf of Marciano Plata and several other prisoners became a catalyst for true innovation in California. The U.S. Supreme Court's 2011 decision Brown v. Plata put immediate pressure on California by ordering the prison system's population reduced by approximately 30,000, to 137.5 percent of its capacity, by 2013. AB 109 was the state's response to that pressure. Signed into law by California Governor Jerry Brown in the spring of 2011, it shifted responsibility for certain lower-level offenders from the state to county authority, "realigning" the prison population.
"This is the most dramatic change in criminal sentencing that California has undertaken since passage of Determinate Sentencing in 1977, and no other state has tried it," Petersilia said in a 2011 Stanford Lawyer article about the practicum she led in which students studied one California county—Santa Clara—and its efforts to implement the new legislation. With recidivism in the state running at about 70 percent, the hope was that more effective programs at the county level could reverse that trend. "This could be a game changer."
The practicum's clients were then California Attorney General Kamala Harris and the California Department of Corrections and Rehabilitation. "One of the first calls I made when I took office was to Joan," Harris, now a U.S. Senator and presidential candidate, said during a visit to campus and a meeting with Petersilia's students in 2011.
"Joan brought data and analytics to the California Department of Corrections and Rehabilitation. That science let us turn the ship towards evidence-based practices, a focus on rehabilitation, and eventually to realignment, which together have reduced the overall prison population in California," says Matthew Cate, secretary of the California Department of Corrections and Rehabilitation during the time of Petersilia's practicum, who also met with Stanford Law students. "In Joan, you found the rare combination of immense talent and humanity."
"Joan was a committed visionary who saw what is possible, even when others couldn't see it. She energized and excited so many people around reforming the criminal justice system before it was even popular. Joan was a trusted advisor, and I will remember her brilliance, integrity, and warmth. Her advice and insights on advancing the field of criminal law when I was Attorney General of California were invaluable and will serve me the rest of my career. California and the country is in her debt," says Harris recalling her time working with Petersilia.
That early work with Harris and other California state officials laid the groundwork for the law school's new Law and Policy Lab, launched in 2013, which engages students in practical research working with policy "clients," by showing how policy research can be conducted.
Generosity of spirit is an oft-repeated description of Petersilia, used by friends and colleagues alike. That is perhaps because, despite her overbooked teaching and research schedule, Petersilia made time to collaborate with colleagues across the country and the world. Jeremy Travis, former president of John Jay College of Criminal Justice in New York, now executive vice president of Criminal Justice at Arnold Ventures, recalls working with Petersilia on an important national effort.
"Thousands and thousands across the country, who may not know her name, are freer and safer because of her work…" Michael Romano, Director, Stanford Law Three Strikes Project
"We worked closely together starting in 2000 when we created the Reentry Roundtable. I knew there was one academic I wanted to work with—Joan Petersilia," says Travis. "Over four years, the Reentry Roundtable engaged hundreds of individuals, representing dozens of organizations, in thinking creatively about ways to improve outcomes for returning citizens. This national interest resulted in the enactment of the Second Chance Act, which in turn contributed to the bipartisan support for criminal justice reform. Joan is directly responsible for this unprecedented level of national interest in reentry. Before our collaboration, Joan was one of a few scholars focusing on this topic. Today, there are literally hundreds of graduate students and young professors who have dedicated their careers to reducing mass incarceration and improving outcomes for our fellow citizens who have spent time in prison."
"Scholars and policy leaders know her massive contributions to the field of criminal law, of course. But thousands and thousands more across the country, who may not know her name, are freer and safer because of her work," says Michael Romano, JD '03, founding director of the Stanford Law Three Strikes Project, who adds that Petersilia's encouragement when he was launching the game-changing project was invaluable.
"Joan wrote that it was important to be kind to others as you never know what burden they are carrying. I watched her live this advice—she was kind to many in spite of or maybe because of the burden she was carrying. I was blessed to have experienced her extraordinary brand of kindness," says Jackie Lacey, Los Angeles District Attorney, who was part of the Executive Session on Realignment convened at Stanford by Petersilia and the SCJC.
"Joan was an intellectually gifted, dedicated and cheerful change agent in California prisons when the need of the state for her insights and talents was desperate. We were lucky to have her," says Franklin Zimring, Llewellyn Professor of Law and director of the Center for Studies in Criminal Justice at the University of California, Berkeley.
As one of the founding mothers of de-carceration in California,  she deservedly commanded respect from Republicans and Democrats, crime victims and inmate advocates." Keith Humphreys, Esther Ting Memorial Professor at Stanford
"Joan was genuine, modest, and warm-hearted, and the most creative and influential corrections scholar of our time. She was equally adept at designing and carrying out path-breaking research, advising governors and corrections chiefs, and talking one-on-one with prisoners and probation officers," recalls Professor Michael Tonry, the McKnight Presidential Professor of Criminal Law and Policy, director of the Institute on Crime and Public Policy of the University of Minnesota, and scientific member of Germany's Max Planck Society, who worked on and off with Petersilia for more than 40 years.
Her lack of partisanship also stood out.
"Joan was not afraid to leave the ivory tower for the frontline of social problem-solving. As one of the founding mothers of de-carceration in California, she deservedly commanded respect from Republicans and Democrats, crime victims and inmate advocates.  And she brought that real-world experience back with her to Stanford Law School and used it to enrich the intellectual life of her colleagues and students," says Keith Humphreys, Esther Ting Memorial Professor at Stanford, who shared research interests and a commitment to doing applied research with Petersilia. "Many criminologists can talk for hours about human rights without ever mentioning the word 'victim.' Joan taught her students that before anything else happens—investigation, arrest, charges, trial, sentencing—there is always a victim, who like the accused has rights that the system is obligated to uphold."
People close with Petersilia know how dedicated she was to her sons, both of whom have developmental disabilities. But few know that she put her scholarly skills to use in helping them too. She was an active scholar in the area of law and the developmentally disabled, particularly in the 1980s and 1990s when mainstreaming from state facilities into community-based homes raised a number of troubling issues. Indeed, for years, Petersilia was the pre-eminent, and often only, scholar working with Leigh Ann Davis, director of criminal justice initiatives at The ARC of the U.S. (the largest national community-based organization advocating for and with people with intellectual and developmental disabilities (I/DD) and serving them and their families), her efforts often focusing on the interaction of I/DD people with the criminal justice system.
Petersilia pulled away from research with Davis and ARC in about 2005 after her direct work with policymakers dramatically increased. When Davis reached out in 2016, it was because no one had filled the research void left by Petersilia. So, true to form, Petersilia suggested that Davis become a client for a Stanford Law School practicum—and they launched People with Developmental Disabilities and the Criminal Justice System, with Stanford students researching the often tough issues that persons with developmental disabilities face, from arrest through to parole.
"Never before have I had the opportunity to work with someone who possessed such a deep love for both people and justice, who effortlessly channeled that gift to change lives and broken systems in the world," says Davis. "Beyond Joan's impressive scholarly achievements as a criminologist, researcher, and professor, she was an exceptional human being who became personally involved in the fight for justice for all people, including those with disabilities."
Alison Morantz, James and Nancy Kelso Professor of Law and founding director of the Stanford Intellectual and Developmental Disabilities Law and Policy Project (SIDDLAPP), picked up the baton from Petersilia last year, turning her own empirical scholarship toward research in this area, with the recently launched project.
"In 2016, after many years of leading a double life as an academic and a parent-advocate for a child severely impacted by mental illness and intellectual and developmental disabilities (I/DD), I wondered if there was any way to connect my two worlds.  Knowing of Joan's close relationship with her two adult sons with I/DD, and having heard that she taught a policy lab on I/DD and criminal justice, I sought out her guidance," says Morantz. "I learned that before Joan came to Stanford, she blazed a trail as the first—and to this day, the leading—expert on the treatment of people with I/DD in the criminal justice system."
She insisted on evidence-based practices, and her research demonstrated why criminal justice systems failed when guided not by data, but by people's punitive instincts and prejudices."  Maggie Filler, MacArthur Justice Center
While sharing her research with policymakers was crucial, equally important to Petersilia was ensuring that the next generation of law students caught her enthusiasm and dedication.
"I came to understand Joan's approach to criminology not as ideological, but as rooted in a firm belief that policy makers ought to figure out what actually works to help the people systems aim to serve. She insisted on evidence-based practices, and her research demonstrated why criminal justice systems failed when guided not by data, but by people's punitive instincts and prejudices," says Maggie Filler, JD '12, now a civil rights attorney at the MacArthur Justice Center and in the law clinic at Northwestern Law School in Chicago. "Thanks entirely to Joan and the Criminal Justice Center, we were able to launch a multidisciplinary class at San Quentin dedicated to studying mass incarceration. Joan personally taught one of our classes and it was a highlight for all of the students."
"Joan's classes and her research had an amazing combination of theoretical richness and practical policy implications, and when I think about the kind of teacher and scholar I want to be, Joan is among my main role models," recalls Katie Young, JD '11 (MS '05/PhD '14), now assistant professor of Sociology at the University of Massachusetts, Amherst, and author of  How to be Sort of Happy in Law School.
It was in the classroom that Petersilia was most at home. "Law students have a sense of public service. And they believe they can do anything," she said in a 2011 Stanford Lawyer article. "And they are so bright. The scholarship produced by the students I taught when I was visiting was incredible, and it is now widely cited."
"Joan was passionate and rigorous about mentoring her students," says Debbie Mukamal, executive director of SCJC. "She wanted them to understand the myriad viewpoints and issues arising from the criminal justice system so she took them to visit state prisons and local jails, specialty courts, and juvenile detention facilities and invited formerly incarcerated people, victims of crime, probation officers, parole board members and other stakeholders to share their perspectives in her classes. She married those humanizing experiences with teaching her students the importance and methods of examining data to identify trends and effects. Perhaps most importantly, though, Joan was deeply kind and caring. She supported those around her with an infectious enthusiasm, and she will be sorely missed as a beloved colleague and friend."
"Joan was more than a professor to me. She was an educator and a life-long learner who modeled what pursuing your passions with inquisitiveness and healthy skepticism really looks like," says Angela McCray, JD '13, now general counsel at Entangled Group in New York, who worked with Petersilia and the SCJC  to launch and run Project ReMADE to help formerly incarcerated individuals succeed in starting businesses of their own. "She was inspired by her students, and in turn her excitement inspired us to want to see more, learn more, and above all else, do more. She was also more than a professional model to me."
"I have advocated for the rights of prisoners on death row, children sentenced to die in prison, and now, detained immigrants, and my work every day can be traced back to those first eye-opening classes with Joan," says Mark Feldman, JD '14, senior attorney at the Capital Area Immigrants' Rights (CAIR) Coalition, in Baltimore, MD, who also represents detained adults in deportation proceedings and appeals. "But as much as I appreciate what she taught me, and the numerous opportunities she created for me and other students to participate in meaningful, impactful research, what I most appreciated about Joan was her warmth. She wanted us to be successful advocates for others, but also happy and fulfilled in our own lives—an all-too-rare message in the legal profession."
"Joan had a rare ability to connect statistics to real human costs, to tell stories through numbers, to be at once an objective academic and a passionate advocate for change.  She radiated warmth and called all of us to hear hearth.  Her example expanded my understanding of what I could accomplish through advocacy, policy, and the academy, and inspired me to begin the research behind my new book," says Cary McClelland, JD '15, author of Silicon City: San Francisco in the Long Shadow of the Valley, an oral history capturing this particular moment in the Bay Area's modern boomtimes.
"There are three things in particular that make me feel so deeply lucky to have worked with Joan. First, she was an inspiring teacher and mentor. Second, she created meaningful opportunities for students to participate in incredibly sophisticated real-world work. Third, she created a community for criminal justice students to connect," says Jessica Greenlick Snyder, JD '13, an attorney with the Federal Public Defender's Office in Portland, Oregon.
David Ball, JD '06, associate professor of law at Santa Clara University School of Law and co-chair of the Corrections Committee of the American Bar Association's Criminal Justice Section, recalls Petersilia as a mentor. "She changed the course of my life. There is comfort, too, in the ripple effect of her life that she may not have even realized. The way I teach my law and policy classes, the way her influence shaped my approach to (and desire to be engaged with) policy."
"She was a giant in the field. She was also a giant in my life. She helped me see that with a little passion and hard work, a lawyer like me could have a tremendous effect on criminal justice policy," says John Butler, JD '14, director of research and outreach, fair and just prosecution associate director at the Center for Court Innovation in New York. "It is because of her that I pursued criminal justice policy as a career. I am smarter, better, and more thoughtful thanks to her love and guidance."
Joan Petersilia's family shared that remembrances may be made to Santa Barbara Special Olympics, "a group that held a special place in Joan's heart." They are located at 281 Magnolia Ave., Suite #200, Goleta, CA  93117. Click here to read the family's obituary.
---
Author Sharon Driscoll is the Director of Editorial Strategy, and the Editor of Stanford Lawyer, where this essay first appeared.