On Friday morning, July 24, Los Angeles Police Department Chief Michel Moore announced that the department had now seen its second death from the virus that still threatens the nation.
"Today we lost Officer Valentin Martinez, who tragically fell to COVID-19," Moore tweeted. "He worked as a patrol officer within @LAPDMission , dedicating his life to the people of LA. To his partner Megan, his mother, and siblings—our deepest condolences. Ofcr Martinez, May God welcome you home."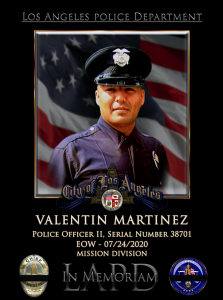 Officer Martinez, who as Moore said, worked out of LAPD's Mission Community Police Station, was the department's first sworn officer to die of the virus.  He and his partner,  Megan Flynn, are expecting twins in November — who are now, of course, without a father.
The LAPD lost its first department member to complications of COVID-19, on Friday, July 3, when Senior Detention Officer Erica McAdoo, died after an extended battle with the virus.
Tyler Izen, the former head of the Los Angeles Police Protective League (LAPPL) encompassed many of the sentiments posted across social media today with his own tweet in answer to the chief's news about Officer Martinez.
"I don't have the words to express my gratitude for his life and service or my sorrow for the loss. Prayers to his family, friends, co-workers, and the rest of Los Angeles. We all need prayer."
Officer Martinez was a 13 year veteran of the LAPD.
The department said Martinez was exposed to the virus on the job.
Like Officer Erica McAdoo, Officer Martinez fought the virus for months, reportedly since late May, when he was first diagnosed.  After struggling with virus at home for one week, he was rushed to Henry Mayo Hospital in Santa Clarita when his symptoms worsened.
On June 10, he was transferred to Providence Saint John's Health Center in Santa Monica in order to be placed on an ECMO machine, which is sometimes successfully used when a ventilator will not work.   There Martinez continued to fight until 5:33 a.m. on July 24th.
"LAPD Officer Valentin Martinez was a hero lost way too early in life," the LAPPL said in a statement. "All of our officers have placed themselves, and their families, at increased risk throughout the response to the COVID-19 pandemic. We honor their sacrifice today."
WitnessLA's thoughts go out to the family and fellow officers of Valentin Martinez, his partner, Megan Flynn, and to his twin boys still to come.
Because Flynn and Martinez weren't married, his LAPD benefits are reportedly scheduled to run out very soon, so friends have set up a GoFundMe page and a memorial page.