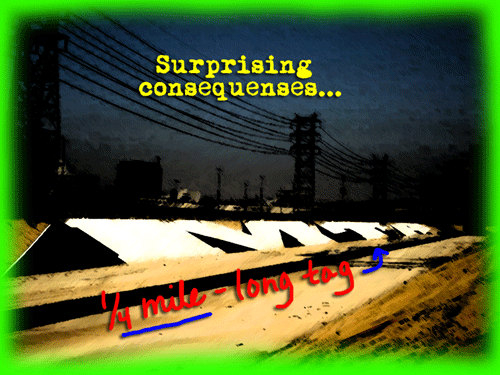 LOS ANGELES TAGGERS REACH AGREEMENT IN MONUMENTAL VANDALISM CASE
The City Attorney's office brought suit against 11 members of the LA tagging crew, Metro Transit Assassins, which could have resulted in the taggers paying upwards of four million dollars for multiple acts of vandalism, including a ginormous, 3-story high tag on the LA River walls. Both parties agreed to a deal that eliminates fiscal responsibility, but requires 100 hours of graffiti clean-up per crew member, an adult curfew, and a ban on associating with each other in public–a condition usually reserved for gang members.
(City Attorney Carmen Trutanich has been eager to use legal sanctions like gang injunctions on taggers, a move that, thus far, has largely been blocked by the ACLU among others.)
By the way, one of the more famous of the MTA crew, artist Cristian Gheorghiu, a.k.a. Smear, says he was not present for the creation of the monster tag.
You can peruse Gheorghiu's online art gallery here.
LA Times' Richard Winton has the story. Here's how it opens:
The settlement was announced Wednesday, the resolution of a landmark lawsuit against the taggers that sought to restrict their behavior and force them to pay $1.2 million in penalties and $3.7 million in damages for "500 documented incidents of graffiti vandalism."

The lawsuit against 11 alleged members of the crew was filed in June 2010 in response to a quarter-mile-long graffiti "bomb" of its acronym along the Los Angeles River.

Initially, city lawyers also sought to prevent the individuals — including artist Cristian Gheorghiu, a.k.a. Smear — from profiting from the sale of any related art.

Attorneys from the American Civil Liberties Union of Southern California challenged the proposed injunction on 1st Amendment grounds, but a judge found that the constitution "does not protect destruction of public or private property by graffiti vandalism, trespass and illegal activities."

Under the deal, defendants are prohibited from associating with other members of the tagging crew in public and possessing graffiti tools. They must also obey an adult curfew, according to Deputy City Atty. Jim McDougal.
---

CALIFORNIA REALIGNMENT FACES OBSTACLES
As most American states struggle to reduce the giant bite that prisons take out of cash strapped state budgets, all eyes are on California where a Supreme Court-mandated reduction in our prison population has resulted in the massively consequential strategy known as realignment, in which the counties are being handed the oversight of many of the state's lower level law-breakers—the "non-non-nons, as they have come to be called. (They are those convicted of non-violent, non-serious, non-sexual crimes.) Much of the rationale behind, realignment, is the idea that the county structure is better suited to rehabilitation than the state prison system, which has generally failed miserably (hence, California's awful recidivism rate).
This week, in a keynote address to the National Institute of Justice's annual conference in Arlington VA, Stanford law criminologist, Joan Petersilia, perhaps the leading national expert on parole and reentry, talks about the necessity of effective ex-inmate rehabilitation programs if California is to successfully meet the huge challenges and opportunities that our realignment experiment brings.
The Crime Report's Ted Gest has the story on Petersilia's speech. Here's a clip:
Even many Californians are not aware that in the last 18 months, the state's prison population has dropped from 172,000 to 135,000, and the number of parolees has plummeted even more sharply, from 132,000 to 60,000.

While this sounds promising to corrections reformers, Petersilia says it is happening so fast that officials and offenders alike are just beginning to understand the impact.

Many former inmates complain that they have been taken off the parole rolls so quickly that they are losing government benefits that are reserved for parolees. Some are being asked to get back on parole as a result, she says.

In addition, many prosecutors and law enforcement officials oppose aspects of realignment, contending that it will lead to rising crime rates.

One big problem is that government agencies are not pouring sufficient funding into ex-inmate rehabilitation.

Petersilia's Stanford Criminal Justice Center, which is receiving a federal grant to evaluate the California prisoner realignment program of Gov. Jerry Brown, is building a database of how the state's 58 counties are spending the $2 billion they are getting from the state to perform corrections-sytem functions that the state formerly did.

So far, only 10 percent of that money is going to treatment programs, with the bulk going to sheriff's office, local jails, probations staff, and court services. That bodes ill for keeping ex-inmates from returning to crime, Petersilia says.

"We can't just sit and watch this go off the train track," she told fellow researchers at the NIJ conference.
---
THE NEED FOR  THE COLLECTION OF CRIMINAL JUSTICE STATISTICS
America extensively compiles data for sports, the health care, schools, and many more industries, but there is a large gap in data collection and analysis between the different branches of the criminal justice system. Collecting, processing, and studying that data would provide a substantial sketch of the parts of the system that work–and those that don't work–and might create more direct routes to a better justice system, eliminating some of the guesswork and trial and error in corrections reform.
The Atlantic's Anne Milgram has the story. Here's a clip:
One area in which the potential of data analysis is still not adequately realized, however, is criminal justice. This is somewhat surprising given the success of CompStat, a law enforcement management tool that uses data to figure out how police resources can be used to reduce crime and hold law enforcement officials accountable for results. CompStat is widely credited with contributing to New York City's dramatic reduction in serious crime over the past two decades. Yet data-driven decision-making has not expanded to the whole of the criminal justice system.

But it could. And, in this respect, the front end of the system — the part of the process that runs from arrest through sentencing — is particularly important. At this stage, police, prosecutors, defenders, and courts make key choices about how to deal with offenders — choices that, taken together, have an enormous impact on crime. Yet most jurisdictions do not collect or analyze the data necessary to know whether these decisions are being made in a way that accomplishes the most important goals of the criminal justice system: increased public safety, decreased recidivism, reduced cost, and the fair, efficient administration of justice.

Even in jurisdictions where good data exists, a lack of technology is often an obstacle to using it effectively. Police, jails, courts, district attorneys, and public defenders each keep separate information systems, the data from which is almost never pulled together and analyzed in a way that could answer the questions that matter most: Who is in our criminal justice system? What crimes have been charged? What risks do individual offenders pose? And which option would best protect the public and make the best use of our limited resources?