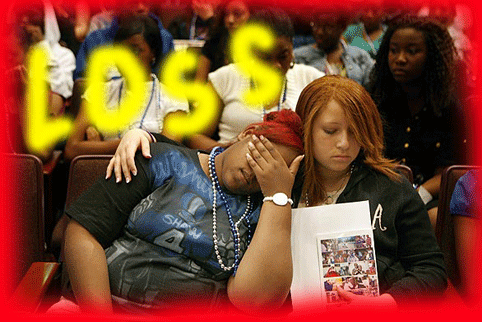 The R word is the word of the week. At very different ends of the racial spectrum there was Obama's speech on Tuesday and then, later in the day yesterday, LAPD Chief Bill Bratton told the Los Angeles Police Commission that race had little to do with the nearly 35 percent spike in homicides that has occurred since the beginning of 2008.

As of Monday, writes Joel Rubin of the LA Times about Bratton's Police Commission report, "….93 people had been killed in Los Angeles this year, compared with 69 during the same period last year." And the frequency seems to be ramping up. "Two weeks ago, for example, the increase in the homicide rate over last year stood at 27%. The rise is also outpacing those in New York City and Chicago — cities that have seen significant, but less dramatic, increases this year…"

Bratton says race has nothing to do with it. Yet according to some LA residents who attended the meeting (and those I've spoken to privately in some of the neighborhoods most affected) race is entering in. There has been, and continues to be, so much vicious racial division and tension inside California's jails and prisons that to believe it isn't spilling into the street is unrealistic.

However—and this is a big however—there is little or nothing to suggest that the race is the reason for the spike in homicides. In other words, Bratton's right. Last year there was gang violence, gang-related tragedies, that clearly had a racial element—although the majority of the shootings and the killings were brown on brown, black on black, This year too.

Yet, the rise in killings seems to have no racial pattern. Certain local TV commentators would like to suggest that it does, but a look at the individual homicides says otherwise.

Northeast, the LAPD division that's seen the biggest jump in deaths, can find no such pattern. (Just to check, I went over the details with one of their homicide detectives.) There has been a spate of gang paybacks as there has in some areas of South LA. But nothing that constitutes a pattern.

At the news conference, Deputy Chief, Charlie Beck, head of the LAPD's South Bureau, backed up Bratton's observations: `If I could find a pattern," he said, "if I could find something that I could immediately impact through resources or investigations, I would. I think that's the important thing … know that we do not just accept an increase."
Weirdly enough, while murders are up, I noticed in trolling through LAPD statistics, shootings are down so far this year. Since, guns were used in 77 percent of the murders, it appears that, although there were fewer shots fired, more of them connected with fatal consequences.
A certain level of public alarm resulted from the heartbreaking string of "innocents" shot: The football player with the soldier mom, the six-year-old shot in the head, the kid killed as he picked lemons.

Yet most of the murders, as is usual for LA, go unnoticed by anyone outside the victim's circle of family and friends—and of course by the police who investigate the murder.
One all but unnoticed murder was that of Jason Gray, a 29-year-old former gang member who was proud of the fact that he had left the street behind and was working at Homeboy Industries. Jason was shot on New Years Day as he was visiting his mother's grave at Forest Lawn in Glendale. He was very first homicide of the year. His shooting is believed to be gang related. Somebody likely went into the cemetery looking around for "enemies"—homeboys visiting other dead homeboys on the holiday. Whoever it was saw Jason paying respects to his mother and evidently decided he would do.
A pattern and a reason d'etre may yet emerge for the overall rise in murders (numbers which, by the way, are only up 7 percent over 2006.) But it ain't there yet.
But here's a pattern for you: According to the most recent count, there are more than 100,000 young men and women in Los Angeles, ages 16-24, who neither have jobs nor are they in school. With the growing economic dive, that number is likely to rise. It doesn't take an elaborate computer analysis to figure that the crime rate may very likely follow.
(photo by Barbara Davidson, LA Times)