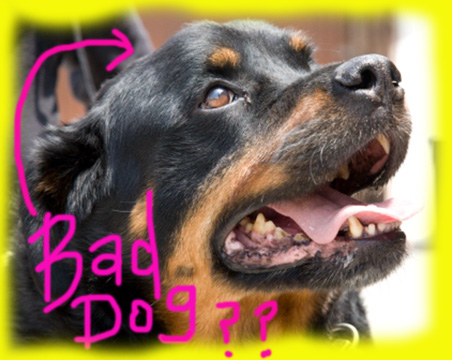 Monday on the LA Times animal blog there is a story that manages to combine a holy trinity of favorite WitnessLA issues: gangs, foolish laws….and critters.
(Sadly no wolves or bears are involved, but one cannot have everything in a single story. And while we're on the subject, are we happy or despondent that the same local newspaper that saw fit to eliminate the Homicide Report and four fifths of the book review section, now has an animal blog? Tough call.)
It seems that the city of Lancaster has decided that a swell way to crack down on gangs is to go after the gang members' dogs. Or the gang members who have dogs. Or those gangsters who have certain dogs.
Anyway, with this fuzzy notion in mind, Tuesday the city council will vote on a proposed ordinance that would impose harsh penalties on the owners of dogs labeled "potentially dangerous" or "vicious"—namely Rottweilers and Pitt Bulls. Even more controversial is the part of the ordinance that requires all Rottweilers, Pit Bulls and mixed-breeds with the physical characteristics of either Rotts or Pits, to be spayed or neutered.
*************************************************************************************
UPDATE: They indeed passed the thing. The LA Times has the story here along with some more…uh… notable quotes from the mayor.
*************************************************************************************
"I want gangs out of Lancaster," Mayor R. Rex Parris told a local interviewer. "I want to make it uncomfortable for them to be here. Anything they like, I want to take it away from them. I want to deliberately harass them…."
Alrighty then. And a happy civil liberties day to you too, Mister Mayor. (So, is it me or does the concept of a mayor named R. Rex Parris strike you as a bit Batman comic books-ish?)
It seems, however, that not all the good citizens of Lancaster are quite as enthusiastic about Mayor Parris's new gang strategy as he is. In fact, many law abiding residents also have Rotts and Pits and don't like being told what they may or may not do with their family pets.
As the devoted owner of a breed that could arguably make the "potentially dangerous" list—namely Loup-Loup-the-wolf dog—I can understand the Lancasterites disgruntled position on the topic. (When we were deciding whether or not to adopt one of my neighbor's part wolf puppies I ran into all manner of literature, plus a slew of well-meaning "experts," that warned us against the ghastly dangers of wolf hybrids. We are still waiting for Loup-Loup to turn on us. Thus far, it's been a 14-year wait.)
Part of the ordinance makes good sense in that it would levy heavy penalties against anyone owning a dog that bites or repeatedly menaces people.
Personally, I have exactly zero tolerance for people who allow dogs that bite to roam free. Ditto for idiots who think it's cool to train household dogs to be vicious, a practice that all too often involves mistreatment of the creatures.
Mandatory spaying and neutering has much to be said for it too. But designations of "potentially dangerous," plus enforced sterilization, levied against only certain breeds regardless of training and temperament is….stupid. And a legal slippery slope—especially when, under the ordinance, a single officer can determine whether or not a dog should be destroyed.
Viewing all of the above as a good gang suppression tactic is….what's the term I'm looking for?…Oh, yeah…..moronic.
When a crowd of dog owners showed up to a recent Lancaster City Council meeting, pets along with them, according to the LA Times there were some memorable exchanges.
For instance, at one point dog trainer A.J. Listman asked the mayor (who is also a personal injury lawyer) what he would do "when these gang members that you're trying to target move on to Dobermans or German Shepherds? You going to restrict them too?"
"If they move on to cats," the Times reports Parris responded, "I'm going to take their cats."
(sigh.) Some people parody themselves.
PS: NOTE TO MAYOR REX PARRIS: I don't want to trigger a brand new ordinance or anything, and maybe it's just my luck, but I seem to know an inordinate number of gang members, or former gang members with kids and families, who have Chihuahuas as pets. Do you also have plans for the Chihuahuas? Just curious.
Photo by Susan Beveridge