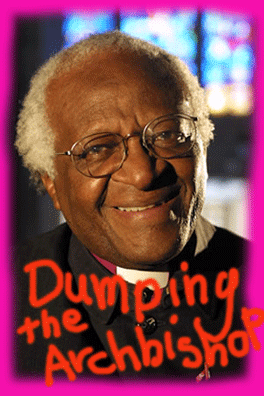 For four straight years, the well-regarded Justice and Peace Studies program at Saint Thomas University in Minnesota has sponsored high-profile events featuring four different Nobel laureates such as Rigoberta Menchú Tum and Shirin Ebadi.
In keeping with the trend, the program's heads decided to invite Nobel Peace Prize winner, Desmond Tutu to speak at the university in the Spring of '08. They were overjoyed when he accepted.
But when the justice and peace folks shared their good news with St. Thom's administration, instead of expressing delight at the coup, the administration spiked the idea altogether saying that Desmond Tutu had been critical of Israel's policy with the Palestinians and so was not welcome as campus-sponsored speaker.
The controversy hit the Minnesota papers last week then, on Friday, was picked up internationally when St. Thom's admin received nearly 2000 emails asking it to reconsider.
Here's a report from the Minneapolis Star Tribune:
Doug Hennes, vice president for university and government relations at St. Thomas, said the Rev. Dennis Dease, St. Thomas' president, made the final decision not to invite Tutu after consulting with his staff.

"He [Tutu] has been critical of Israel and Israeli policy regarding the Palestinians, so we talked with people in the Jewish community and they said they believed it would be hurtful to the Jewish community, because of things he's said," Hennes said.

To further complicate matters, when the head of the Justice and Peace Studies program, a woman named, Cris Toffolo, sent a letter to Archbishop Tutu, informing him of the decision (and also expressing her dismay and disagreement), the administration honchos removed her from her position as head of the program. ( Professor Toffolo is still teaching at the university. I'm betting that she's tenured.)

The whole snatched-away-invite issue has to do with a speech that Tutu gave at a 2002 conference in Boston. A version of the speech may be found here.

Marv Davidov, an adjunct professor within the Justice and Peace Studies program, was one of those appalled by the U's decision.
"I am Jewish, and stifling debate and dissent [and] criticism of Israel is a disservice to all Jews, the state of Israel and the American people," he said.
Precisely.
So here's the big question: Is criticism of Israel's government, or our own government (or any other government, for that matter) now a disqualifying factor for speaking to America's university students? Is that really what we've come to?
Like his speech or hate it, Desmond Tutu is a world-renowned and beloved figure who expressed an impassioned and reasoned opinion—with which reasonable people might disagree (or even, God forbid, agree, if that sort of thing's still permissible). But, now St. Thomas students and faculty won't have the opportunity to agree OR disagree, or anything in between—BECAUSE TUTU'S NOT COMING TO THE SCHOOL!!!
Oh, and has anyone mentioned the teensy-weensy fact that retired Archbishop Tutu has not said anything about Israeli policy that former President Jimmy Carter has not said too, and at far greater length.
So will the 39th President of the United States be the next dis-invitee at college commencement time?
Just curious.