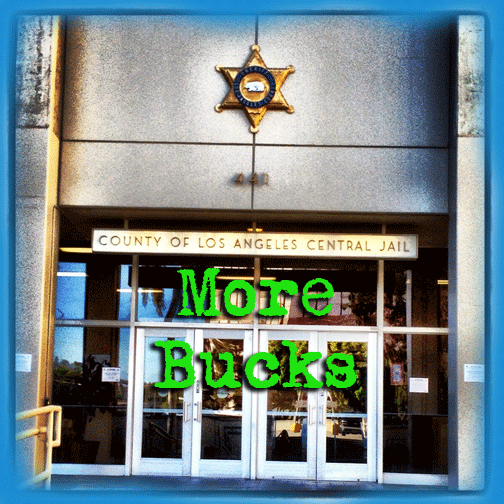 LOS ANGELES SHERIFF'S DEPARTMENT NEEDS ANOTHER $61 MILLION TO KEEP ITS JAILS SAFE
According to a report issued Tuesday by Richard Drooyan, the lead attorney for the Citizen's Commission on Jail Violence, progress is being made in reforming the department's jails, but a pile of money—namely $61 million—is needed to keep the scandal-plagued facilities safe.
Since the LASD's budget it, at present $2.7 billion, that means that an additional 23 percent is needed solely for the jails to make such improvements as having an adequate number of supervisors in the facilities and creating an investigative process that works.
While it's genuinely heartening that force inside the jails has dropped, particularly "significant force," and it's understandable that more supervisors are needed, but $61 million worth?
We have other questions about the matter, but they can wait.
In the meantime, Elizabeth Marcellino from the City News Service has more on the story. Here's a clip:
….One major change was hiring of an assistant sheriff responsible for the custody division.

Terri McDonald, formerly the undersecretary of operations for the state Department of Corrections and Rehabilitation, is set to start work on March 18, sheriff's spokesman Steve Whitmore said. McDonald will report directly to Baca.

"What we saw was a real gap in accountability between the jail facility and the sheriff. Now they've taken the first step," Drooyan said. "I think things are moving in the right direction."

Several of the people running the jails during the time frame reviewed by the commission are no longer with the department, including Daniel Cruz, formerly a captain at Men's Central Jail, and former Assistant Sheriff Marvin Cavanaugh, once responsible for overseeing the jail system.

Both Cruz and Cavanaugh retired Jan. 1.

Drooyan said the sheriff and his department have been responsive to his requests, and that all of the recommendations that do not require significant funding should be implemented in 30-60 days.

But "in many ways, the toughest ones to implement" are still under way, Drooyan told the board. They include hiring additional supervisors, finalizing enhanced penalties for excessive force and revising the investigative process.
---
SUPREME COURT WRESTLES WITH STATE RESTRICTIONS ON FREEDOM OF INFORMATION ACT
Robert Barnes at the Washington Post has the story.
Here's a clip:
Virginia is virtually alone among the states in blocking those from beyond its borders from using its Freedom of Information Act to get state documents and records.

The question before the Supreme Court on Wednesday was: So what?

The court spent a spirited hour debating whether Virginia had a good reason for making a distinction between its residents and out-of-staters, or whether the state even needed one.

Two men — Mark McBurney of Rhode Island, who wanted to examine records from the state child support enforcement division, and Californian Roger Hurlbert, who operates a business obtaining real estate tax assessments — challenged what their Washington attorney, Deepak Gupta, called Virginia's "discriminatory access policy."

Gupta said it violated a provision of the Constitution meant to put residents of the states on equal footing, and also the dormant-commerce clause, which guards against economic protectionism.

But Gupta ran straight into Justice Antonin Scalia, who coincidentally is one of four justices who live in Virginia. Scalia said he remembered the advent of "government in the sunshine" laws that popped up around the country, starting in Florida, during the 1960s.

"It seems to me entirely in accord with that purpose of these laws to say it's only Virginia citizens who are concerned about the functioning of Virginia government, and ought to be able to get whatever records Virginia agencies have," Scalia said. "What's wrong with that reasoning?"…
---
RETHINKING AMERICA'S PRISON POLICIES
A bunch of new NPR reports about how states are reconsidering their prison and sentencing policies as out of whack from a cost/benefit perspective.
Here's the introduction to the an excellent overview on WBUR's ON the Point. (The program itself deserves a listen.
The USA is number one in the world when it comes to the number of people in prison. Bigger than China. Bigger than Russia. America's prison population is tops. 2.2 million. Bigger than fifteen American states. And its incarceration rate is number one. Three times – triple – any other nation's. All that American imprisonment is very expensive. And very debatable when it comes to effectiveness, fairness – to justice itself. Now states across the country are reconsidering the mandatory sentencing policies and more that filled those cells. This hour, On Point: slimming down American prisons.
Here's a link to two more stories on NPR's All Things Considered as part of their series, "The Legacy And Future Of Mass Incarceration."