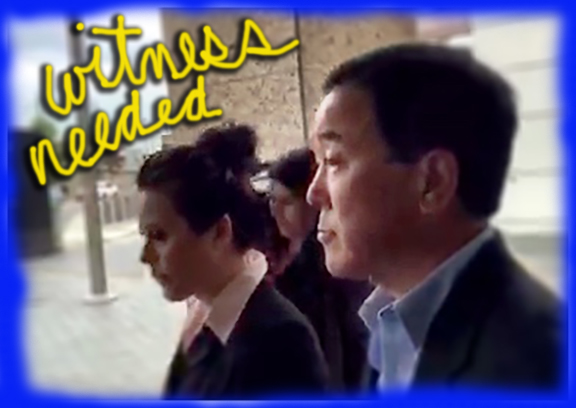 As the ongoing drama of the obstruction of Justice indictments against former members of the Los Angeles Sheriff's Department continues, the newest moment-of-interest is provided by the attorneys for former undersheriff Paul Tanaka, whose trial will commence this coming November.
Where we last left off was last week, when Tanaka's co-indictee, former LASD Captain William "Tom" Carey took a plea deal—meaning, among other things, Mr. Carey will be a witness for the prosecution at Tanaka's trial.
Clearly the former undersheriff could use a new witness of his own.
Voila! On Friday, Tanaka's attorney, Dean Seward, filed a motion asking the judge to step in because the federal prosecutors have declined to grant former Sheriff Lee Baca immunity so that he may testify at Tanaka's trial without taking the fifth, which Baca's attorneys have consistently said to anyone who asks is exactly what their client will do, absent immunity.
This is the same answer Baca and company has given to other attorneys of other federal defendants who wanted the former sheriff to testify at their trials.
When prosecutors Brandon Fox and Lizabeth Rhodes have been asked if they will make the immunity deal, they've evidently answered with the rough legal equivalent of "Are you freaking kidding us?! No! Of course, not!"
So Seward has turned to a higher power—namely Judge Percy Anderson—in the hope he will intervene. Anderson, who seemed to be irritated with Tanaka's antics on the stand as a witness in the previous obstruction trials, is not likely to catch this pre-trial Hail Mary pass now that Tanaka is a defendent.
Nevertheless the argument in the text of the motion, which will be heard at the end of this month, is fascinating. Here's a clip:
…Moreover, the prior prosecution of LASD deputy sheriffs by these same prosecutors in this same courtroom would never had occurred but for the actions of then Sheriff Leroy Baca.

But the Court and jury will never hear from Mr. Baca unless this Court intervenes. That is not because his testimony is not relevant. That is not because his testimony is not exculpatory. That is only because the government refuses to bestow the same inoculation against criminal prosecution that it has used with such vengeance to enable it to charge Mr. Tanaka.

As a result of the government's inaction and refusal to immunize an exculpatory witness, Mr. Tanaka will be prevented from presenting a valid and relevant defense unless this Court intervenes. In order to enable the defendant to present the complete events and not rely on the incomplete version from the prosecution, this Court should grant this motion and order the government to give Leroy Baca use immunity for any testimony he may provide at trial.

The government cannot, at this late hour, argue that it has not had the opportunity to investigate the matter and determine who should be prosecuted. Logically, there's only one person for whom prosecution is still possible: Leroy Baca. The events in this case occurred nearly 4 years ago. Multiple grand juries have been convened. The government and F.B.I. have interviewed hundreds of witnesses. Hundreds of thousands of pages of documents, exhibits, and recordings have been generated. To say the government does not have enough before it to choose whether to prosecute Mr. Baca makes no sense. The motion herein is not meant to force the government's hand. But it is meant to force them to let Mr. Baca have his day in Court: either as a witness in Mr. Tanaka's trial or as a co- defendant in this prosecution.

The government, by refusing to charge Mr. Baca or grant him immunity to testify in Mr. Tanaka's trial, is exercising its immunity power not for legitimate prosecutorial purposes but to deny Mr. Tanaka a level playing field of evidence.
In other words: either indict Lee Baca or give him to us as a witness!
There is, of course, lots more after that.
The motion will be heard on September 28. So stay tuned.
---
AND IN OTHER NEWS….EXECUTIVES AT YET ANOTHER LA COUNTY FOSTER CARE GROUP HOME ARE CHARGED WITH EMBEZZLEMENT
Just about a year ago, LA District attorney Jackie Lacey announced that a husband and wife team was being charged with embezzling more than $460,000 in taxpayer money from a nonprofit agency hired by Los Angeles County's Department of Children and Family services to help some of the harder to place abused and neglected foster children.
The LA Times Garrett Therolf reported extensively on the story last year and has been on top of the issue since.
Now Therolf reports that a whole different set of executives for a different group home that cares for abused and neglected LA Youth have been charged by the DA with skimming and generally misusing money from the taxpayer funded enterprise the are supposed to be overseeing.
Lovely.
Here's a clip:
As in the district attorney's recent case against leaders of the Little People's World group home, the alleged wrongdoing at Moore's Cottage may have festered for years as county officials ignored signs of financial mismanagement, records show.

"It's my fault that we didn't know more about it," said Philip Browning, director of the Department of Children and Family Services.

The activities alleged in the lawsuit occurred before 2013, and Browning said they might have been prevented by an improved monitoring system the department put in place about a year ago.

Prosecutors filed the criminal charges against Batchelor and Smith in April with no public announcement. The district attorney's office declined to comment.

The two men, who pleaded not guilty and are free on bail, declined to respond to requests for comment.

They are accused of embezzling more than $100,000 from the charity and damaging or destroying property in excess of $65,000. The lawsuit also accuses them of filing false personal tax returns in 2011, 2012 and 2013 — the same period in which they failed to file tax forms for Moore's Cottage. In total, Moore's Cottage owed $460,000 in delinquent federal payroll taxes as of September 2013.

A court petition for a search warrant filed this year by the district attorney's office says that "Batchelor had no intention of paying payroll taxes with the money he withdrew. His sole purpose was to split the withdrawn money with Smith for personal gain."