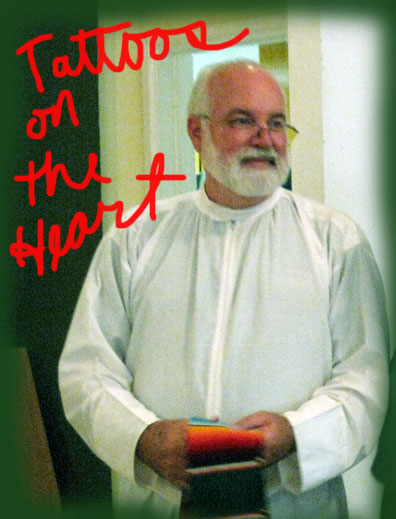 LA Times' (and KPCC's) Patt Morrison did an interview with Father Greg Boyle regarding his new book, and related topics. It ran over the weekend. Patt is smart and savvy and her conversation with Boyle makes for lively reading. Here are some representative clips.
ABOUT WHAT THE PRIEST HAS IN COMMON WITH ELVIS
I should have known better than to try to interview Father Gregory Boyle on his home turf, at the Homegirl Café in the Homeboy Industries building on the edge of Chinatown. It was like trying to interview Elvis in the lobby of the Flamingo Hotel.

Old ladies, homeboys, artists, a City Council member — everybody wanted to say hi to the man who, from nothing — less than nothing, which is to say, derision and debt and doubt — crafted what is now the biggest gang "exit" program in the country.

Homeboy Industries, a complex of ex-gangster-run businesses, has been a 20-year-plus labor of, yes, love, and now Boyle is telling tales. Homilies, tear-jerkers and even bursts of humor from the barrio families and felons he serves are collected in his new book, published in English and Spanish. He sat across from me, drinking coffee and writing messages on flyleaf after flyleaf of "Tattoos on the Heart," which could have been subtitled "Life Among the Homies."
ON THE CHURCH AND ITS..UM…LATEST CONTROVERSY
There are iterations of Christianity that say, "My way or the highway."

I'm not down with that, as the homies would say. That doesn't make sense to me.

Even within [my] own sad, tragic church, there's a clerical culture that's not very helpful — it's just about power and privilege and secrecy and sometimes even a willful wandering away from Jesus and the living of the Gospel. I think that the church can be returned to itself. It's about standing at the margins and with the right people, with these people [he looks around the cafe], and that's what the church ought to be.
ON HOMEBOY INDUSTRIES ONGOING FUNDING PROBLEMS
When it comes to funding, why has this place had more near death scenes than Sarah Bernhardt?

Because there's a fullness to the place, and funding the fullness is a $10 million annual concern. Three and a half million gets raised by our businesses, so I have to raise $6 million, and that's a daunting task. But you think Homeboy Industries costs a lot, wait until you get the bill for our nonexistence. It's not just that we serve 12,000 gang members a year, but we stand as a symbol to even those who don't walk in, and who are locked up. If you didn't have [us] as some future possibility [for them], that would have a devastating impact to the county.

So why is that 6 million so hard to get?

People say, "Gosh there's no money." I say, in six months, MOCA got $60 million. I don't begrudge the fact that they got their money — I love MOCA. But that's the truth. This is a harder sell. We had difficulty at the same moment it was publicly known that [MOCA] needed money. And the people in this city came to MOCA's aid, and with us, not so much.
ON "CODDLING" GANG MEMBERS
Don't criminals need to take responsibility?

A politician said, "Gang members should pay the consequences of their crimes." I go, "Not only do I agree with you, find one person on the planet Earth who's going to disagree." You hear that all the time, that [we] coddle gang members. Would you ever accuse a drug rehab center — oh you're coddling addicts? No, we're trying to help them leave that behind. If you don't have exit ramps, then how is it we can tell them to get off the freeway?
ABOUT WHAT FEATURE FILMS FATHER GREG FAVORS
What do you do for yourself?

I try to catch a dinner with a friend, maybe a movie. I love movies. I'm pretty eclectic — I'll go to the Laemmle in Pasadena for the foreign kind of thing. I don't mind something like "Avatar," more popular stuff.

Let me guess that your favorite isn't "The Bells of St. Mary's"?

Probably my least!
Read the whole thing.
---
NOTE: As you can see my promise to blog "mid-morning" turned into mid afternoon. Part has to do with the fact that I'm still fighting off some unpleasant buggish thing.
But also, I unexpectedly taped Which Way LA Today , which required that I turn my attention to the County's gang program (such as it is; more on that shortly).