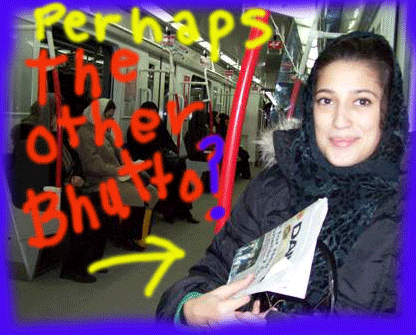 (Fatima Bhutto in Tehran)

It was inevitable that her name should eventually come up.
Now that the elections in Pakistan have been delayed for six weeks, there is more time to talk about who will take part in said elections, most specifically who really ought to lead the PPP—the late Benazir Bhutto's Pakistan People's Party.
At the moment, leadership is supposed to go to Benazir's 19-year-old son, Bilawal, who was named his mother's successor in her will.

There are one or two problems with this idea of Bilawal leading his mother's party. For one thing, there is his young age and complete lack of anything resembling political experience. Plus Bilawal has spent very little time in Pakistan. (He's going to school at Oxford now but grew up primarily in Dubai during the period of Benazir's exile.) And, although it has been deemed important to have a Bhutto to replace the murdered Benazir, while Bilawal is a Bhutto by blood, he is not by name. He goes by the`last name of his father, Asif Ali Zardari. As a result, the necessary "Bhutto" has been hastily added to Bilawal's moniker as a middle name.

However the biggest difficulty in having Bilawal take over the PPP is that he won't be doing so for a number of years. Instead, he will continue his studies at Oxford while his father acts as regent. And since his father—Benazir's husband, Asif Ali Zardari— is roundly disliked by much of the Pakistani populace, this is an arrangement that is likely to unravel.
As a consequence many Pakistan watchers, both within the country and without, have been wondering when someone would get around to mentioning that there is, in fact, another Bhutto who is far better suited than Bilawal for a central role in Pakistani politics, and that Bhutto is Fatima, Benazir's niece, a 25-year-old newspaper columnist and author. (For the earlier WLA interview with Fatima click here.)

Finally someone did mention it: On Sunday, the London Telegraph published an article by Jemima Khan–ex-wife of Pakistani cricket star turned politician, Imran Khan—suggesting that "If a Bhutto Must Run Pakistan, why Not Fatima." The article was quickly quoted by a
string of papers in the region, then some of the Pakistani bloggers picked it up. Now even regional TV is reporting the idea.

It seems unlikely that either Fatima or the PPP will embrace this notion any time soon—given their past antipathy, and Fatima's stated reluctance to run for office. On the other hand, Fatima is a very bright, talented and impassioned young woman, and sometimes with the passage of time and the right circumstances, what was once unlikely can suddenly seem very likely indeed.