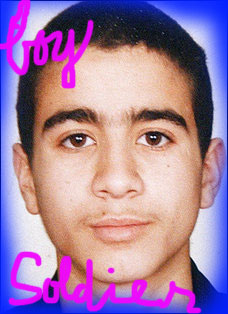 Omar Khadr is the youngest detainee at Guantanamo Bay, Cuba. He was 15 when he allegedly threw a grenade that killed a U.S. Special Forces medic in Afghanistan.
Wednesday's Washington Post has the story:

…The struggle against al-Qaeda has thrown up few detainees with as baleful and unlikely a background as Khadr's — a father who moved his family to Afghanistan and inside Osama bin Laden's circle of intimates when Omar was 10; a mother and sister who said the Sept. 11, 2001, attacks were deserved; and a brother, the black sheep of the clan, who said he became a CIA asset after his capture in Afghanistan.

This background has convinced U.N. officials, human rights advocates and defense lawyers that Khadr, a Canadian citizen, was an indoctrinated child soldier and, in line with international practice in other conflicts, should be rehabilitated, not prosecuted.
Here also is a 2007 60 Minutes segment on Omar Khadr, who Bob Simon reminds is us theonly person in modern history to be charged for war crimes he allegedly committed while a minor.
This is a no brainer. What is Eric Holder thinking?