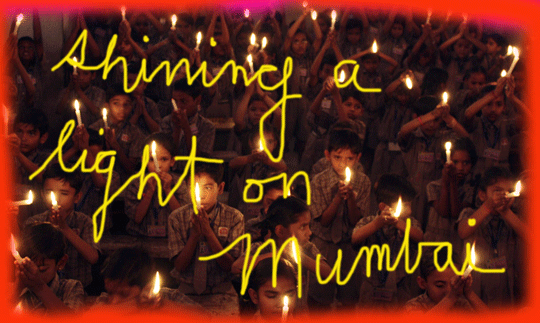 Although I am still in the midst of a Tryptophanic haze, I want to again link to some of the remarkable citizen journalists (and in some cases professional journalists using unconventional means) who have been eyes and ears for the rest of us who wanted to understand the human dimension of the events that unfolded with deadly force in Mumbai over the past three days.
There was for example Dina Meta , an ethnographer and social media consultant whose Twitter feed can be found here.
And then there are the harrowing accounts from Aran Shanbhag who lives near the Hotel Taj Mahal. (Scroll down to find his first post.) In words and photos, he talks about his best friend's brother being killed, about the blood from a dead waiter he sees on the pavement in front of the barbershop where he gets his hair cut every week, about the shock at seeing a landmark that had known all his life becoming a flaming palace of death.
NPR did a wonderful story on an Indian journalist named Sreenath Sreenivasanwho is the dean of student affairs at the Columbia University School of Journalism in New York. Within an hour of the attacks, Sreenivasan set up a call in radio show to aggregate and curate the observations of his fellow journalists who were on the ground in Mumbai and related areas.
"It was technology allowing us to do things we could never have done even a year ago…" he said.
Here's a link to the first of the series of broadcasts he did as news of the situation was just beginning to filter out. (And here is the link to subsequent broadcasts.) It makes for remarkable listening.
And, of course, there are the collective Twitter feeds, with #MUMBAI the biggest one
Instead of conventional linear journalism, suddenly we had an Einsteinian explosion of reporting in which many pieces came together to form an dynamically-evolving whole.
*******************************************************************************************************************
(Photo of school children in the western Indian city of Ahmedabad taking part in a vigil for the victims of the Mumbai attacks, by Amit Dave for REUTERS)