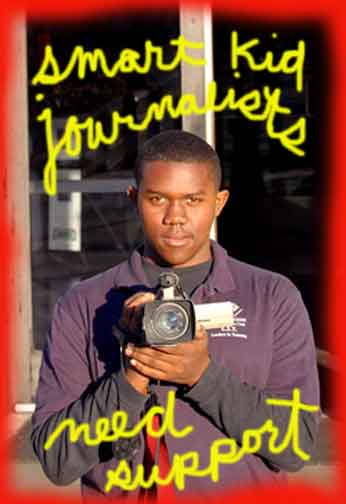 THE LA TIMES PULLS PLUG ON PRINTING THE NATION'S BIGGEST NON-PROFIT TEEN NEWSPAPER
LA Observed has this story. Kevin and I talked about the issue at the LA Times Festival of Books, and we were both shocked and saddened by the Times' short-sightedness .
LA Youth is a remarkable project that has been around for two decades, and the LA Times has always helped out by picking up the tab for the printing. Not anymore. Yes, we understand they're cost-cutting to the bone. But I bet if I looked at a few executive salaries (cough….publisher…cough) I could find the $15 grand it takes to put out this newspaper that has done so much to give LA's kids a voice.

LA Observed also has ways that you can donate to help out. (Or click here.)
To give you an idea of what is worth saving, here's a story by a 15-year-old video journalist who found, through reporting, what in his South LA community really matters.
******************************************************************************************************************

ATTORNEY GENERAL JERRY BROWN GOES AFTER THE MAYWOOD POLICE DEPARTMENT

Today, AG Jerry Brown will release a 30-page report saying that the City of Maywood Police Department "routinely used excessive force, did not obtain probable cause to justify arrests and searches, and operated without adequate oversight by the Maywood City Council and the City's Chief Administrative Officer." This report is the result of a 16-month investigation which exposed "gross misconduct and widespread abuse," including unlawful use of force against civilians.
According to the press release, Brown has sole legal authority under California Civil Code 52.3 to ensure that police departments do not deprive "any person of rights, privileges, or immunities secured or protected by the Constitution or laws of the United States or by the Constitution or laws of California."

Okay, Jerry, now that you're on a roll, and we've discovered you have that "sole legal authority" thingy, how about taking a look at Men's Central Jail?
*************************************************************************************************************

SWINE FLU….AND SWINE-ISH POLITICS
USC sent out a Swine Flu Alert yesterday-–as did, I imagine, a lot of other institutions, even though the number of confirmed cases in the US are still few, located mostly on the East Coast, and thus far there have been no fatalities.

But the CDC is sending out jittery warnings because this is a nasty flu that, in Mexico anyway, has spread uncomfortably quickly out of season. So caution is appropriate. Thus USC, as the responsible parent, is appropriately telling everyone to be cautious too.
Which brings us around to the political side of this story—namely when certain Republican lawmakers elected not to be appropriately cautious, but to play politics instead by insisting that pandemic preparedness be stripped out of the stimulus package.
My pal Marc Cooper also has a smart take on the issue.
********************************************************************************************************
PAKISTAN'S POOR TURN TO THE TALIBAN AS THEIR GOVERNMENT IGNORES THEM
Fatima Bhutto, niece of the late Benazir Bhutto, has written an excellent and alarming column for the Daily Beast that I hope the right people in the Obama administration manage to read. It says that the biggest cause of the rise of fundamentalism in Pakistan is the government's failure to provide the simplest of desperately services for the nation's poor. The Taliban has moved into that vacuum handily with schools, with medical relief and with generators when the government does not even provide electricity.
She writes:
In Pakistan things move at a leisurely South Asian pace. We missed our goals to eradicate polio recently because we, a nuclear nation, could not sustain electricity across the country long enough to refrigerate the vaccines. Garbage disposal is a nonexistent concept, and plush neighborhoods in Karachi boast towers of rubbish piled on street corners and alleyways. Prisons and police cells are full of prisoners awaiting trials, and our justice system, despite the reinstatement of the Chief Justice Iftikhar Chaudry, leaves a lot to be desired in terms of meting out free and fair access to justice.

One thing moving ridiculously fast, however, is the Taliban's stranglehold on the country…..
In a conversation a year and a half ago, Fatima warned me the fundamentalists could gain power if the government continued to neglect its most poverty-stricken citizens. Her views turned out to be prescient.
When Pakistan's weak and notoriously corrupt president, Asif Zardari, comes to Washington next week to ask for money, Fatima suggests that the U.S. should instead, insist that Mr. Zardari's government do its job.