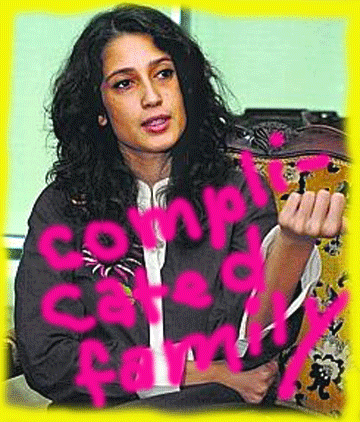 Out of all the homages and the farewell essays pursuant to the assassination of Benazir Bhutto there are two that have stayed with me, one written by my friend Amy Wilentz, who went to school with Benazir, and kept in touch with her over the years. (Actually, Amy knew much of the family and even dated Benazir's brother, Murtaza, Fatima Bhutto's father, who was himself murdered in 1966, likely with Benazir's complicity at least in the cover-up afterward.)
Amy writes in the Los Angeles Times of the last time she saw Benazir, 10 days before Bhutto's return to Pakistan. It is a close-up and poignant glimpse of the personal woman behind the dynastic juggernaught.
It was nighttime as we spoke in her enormous fortress of a house in a gated community in Dubai. Outside, in the side yard behind walls and barriers, the guard dog barked. In the front receiving room was a little library stuffed with paperbacks, titles such as "Facial Workout," "The Little Book of Stress," "Eat to Beat Your Age" and Deepak Chopra's "How to Know God."

[snip]
On walls everywhere in her Dubai house were enlarged photographs of Zulfikar Bhutto. As prime minister, Benazir had been notoriously high-handed, but she had an unpretentious manner in private. For an Oxford and Harvard graduate, she was unembarrassed by her addiction to bestsellers, blockbusters and psychobabble books. When I asked if she was frightened of going back to Pakistan, she was matter-of-fact: "For all the lows in my life, those self-help books helped me survive, I can tell you. There's a focus on the present; don't worry about tomorrow. … When the time comes that I have to die, I'll die." When I left her late that night, she seemed lonely, standing on the doorstep in a pool of light, waving goodbye. She had lost so much in her struggle to become great, to take on what she thought of as her father's mantle.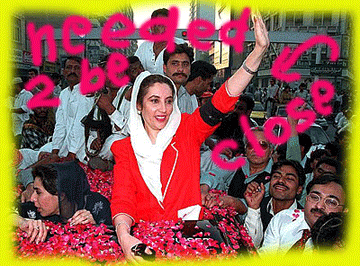 And then there is the essay that all Bhutto watchers have been waiting for, written by Benazir Bhutto's harshest critic, the newspaper columnist who called Benazir the most dangerous woman in Pakistan. I'm talking of course about her niece, Fatima.


When I heard the news that Benazir had been assassinated, I emailed Fatima immediately just to express my concern for her well being. As smart and sophisticated as Fatima may be, she is after all only 25, and has lived through the slaughter of her dad, the closest person to her in the world, right in front of their house. He uncle was murdered under cloudy circumstances, and of course there was the hanging of her grandfather, Zulfikar Ali Bhutto the now legendary figure who began the Bhutto dynasty. Benazir was a person with whom Fati—as the family calls her—was particularly close as a child. But then her father was murdered, and a terrible rupture between them occurred. Yet family fury, however seemingly well-reasoned, is never simple. And I knew that Benazir's death must be a strange, confusing and, in many ways unimaginable blow, for Fatima, whom I have come to like very much—both through the phone interview I did with her a few months ago, and in the email correspondence that followed.

In the worst moments, a good writer writes. And Fatima Bhutto is an excellent writer. Here are some clips from what she wrote in the Hindustan Times about her own swirl of feelings surrounding the death of her aunt. It's worth reading in its entirety.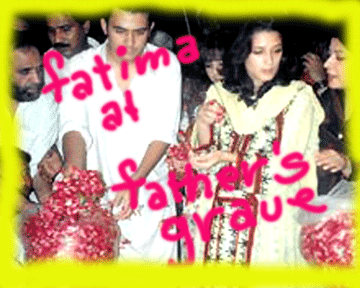 My aunt and I had a complicated relationship. That is the truth, the sad truth. The last fifteen years were not the ones we spent as friends or as relatives, that is also the truth. But this week, I too want to remember her differently. I want to remember her differently because I must. I can't lose faith in this country, my home. I can't believe that it was for nothing, that violence in its purest form is so cruel and so unforgiving. I can't accept that this is what we have come to. So, I must offer a farewell. One that is written in tears and anger but one that comes from a place far away, from the realm of memory and forgiving — a place where at another time, we might have all been safe. As a child, I used to call my aunt Wadi Bua, Sindhi for father's older sister.

When I got the news, I was told that something had happened to Wadi Bua. It was an expression I hadn't heard or used in a very long time, when I heard it said to me over the phone I remembered someone different.

We used to read children's books together. We used to like exactly the same sweets — sugared chestnuts and candied apples. We used to get the same ear infections that tortured us throughout the years.

I have never before written an article that seemed so impossible. We were very different. Though people liked to compare us, almost instinctively, because well, they could. It is difficult for me to write about two people, one in the present tense and one in the past, at the same time.
[snip] But in death, perhaps, there is a moment to call for calm. To say, enough. We have had enough.

We cannot, and we will not, take any more madness. I mourn because my family has had enough. I mourn for Bilawal, Bakhtawar, and Asifa. I mourn for them because I too lost a parent. I know what it feels like.

I am at a loss. I am in shock because I have yet to bury a loved one who has died from natural causes. Four. That's the number of family members, immediate family members, whom we have laid to rest, all victims of senseless killing.

I was born five years after my grandfather, Zulfikar Ali Bhutto's assassination.

I was three when my uncle Shahnawaz was murdered. I remember Wadi Bua sitting with me and telling me stories while the rest of the family was with the police.

When I was fourteen, my life was ended. I lost my heart and soul, my father Murtaza. I am and have been since then a shell of the person I was. [snip]

And now at twenty-five, Wadi. But this isn't about me, it's about those whom we have lost. It's about the graveyard at Garhi Khuda Bux that is just too full.
And now one more essay, this one in Huff Post and also by Amy Wilenz, with whom I've been emailing back and forth about our various thoughts re: the psychological implications of the political events—and vice versa—as the calamitous drama in Pakistan continues to unfold in the wake of Benazir's assassination.
None of this is, by the way, meant to let BB off the hook for the corruption, and the often unwiseness of Benazir's associations. It is meant as a glimpse into the humanness that—for better and for worse—can affect the fate of nations.
Here are some clips:
She thrived on the drama of danger precisely because she assumed that she would always escape. And she believed you had to go to the people because she knew that — Bush or no Bush — her power resided with her popularity. After her first two degraded premierships, she was seeking political redemption, and for that, she had to plunge, as her father before her had, and as she herself always had, into the constituency. In the case of the Bhuttos, the constituency is all Pakistan. Interestingly, if her people died because of her, she minded, but not too much. It was a collateral damage she could put up with, even when, as in October, the death toll went past 100.

And now she has died alongside them, something she was unable to imagine.

"Death is a proof of sincerity," Graham Greene wrote in The Comedians. That holds true here.