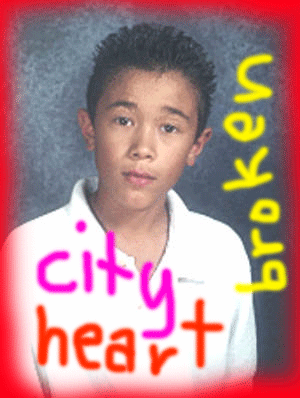 Kevin Roderick at LA Observed posted a link to this Op Ed that ran in the Long Beach Press Telegram on Tuesday. I don't want to let it go away without notice. It's written by Dr. Mauricio Heilbron Jr. who is chief of surgery at Little Company of Mary Hospital in San Pedro and a trauma surgeon at St. Mary Medical Center in Long Beach. Around 10 PM this past Sunday night on a Long Beach residential street, a 20-year-old man and an 11-year–old boy were on their way to get some donuts when two gangsters ran up on them and sprayed them with bullets. The 20-year-old made it. The 11-year-old, a sixth grader named Jose Luis Garcia Bailey, did not.
Dr. Heilbron operated on the kid in a desperate attempt to save him. When he couldn't, he came home, kissed his own five-year old son…and wrote an opinion piece, which he sent off to the paper. The Press-Telegram wisely ran it immediately. I've posted some excerpts below.

As you read, it would be nice to know that our city leaders have mended their quarrels and were moving ahead to resolve the year-long stalemate on a gang plan for our City of Angels.
But they haven't.

It would also be nice to know that the federal government has moved to restore the $20 million dollars it used to allocate to Los Angeles and other urban centers to fund jobs for at risk youth and tutoring programs for kids who were in danger of not graduating from high school. But it hasn't. That money has been yanked since 2001, and never replaced as the Bush administration developed priorities it deemed more pressing.

(Meanwhile, the war in Iraq has a 14 billion dollar monthly burn rate. And, no, I'm not going to stop repeating these Iraq cost figures. )
Here's how the Op Ed opens.. You can read the whole heartbreaking thing here. Please do.
I just finished sewing up a dead boy.

I pronounced him dead at 10:34 p.m. Sunday. It's now 11:27 p.m. I know I won't be able to get to sleep for a long time. I feel like I shouldn't.

I'm a trauma surgeon at St. Mary Medical Center in Long Beach. I was sulking in my call room on Palm Sunday because I missed yet another important moment in my 5-year-old son's life. A tarantula crawled all over him at his best friend's birthday party, and my wife had e-mailed me a glorious photo of this big, hairy arachnid on my son's face. The phone rings, and I am summoned to the ER for a "gunshot wound to the chest." That's bad, but around these parts, sadly not a surprise. Then the ER secretary adds, "… in a 12-year-old." That changes things a bit. As I hurry down to the Emergency Department, I play out several horrific scenarios in my head – a mental exercise in preparation for what certainly was to be a difficult situation…..
"This time we want to reject the cynicism that tells us that ….those kids who don't look like us are somebody else's problem. The children of America are not those kids, they are our kids…" — Barack Obama, March 18, 2008.
Dr. Mauricio Heilbron, got just that, felt just that. It would be nice if public policy—local and national— admitted it too.

UPDATE: Here's a follow-up in the Long Beach PT, with a video.