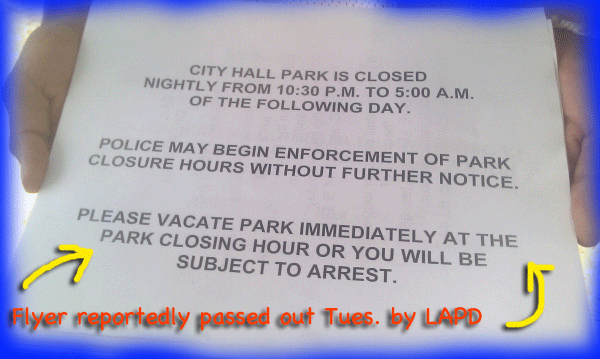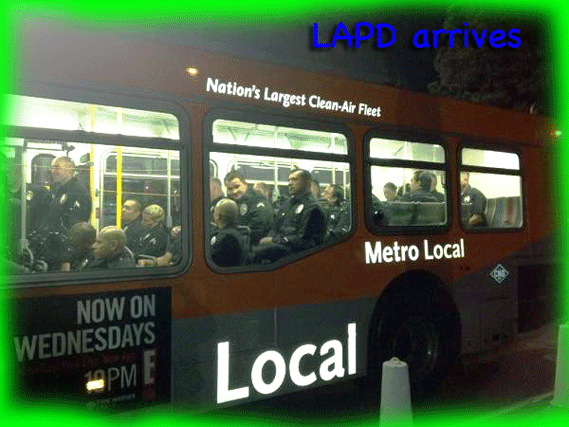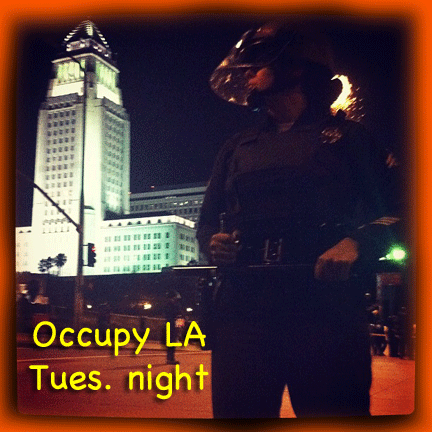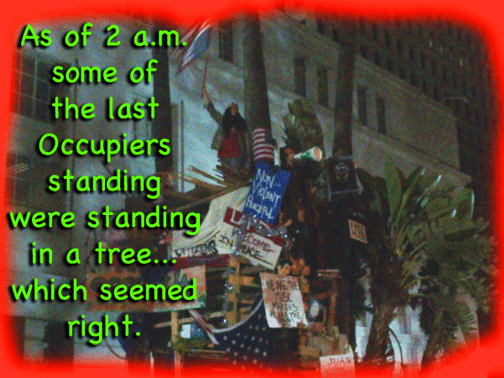 3:25: THE MAYOR AND THE CHIEF OF POLICE COME OUT AND SAY A FEW WORDS
Villaraigosa said of Chief Charlie Beck: "He's someone who understands that Constitutional policing is the only way to go for Los Angeles."
Charlie Beck said that 1400 officers took part, and there were around 200 arrests. (There were 292 arrests, as it turns out, a great many of whom, cops and Occupiers both say, intended to be arrested. Last night Occupiers were repeatedly asking each other, "Are you arrestable?"—meaning, are you willing to be arrested or do you need to go home to put the kids to bed or feed the dog?)
"I've never been prouder of Los Angeles police officers than I am tonight," Villaraigosa said.
---
2:40 am: The tree dwellers have been (sadly) plucked and the night is winding down. Well done, Occupy LA! Well done, LAPD!
(For those desirous of a more detailed account, my Twitter stream gives a fuller view of the night.)
And check out Kevin Roderick's coverage.
By the way, one of the big stars among citizen journalists to have emerged from the Occupy movement is Spencer Mills who tweets and broadcasts under the name OakFoSho. He was great tonight!
---
12:59: Arrests definitely taking place. But slowly, as the tents are slowly and carefully dismantled. The cops have been very disciplined, actually, at least thus far.
---
12:26: UNLAWFUL ASSEMBLY DECLARED, OCCUPIERS HAVE 10 MINUTES TO COMPLY… Only problem: the 10 minute warning was given around 15 times at various intervals.
Fox 11 reporter chick to an LAPD spokesperson regarding the plethora of 10 min. warnings: "At what point does this become the boy who cried wolf?"
---
12:14 am – POLICE POURING OUT SOUTH DOOR OF CITY HALL
Now at 12:20 am – the police are moving into the crowd. The mood of the crowd has changed. Everyone seems to sense that the the eviction is about to commence.
---
12:02 am – LAPD COMMANDER ANDREW SMITH SAID THAT PRESS WILL NOT BE ALLOWED INTO PARK ONCE AN UNLAWFUL ASSEMBLY HAS BEEN DECLARED
Okay, that's the tip off. That's what will be the signal to move in. The LAPD will declare an unlawful assembly. And they WILL declare an unlawful assembly tonight. When? We don't know. But tonight is the night.
---
11:56: LAPD HAS REPORTEDLY ISSUED A FINAL WARNING. (Or something of that nature. Trying to confirm. The TV folks certainly aren't reporting any such thing. But they're five steps behind through all of this. No, nothing seems to be happening. False alarm.)
11:28 pm: The OccupyLA crowd, plus onlookers and press, is estimated to be between 1500 to 2000.
10:58 pm – COMMANDER SMITH AFFIRMS THAT A PERIMETER HAS BEEN ESTABLISHED AROUND OCCUPY LA ALLOWING NO CARS IN
Commander Smith, the LAPD spokesperson, is saying that he's "really optimistic that this will be peaceful."
---
LA Times Live Feed from building to street. And here's the CBS aerial stream.
---
10:41 FOLKS IN PINK SHIRTS ARE "PEACEKEEPERS" FROM OCCIDENTAL COLLEGE
10:31 pm: LAPD officers have arrived on a fleet of big buses.
10:23 pm: FINDING LAWYERS: Lawyers from National Lawyers' Guild and legal observers are reportedly wearing lime green baseball caps.
---
9:30 pm – LAPD is on a tactical alert. A raid could come anytime after 10:30 pm. At least that's the word going around. It isn't officially confirmed that tonight is the night. But everyone seems to know. This is it. Game on.
Watch UStream for a view of the encampment.
---
Lady cop photo by Wendy Carrillo
Tree people photo by Gigi Graciette