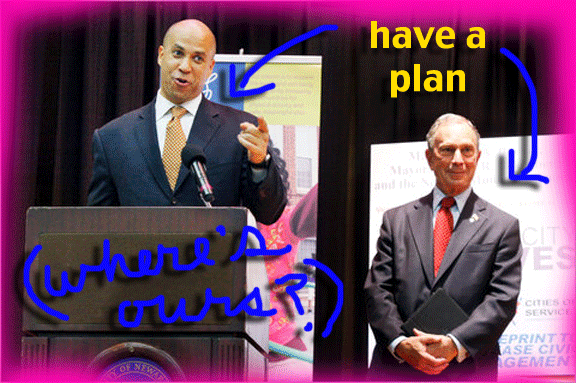 Stephen Handelman, Executive Editor of The Crime Report, reports on a new program launched in NY City, funded by the Ford Foundation and others, that aims to help formerly incarcerated young men and women change the trajectory of their lives. At the program's launch, Newark Mayor Cory Booker detailed what his city is doing on the prisoner reentry front.
Here's how the story opens:
Jason Davis was 14 when he joined the Bloods. He was a "scared kid," trying to survive in the five-square block area in New York City that represented his gang turf—even though his mother, a university graduate, tried to keep him off the streets.

That was 16 years ago—and after hard time in prison, which included several suicide attempts, Davis now counsels at-risk kids like the troubled, fearful youngster he used to be. He still counts himself lucky to have survived not just gang life—but his years behind bars.

"I was like an animal in a cage," he told a hushed audience of more than 400 people at Riverside Church in New York City last weekend. "I needed someone to show me how to be a human being again."

The psychological damage inflicted on hundreds of young men like Davis by a prison system that offers little in the way of rehabilitation was one of the key themes of the weekend symposium, titled "Think Outside the Cell."

Formerly incarcerated men and women and their families were joined by a VIP list of some of the leading politicians, journalists, academics, and community activists in the Metro New York region, headed by Newark Mayor Cory Booker and Manhattan Borough President Scott Stringer.
---
THE BLOOMBERG INITIATIVE
The above symposium came a few weeks after New York Mayor Michael Bloomberg announced his commitment to put up $30 million of his own money to kick start a new $125 million program that aims to help approximately 315,000 at risk and/or formerly incarcerated Black and Latino young men between the ages of 16 and 24, whom Bloomberg described as being "….in crisis by nearly every measure, including rates of arrest, school suspension and poverty."
Bloomberg talked George Soros into kicking in another $37.5 million to get the new program up and running.
Here's a clip from last month's New York Times story on the new Bloomberg plan:
The administration of Mayor Michael R. Bloomberg, in a blunt acknowledgment that thousands of young black and Latino men are cut off from New York's civic, educational and economic life, plans to spend nearly $130 million on far-reaching measures to improve their circumstances.

The program, the most ambitious policy push of Mr. Bloomberg's third term, would overhaul how the government interacts with a population of about 315,000 New Yorkers who are disproportionately undereducated, incarcerated and unemployed.

To pay for the endeavor in a time of fiscal austerity, the city is relying on an unusual source: Mr. Bloomberg himself, who intends to use his personal fortune to cover about a quarter of the cost, city officials said. A $30 million contribution from Mr. Bloomberg's foundation would be matched by that of a fellow billionaire, George Soros, a hedge fund manager, with the remainder being paid for by the city.

Starting this fall, the administration said it would place job-recruitment centers in public-housing complexes where many young black and Latino men live, retrain probation officers in an effort to reduce recidivism, establish new fatherhood classes and assess schools on the academic progress of male black and Latino students….
---
MEANWHILE, BACK IN LOS ANGELES….
So…. does Los Angeles have any kind of plans to sponsor a similar much-needed program here?
Answer: (resounding silence)
---
2010 photo of Booker and Bloomberg by Mel Evans/Associated Press