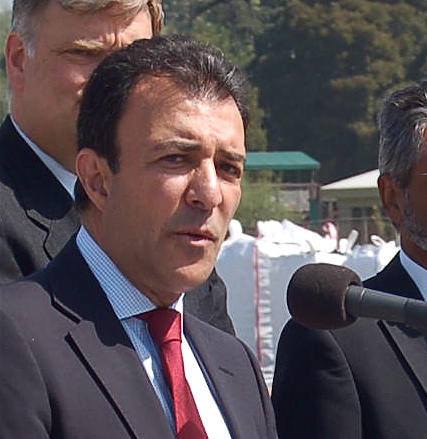 The tipster with no Greek accent
David Nahai paid me the highest compliment this week. He took one of my ideas and ran with it. In fact, he ran all the way to another reporter in town – Beth Barrett, the Queen of Spoon-Fed Journalism. He gave her my story!
For six weeks, I've been fighting the DWP's general manager over his water and electric bills. He was telling Angelenos to conserve, but refused to show us whether he was a good role model or not.
Turns out, a repentant Nahai tells the Daily News, he's been one of those guys who allows his automatic sprinklers to come on when it's raining. I forgive you, David. It's yet another reason you earn every day the nickname Water King. But what's important is that you took my pestering seriously and released all of your bills, just as the law required, and started down the road of reform, just as you asked us to do. I presume a messenger will be hand-delivering my set anytime now.
Maybe I should be peeved at Water King, but I'm not. I'm happy I could help him overcome his reluctance to do his job and become a cheerleader for conservation.
Barrett, on the other hand, deserves to be hauled before the Court of Public Opinion and denounced as a toady for writing a puff piece devoid of even a hint of the real reason that Nahai coughed up his bills and hired an auditor to examine waste at his 6,012-square-foot Benedict Canyon palace. I tried yelling at Barrett in the Daily News newsroom today, but was told she's on vacation this week. So I asked to be transferred to City Editor Judi Erickson.
Erickson herself was on vacation last week and said she had no knowledge of my ongoing pursuit to pry these records loose from the Water King. No, I didn't ask her if the cave where she lives stayed cool during the recent heatwave. I believe her, really. Many editors in this town seem to live under rocks or otherwise don't know what's going on around them.
So I told her the whole story, going back to the May 15 news conference, my visit with Water King's wife and son, the Silver Lake press conference where Water King got all testy when I told him he was breaking the law by ignoring my public records request. I told her about Nahai's very personal and tardy rejection letter, where he said he would be releasing his records in the "near future," and of my giving Water King a deadline of this Friday to release the bills or be sued.
Erickson laughed at my jokes, so of course I like her, and she agreed when I told her their flawed story made it seem that Water King had taken the initiative and was revealing his bills out of the goodness of his heart. Their misleading story is an embarrassment to Barrett and her editors. And it would have been a hard-hitting story if Spoon-Fed Queen had made it clear how it came to be that Nahai assumed his role-model duties: It took a blogger in town named L.A. Sniper, who threatened a lawsuit, to drag Water King to share the details of his excessive water use and inspire us all to do better. In other words, the Daily News got snookered, and this time no one could blame DWP Commission President Nick Patsaouras and his leaks about hair-brained valley-centric stories.
Erickson said she would talk to the Queen of Spoon-Fed Journalism when she returns from vacation next week. When asked if she, as the editor, would have wanted the story handled differently if she had known all of these details, Erickson said: "We would certainly have asked him more pointed questions about why and when and what prompted this."
That's a start, thank you. And Judi, in case you're wondering whether your reporter cut a deal with Water King, this post from L.A. Now spells out the background missing from her story today.
On second thought, maybe I'm being too kind to Water King. He did embrace my idea, for which I'm thrilled, but he needs to follow my instructions more closely next time. For today, I will call him My Wayward Servant.