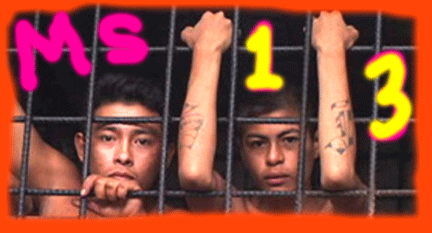 [NOTE: I'M IN THE MIDST OF A PESKY DEADLINE so this will be a short one. Back in stride tomorrow morning.]

More than any other street gang in America, MS-13 has been portrayed by both the FBI the media as the most dangerous gang in the world.

While that specific characterization is mostly overblown hyperbole, there is no doubt that the international street gang known as Mara Salvatrucha or MS-13 has a complicated history that makes it different than any of the other Hispanic gangs that have sprung up in the last 60 years on the streets of Los Angeles. Its difference is grounded in the fact that most of its first members were refugees who had recently escaped the horrors of the civil war in El Salvador.

I mention the subject of MS-13 because, this coming Friday night, an award-winning and powerful feature-length documentary called Hijos de la Guerra will be showing at 9 pm at the Latino Film festival.

The film explores the history of Mara Salvatrucha in the US and Central America, and the sociological reasons for its proliferation. The filmmakers got remarkable access to their subjects, both here and in Central America, and the result is a fascinating piece of film making.

So if you have any interest in the subject of gangs and gang violence, or simply in sociology, I recommend that you attend the screening. (Hey, I'll definitely be there.)
Here's the information:

Hijos de la Guerra
9:15 p.m.
Friday, October 12
Arclight Cinemas
6360 W Sunset Blvd
Los Angeles, CA
**********************************************************************************
ALSO….
Be sure to read the LA Times editorial titled "The Human Cost of Secrecy." This is a disturbing case that deserves far more attention. Here's a 'graph from their essay:
With no explanation, the Supreme Court has denied a day in court to a German citizen of Lebanese descent who says he was kidnapped by the CIA and imprisoned and tortured, all because he was mistaken for a terrorist with a similar name. The justices on Tuesday refused to review a decision by a federal appeals court that Khaled El-Masri couldn't sue former CIA Director George J. Tenet for damages because a trial might reveal "state secrets."
And here's a link to the Constitution Project's summary of the El-Masri case, including a link to the amicus brief they filed in El-Masri's behalf.
Secrets and lies, lies and secrets.