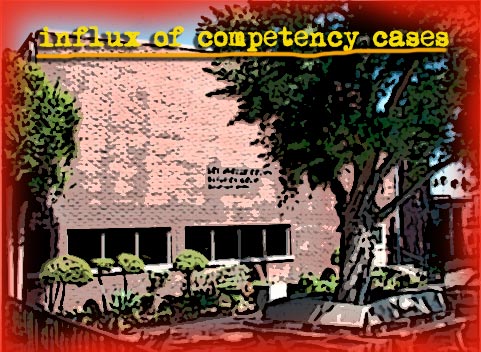 PERPLEXING JUMP IN MENTAL HEALTH COMPETENCY CASES IN LOS ANGELES
Mental health competency cases in Los Angeles County have increased from 944 in 2010 to 3,528 in 2015.
For those unfamiliar with competency cases: for defendants who may be too mentally ill to understand the charges against them, defense attorneys can seek a competency hearing. Then, if doctors find a particular defendant to be unfit to stand trial, the defendant must submit to treatment in jail (for most misdemeanor defendants) a mental hospital (for felonies), in residential facilities, or through outpatient programs.
Experts and officials are not sure what's behind the case number spike. But LA County District Attorney Jackie Lacey, who has been spearheading a major effort to divert the mentally ill from county jails, says that the increase is "a sign that we urgently need to embrace the mental health diversion program."
Deputy Public Defender of the county's mental health court, Verah Bradford, thinks the increase may be due to a growing homeless population and better awareness on the subject of mental illness in the court system.
The LA Times' Abby Sewell has more on the issue and its implications. Here's a clip:
A Times review of 98 recent competency cases involving 72 defendants showed a variety of charges, including petty theft, attempted murder and sexual abuse of a child. The most common charges were related to trespassing, drug crimes, simple battery and vandalism.

Mark Gale, criminal justice chairman for the L.A. County Council of the National Alliance on Mental Illness, said he thinks the shortage of long-term care facilities for the severely mentally ill is at the heart of the increase.

"I bet if you were to look at the histories of these people, they're revolving through the hospitals" in short-term emergency stays, Gale said. "They're getting warehoused, shot up with meds and then released without a discharge plan."

Others say the increase is a sign that attorneys and judges are becoming more aware of mental illness.

"I think we're all realizing that all of us would be better off if the mentally ill receive treatment," said Jonathan Petrak, a public defender at the mental health courthouse. "They'll be safer, society will be safer, and it will make for a healthier community."

Whatever the reason, the increase is testing the court's resources and causing some defendants to spend more time in jail.

On any given morning, several defendants are likely to miss their court dates in Department 95 because of a lack of space in the courthouse holding cells. Many return to jail until the next available court date.

"I have seen defendants miss court for three or four settings," said Robert DeCarteret, a prosecutor in the mental health court. "This means a month can go by and no one has evaluated them."

Judge James Bianco of the mental health court said the threefold increase in cases over the last five years means "every part of the system is strained."

"We need three times as many attorneys, three times as many doctors for evaluations, and three times as many treatment beds," he said. "Of course we have none of this, so everyone is scrambling to try to keep up."

The increase in cases also signals continued crowding in jail psychiatric units. More than 4,000 people needing mental health treatment are in L.A. County jails, according to sheriff's officials, including 1,000 in the high-observation unit for the most severely ill.

As of late January, more than 300 of those were people who had been found incompetent to stand trial, including 166 felony inmates waiting to go to state hospitals and 161 misdemeanor inmates undergoing treatment in the jail.
---
INCREASING FELONY THEFT THRESHOLDS DOES NOT AFFECT CRIME RATES
Raising felony theft thresholds—the value of stolen money or property that categorizes a theft as a misdemeanor or felony—does not increase property crime rates, according to a report by the Pew Charitable Trusts.
Over the last 15 years, at least 30 states have increased those thresholds (California increased the threshold from $400 to $950), while maintaining similar decreases in crime as the states that did not alter the thresholds.
And the felony theft threshold level, be it $500, $1000, $2000, or more, does not have an impact on states' crime and larceny rates, which have been on the decline since the 90s.
Here's a clip from the report:
Changes in state felony theft thresholds have not interrupted the long nationwide decline in property crime and larceny rates that began in the early 1990s. The U.S. property crime rate fell 36 percent from 1998—three years before Oklahoma enacted the first of the state threshold hikes included in this analysis—to 2014, the most recent year for which data are available. The U.S. larceny rate fell 33 percent during that span.

Experts attribute the nation's sustained drop in violent and property crime rates to a host of factors, including better policing; the increased incarceration of certain repeat offenders; an expansion in private security personnel; an aging population that is less prone to criminal behavior; and technological advances, such as the widespread use of surveillance cameras, car- and home-alarm systems, and digital transactions that have reduced the need for cash.
---
PROPOSED BILLS FOCUS ON THE PROBLEM OF UNTESTED RAPE KITS AND VICTIMS' RIGHTS
Lawmakers have introduced a pile of California bills aimed at speeding up rape kit testing and reduce the state's rape kit backlog. (While there is no concrete count of the number of untested kits, a partial count in 2015 found at least 6,125 kits.)
One bill, AB 2499, would force the state Department of Justice to improve its database, so that victims of sexual assault could track the status of their kits.
Another bill, AB 1744, would force all counties to use the same standardized rape kit.
SB 813 would get rid of the state's statute of limitations on rape (currently 10 years) and other sex-related crimes.
Other bills would streamline and systematize law enforcement data tracking for rape kits, require law enforcement agencies to use a statewide DNA database, and mandate DNA testing for the six felony offenses that were reduced to misdemeanors through Prop. 47.
The San Francisco Chronicle's Melody Gutierrez has more on the issue. Here are some clips:
The bills follow years of reports about massive rape-kit backlogs across the nation and stories of cases where shelved DNA evidence could have stopped a serial sex offender before a new crime was committed. In January, Heather Marlowe filed a federal civil rights lawsuit against San Francisco, alleging the Police Department denied her equal protection under the law by not adequately investigating her case or testing her rape kit. That case is pending.

"We need to provide more accountability around why kits are not tested," said Assemblyman David Chiu, D-San Francisco. "Hopefully in the not too distant future, we can say there is no rape-kit backlog in California."

But, as Chiu points out, there are only estimates on how big California's rape-kit backlog is. The Joyful Heart Foundation, a national victims rights group and a major proponent of clearing the national rape-kit backlog, said a partial count in the state found 6,100 untested rape kits, which are a collection of evidence taken during a forensic examination at a hospital. In many cases, the hours-long process involves collecting blood, urine, fingernail clippings, hair and swabs from the mouth, genitals and anus.

[SNIP]

The many bills addressing rape kits signal lawmakers are listening, said victim rights advocate Kendall Anderson.

"There is a noteworthy shift in the public consciousness when it comes to rape," said Anderson, who successfully advocated for changes in how the Oakland Police Department treats rape victims.

Anderson, 22, reported she was raped in 2013 and said police made her feel as if she was at fault by referring to her as a suspect, interviewing her in an interrogation room and questioning how hard she fought off the man she accused of assaulting her.

"The issue has been spotlighted in the media, and many survivors have come forward to put a face to this," said Anderson, a communications professional for a San Francisco startup.
California is not the only state suffering from a colossal backlog. Just six states and DC give victims the right to a timely rape kit test. Some states even throw away untested kits after storing them for mere months. Advocates across the nation are pushing for legislation in other states, like Massachusetts and Oregon, to speed up the tests and increase protections for sexual assault victims.
The Huffington Post's Tyler Kingkade has more on the issue. Here's how it opens:
Every six months, Amanda Nguyen has to play a twisted and exhausting game to find her rape kit and make sure that no one destroys it.

Nguyen, 24, was sexually assaulted in Cambridge, Massachusetts, in October 2014. Within 24 hours of her attack, Nguyen went to the hospital and asked for a rape kit examination. "At the hospital," Nguyen told The Huffington Post, "they gave me a bunch of pamphlets and one of the pamphlets said kits will be stored at the Massachusetts police lab for six months, and quote, 'At the end of six months it will be destroyed.'"

Massachusetts has a 15-year statute of limitations on prosecuting sexual assault crimes, but the state only requires that untested rape kits be stored for six months. Victims can get an extension, but Nguyen said she had to hunt to find out how.

"It really makes no sense to have 15 years in which the survivors can bring charges against someone, and then to destroy the evidence that's going to be so critical to convicting them, in a six-month period," Sen. Jeanne Shaheen (D-N.H.) told HuffPost on Tuesday.

Shaheen introduced a bill called the Sexual Assault Survivors Act on Tuesday that would create a right for victims to have their rape kit preserved free of charge for the duration of their state's statute of limitations; the right to be notified of the information found in medical forensic examinations; and the right to get, in writing, the policies governing a rape kit. Her bill attempts to create a "baseline" for rape survivors to understand what their basic rights are, Shaheen said.

"We need to do a better job of letting people who have been victims of sexual assault know what their rights are and know how to pursue justice," Shaheen said.

States and local jurisdictions decide how to prosecute sexual assaults, which is why two states next to each other may define rape in different ways and handle cases differently. But Congress is trying to prod more states to require that sex crime victims be told of their legal rights, and to implement policies to test rape kits quicker.
---
SUPREME COURT JUSTICE CLARENCE THOMAS BREAKS 10-YEAR SILENCE
On Monday, just a week after the US Supreme Court returned to session following the death of Justice Antonin Scalia, Justice Clarence broke his decade-long silence, asking a question during oral arguments.
The Atlantic's Garrett Epps has more about the issue Clarence raised with his courtroom-startling question, and what the justice's move might mean for the court. Here's a clip:
Virginia Villa, an assistant federal public defender, had endeavored without making much progress to convince the court that Congress, which wrote the gun-possession statute, could not have intended the statute to sweep so broadly. So confident was Eisenstein, her opponent, that she was preparing to close up shop early.

"If there are no further questions," she began.

At this point the entire Supreme Court chamber sailed into the unknown.

"Ms. Eisenstein, one question," said Justice Clarence Thomas.

Though the vigilant marshals keep a tight lid on noise, it's safe to say that not since Clarence Darrow for the defense called prosecutor William Jennings Bryan himself to the stand has an American courtroom been so startled. Thomas has not asked a question in court since February 22, 2006. His silence has been the subject of speculation, ridicule, and indignant denunciation. (Jeffrey Toobin of The New Yorker two years ago called it "disgraceful.") Others, including me, had thought it instead a sad loss for the Court. But it's safe to say that nobody expected Voisine v. United States to be the case that would break the streak.

Yet here Thomas was, and his question was far from random. That's because under the surface of the case lies the issue of guns. When the defendants first petitioned the Court for review, they had posed as a question for the Court whether the federal gun-possession statutes are "unconstitutional under the Second, Fifth, and Sixth Amendments and the Ex Post Facto Clause of the United States Constitution."

When the Court granted review last October, however, its terse order had explicitly rejected that question, limiting argument to the issue of whether a "reckless" act of domestic violence could qualify as a trigger for the statute.

The courtroom was about to learn that Clarence Thomas wasn't so sure about that limitation. He now asked Eisenstein, "Can you give me another area where a misdemeanor suspends a constitutional right?"

Eisenstein, as gobsmacked as anyone else, made somewhat incoherent noises until Thomas elaborated. "You're saying that recklessness is sufficient to trigger a violation— misdemeanor violation of domestic conduct that results in a lifetime ban on possession of a gun, which, at least as of now, is still a constitutional right. . . . Can you think of another constitutional right that can be suspended based upon a misdemeanor violation of a state law?"

Eisenstein suggested that some criminal sentences carry with them limitations or suspensions of the rights of free speech. Thomas pressed her. The gun-possession ban, he pointed out, is, if not lifelong, at least indefinite. And the ban takes effect whether or not the defendant actually used a gun in the act of domestic violence.