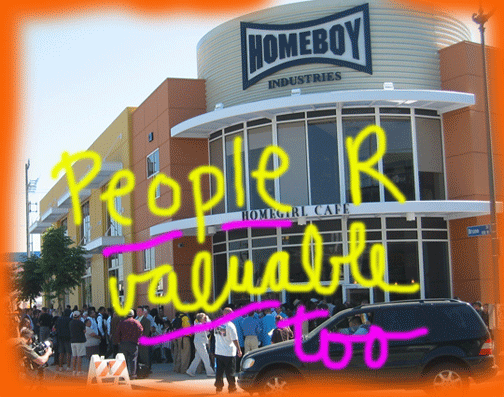 Last week, the LA Times ran a big story about the financial troubles being faced by LA's Museum of Contemporary Art—MOCA
The idea of MOCA being so cash-strapped due to the failing economy (plus a teensy bit of its own fiscal mismanagement), that it might be forced to sell off some of its art collection was deeply unsettling to many. Yet fortunately it seems as if disaster has been averted by Eli Broad, who has stepped into the breach to the tune of $30 million dollars.
As Broad rightly said in his Op Ed of last Friday:
"MOCA is one of our city's cultural treasures, and it would be tragic both for the cultural health and civic reputation of Los Angeles if this institution ceased to exist.
Yes. Of course.
But here's the thing: Los Angeles has more than one kind of imperiled treasure.
Homeboy Industries, Father Greg Boyle's 20-year-old gang intervention program, is also running mostly on fumes these days.
Nonprofits all over Los Angeles County are struggling or threatened because the foundations that have given them life-sustaining grants in the past have watched chunks of their own investment portfolios vaporized in these last two months. Thus the grants they are handing out are getting smaller and fewer—if they are handing out grants at all.
Such has been the case with some of the big donor organizations that usually fund Homeboy Industries.
Yesterday, I spoke to Homeboy's financial officer, a smart woman named MaryEllen, who told me that many of the foundations and other funding sources Homeboy has counted on in the past were either not able to give grants at all or had informed Homeboy that the grants would be delayed for six months.
"We had commitments from people who have said, 'Look, we want to honor them, but we can't do it now.'"
Father Greg said that the funding crunch is coming at a particularly bad time because more people than ever are desperate for work.
"This is the last time in the world you want to let this happen," he said. "We have 1000 people a month walk through our doors from 700 gangs and 45 different zip codes. And we have four job developers who can't find jobs for the people we serve."
"In 20 years, he said "I've never seen it like this. And never have we been more inundated."
In the past, when jobs were in short supply, Homeboy has provided minimum wage work for former gang members—male and female—-who are particularly desperate. At present, more than 300 such people work at the Homeboy office or at one of its various businesses.
"But, now we have a hiring freeze," Greg said. "Normally, we'd give guys jobs right out of camps or prison. These are men who come to us and say, 'I just got out yesterday and you were the first person I came to see.' That's the guy you want to grab right away," he said. But, with grant money suddenly in such dangerously short supply, Homeboy is in no position to hire those guys. And Father Greg is doing all he can to avoid major layoffs.
"Now a big part of my week is watching grown men cry in my office because they can't pay their rent or buy Pampers for their baby."
"I like contemporary art as much as the next person," he said. "But if you have to choose between the two things, these lives are consequential."
Homeboy will survive, Greg assured me. "We always do."
But at the moment, the organization is just hoping to meet its next payroll.
And if Homeboy ceased to exist, where would all the guys and young women who stream through its front doors go then? Where else would they find help with jobs, mental health counseling, tattoo removal, parenting classes, or just plain hope and encouragement?
No one seems to have a good answer to that question.
************************************************************************************
PS: Follow this link to see a two minute-ish video of Father Greg talking about what's going on.
Hmmmm. And then there's this on YouTube (if you can get past the sorta plastic-sounding reporter.)