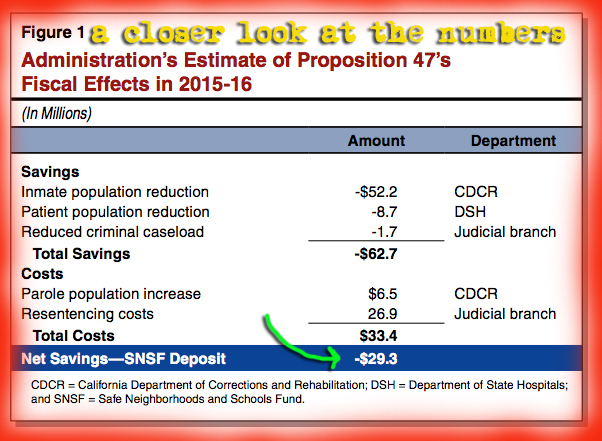 CA PROP. 47 SAVINGS ESTIMATES $100 MILLION TOO LOW, SAYS REPORT
Governor Jerry Brown has undercounted the dollar amount Proposition 47 is saving the state by about $100 million, according to a report from California's non-partisan Legislative Analyst's Office.
Gov. Brown's January budget tallied net savings from Prop. 47, which reduced six non-serious felonies to misdemeanors, at $29.3 million—$62.7 million in savings from smaller caseloads, fewer hospital stays, and fewer prisoners, minus $33.4 million in extra parole and resentencing costs. The budget allocated the net savings of $29.3 million for mental health and rehabilitation, truancy and dropout prevention efforts, and victims services (via the Safe Neighborhoods and Schools Fund).
There are a few problems with those figures, according to the Legislative Analyst's report: Brown's budget underestimates savings, overestimates costs, and diverts money from the Safe Neighborhoods and Schools Fund—where all the Prop. 47 savings is supposed to end up—and sends it back into the prison system.
The Legislative Analyst report estimates another $100 million in savings should be funneled into the Safe Neighborhoods and Schools Fund, and says legislators could earmark more money for SNSF programs and services even if the official Prop. 47 savings calculations do not change.
---
DEMOGRAPHICS, INTERACTIVE MAPS, AND MORE IN PHASE TWO OF CALIFORNIA'S OPENJUSTICE WEBSITE
On Wednesday, California Attorney General Kamala Harris announced the launch of the second phase of the state's open data website in an effort to bring transparency to the state's criminal justice system by publishing crime and policing statistics.
The new version of the OpenJustice website shows city, county, and state crime and arrest rates, deaths during arrest, deaths in custody, and the number of law enforcement officers killed or assaulted. Users can view data on interactive maps and graphs, and sort data groups by race, gender, and age.
"This data helps clarify a simple truth: too many boys and young men of color are being arrested and killed by police," said AG Harris. "By releasing vast amounts of criminal justice data, OpenJustice v1.1 adds numbers and facts to the national debate on police-community relations."
---
"MARIPOSA AND THE SAINT" – A PLAY ADVOCATING AN END TO SOLITARY CONFINEMENT
After meeting in a California prison, Sara "Mariposa" Fonseca and activist/artist Julia Steele Allen corresponded while Mariposa was locked in solitary confinement for fifteen months for possessing a pair of tweezers. Allen turned the letters from Mariposa into "Mariposa and the Saint," a powerful play about the havoc prolonged isolation wreaks on a person.
The play caught the attention of law-makers, was performed at the 2015 Ninth Circuit Corrections Summit, and is currently on a national tour.
The Marshall Project's Alysia Santo has more on the play. Here's a clip:
Fonseca was sentenced to 15 months in solitary confinement after she was found in possession of tweezers, considered a weapon by prison officials. She then served additional time in solitary — more than two years all together. Fonseca is still incarcerated and is now in a psych unit.

Through Mariposa's story, the play advocates for an end to solitary confinement. It has inspired hundreds of petition signatures, letters to elected officials, and calls to wardens. Audience members are also encouraged to write to Mariposa with pre-addressed postcards handed out at the end of the show, and Allen said she now receives one or two postcards a day.