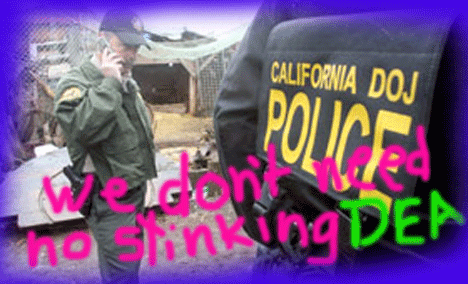 From time to time here, I've taken issue with the DEA's 100-agent raids on LA County's medical marijuana clinics, raids that have used big piles of our tax dollars to harass clinic owners and patients, resulted in few arrests, and in most cases, exactly zero charges.
(Earlier stories are here and here and here.)
Medical marijuana is legal in this state and, unless there is blatant wrong-doing (meaning guys using the clinics as fronts to make big bucks in bulk trafficking), the Feds need to butt out and use their time—not to mention our valuable tax dollars—to shut down some crystal meth dealers instead. (In the past, I've offered to point out a few meth-dealing locations, but DEA spokesperson Sarah Pullen, the LA person who has the job of deal with us snarky press types, declined to take me up on it.)
Which brings me to today's story. Today the California Attorney General's Office announced that on Friday, the state's drug enforcers, the Bureau of Narcotic Enforcement or BNE—along with a multi-agency task force—raided a single marijuana clinic in Northridge called Today's Healthcare and caught the owner and his colleague red handed (or green handed, in this case) buying and selling $18 grand worth of weed, with a like amount stashed in one of the men's vehicles, and another $6.6 million worth of plants found when warrants were served on the guys' houses.
According to Brown's office, in order to make Friday's bust, 11 agents were involved —as opposed to the DEA's 100-agent cluster…uh…thingy.
The raids and the arrests were the result of an six-month investigation by the same multi-agency task force.
(Interesting random fact: Established in 1927, BNE is the oldest narcotic enforcement bureau in the United States.)
"This criminal enterprise bears no resemblance to the purposes of Proposition 215, which authorized the use of medical marijuana for seriously sick patients," said AG Jerry Brown in today's announcement. "Today's Healthcare is a large-scale, for-profit, commercial business. This deceptively named drug ring is reaping huge profits and flaunting the state's laws that allow qualified patients to use marijuana for medicinal purposes."
In other words, unlike the Feds, California's BNE and the AG's office did it right. They went after the blatant drug dealers while respecting state law and the will of the California voters.
***************************************************************************************************************
UPDATE: Monday afternoon, Brown's office also announced a set of "guidelines" for law enforcement and patients regarding med marijuana.
Oddly, this is the first time that any state agency has issued such guidelines, and both cops and advocates said they welcomed the legal clarification.
***********************************************************************************************************
Note: the photo of the BNE guys is a snapshot I snatched from the InterMountain News of another BNE raid, but not Friday's drug raid.