On Tuesday morning, Lt. Sidra Sherrod-Strong, who has been a member of the Los Angeles County Sheriff's Department for 26 years, said in a press conference she is suing the department for retaliation that rained down on her, when she reported the multiple brands of what she described wrongdoing she witnessed.
The press conference was made more interesting by the fact that Sherrod-Strong held the event with her husband, Lt. Eric Strong, who is running for LA County Sheriff in the hope of replacing the present sheriff Alex Villanueva.
"Until recently I was the unit commander for the Los Angeles County Sheriff's Department's Food Services unit," she said after introducing herself.
This is the unit that provides food services for, among other places, the county's jail system, plus the county's regional jails, and those of its 35 contract cities, for which the LASD provides policing.
It is also a unit that has a $30 million budget, Sherrod-Strong told those attending the presser (which can be watched virtually).
On October 25, she said was notified that she was being involuntarily transferred and was under "administrative investigation." For what, wasn't clearly
Sherrod-Brown was reportedly not given any paperwork that explained the transfer or its basis.
Her claim details the issues about which she raised the alarm, and was retaliated against subsequently, she said.
"I raised my voice, as I have done many times before, about issues there were important," said Sherrod -Strong. Several of the conditions she flagged directly affected those jail residents who were in the county's care.
One example, she said was what she described as "negligence" by unit managers that resulted in moldy food being served two days in a row to approximately 3,000 incarcerated people.
(On Monday night, when Fox 11 News broke the news of the whistleblowing and the lawsuit, Sherrod-Strong showed Fox 11 News reporters the photo below of extravagantly moldy bread, that was allegedly a sample of the spoiled food that she had flagged.)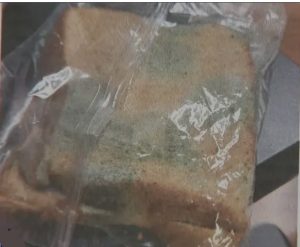 In another instance, Sherrod-Strong said she raised the alarm when she found that $15 million had suddenly vanished from the unit's bank account. "Fifteen million dollars had vanished from the food services budget overnight!" she told those watching the press conference.
According to Lt. Sherrod-Strong, her supervisor told her that the department was "likely hiding the funds," because the board of supervisors was cutting the department's budget "in the wake of a long list of disagreements between the sheriff and the board."
Sherrod-Strong surmised that, unaware she was keeping track of the funds that the department believed the board would replace the missing $15 milion, "rather than let the inmates starve." Eventually the $15 million reappeared.
And Sherrod-Strong has been moved and is being investigated.
Suggestive timing?

Sherrod-Strong said she found the timing by the department to be "suggestive," given her husband is now running for sheriff.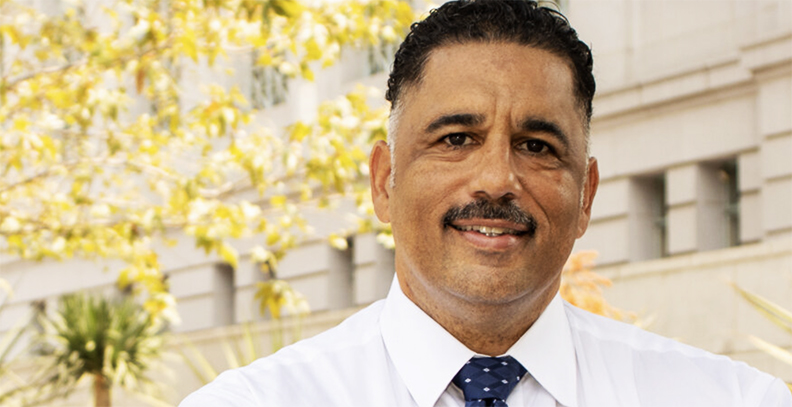 She has a point according to WLA's own LASD sources who say that the lieutenant has been outspoken in the past, but reportedly without this kind of retaliatory action she now describes.
Sherrod-Strong's husband, Eric Strong, for those who have forgotten, is one of the shortlist of people who hope to make it through the June primary race for Los Angeles County Sheriff, in order to face off with the controversy-drenched head of the nation's largest sheriff's department, Alex Villanueva, who is running for reelection November 2022.
On Tuesday, when it was his turn at the portable podium, Strong too said he did not see the timing of the actions against his wife as accidental.
"When I got into this race I knew it would be difficult, and it would be hard on my family. But I didn't think," he said, gesturing at this wife, "they would stoop this low."

A broken culture
A few weeks ago, WitnessLA talked to Strong about the list of goals he said he would address first should he be elected sheriff.
"My platform is based on what I know is broken, and what our community is demanding their leaders take action to fix," he told us.

WitnessLA: You've repeatedly said that would ban deputy gangs outright, and then "move decisively to eliminate them." These deputy gangs have been around for approximately half a century and no one seems to have made a meaningful dent in the problem. How would you be different?

Strong: I think the first step is to say that they exist. We have to stop beating around the bush. We have to stop acting like these are social clubs, or softball teams. We have to say, "Hey, they're here. And they're a problem."
We know that some of the deputies that have come forward and spoken against them, are being ostracized department for speaking up. So one of the things we need to do is make it so that deputy sheriffs who come forward and report misconduct are recognized for doing the right thing, not ostracized for it.
We really need to turn that culture around.

WLA: Briefly explain more about what needs turning around when it comes to LASD's culture.
Strong: Okay, here's the thing in law enforcement: we spent our entire career trying to get people to tell us what happened. You know, we contact victims, We find witnesses and ask, "Hey, can you come forward and tell us what happened? "
But in own organization, the same thing we ask of community members, to report corruption and wrongdoing, is a considered bad thing. There's something very wrong with that perspective."
Strong who is running as a progressive, told WLA that he wants the communities that the department serves to see deputies "as part of the solution." Not just people looking to make arrests.
"One of the biggest problems that we have is that deputies are evaluated based on statistics," he said. "You're an outstanding deputy if you've made the most arrests, written the most tickets, made the most car stops."
"We need to find a way to measure our personnel without basing on how many arrests they can make.
"We really have to rebuild the community's trust."