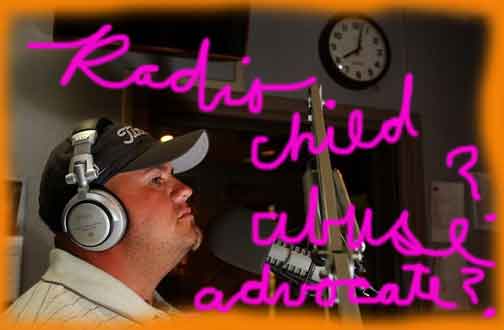 According to Sacramento's KRXQ radio hosts, Rob Williams and Arnie States, if you have a child exhibiting transgender tendencies, you should verbally abuse him or her, and if he—god forbid—tries to put on a pair of high heels, then throw one of the heels at the kid, or better yet, whack the little bastard around with your own shoe.
The offending segment aired last week, and KRXQ used to have it archived.. But now the link to the half-hour of child abuse radio has been mysteriously replaced by a harmless ten-second riff about American Idol.

Fortunately, a helpful reader has sent me a transcript of the relevant moments:
ROB WILLIAMS [11:12]: This is a weird person who is demanding attention. And when it's a child, all it takes is a hug, maybe some tough love or anything in between. When your little boy said, 'Mommy, I want to walk around in a dress.' You tell them no cause that's not what boys do. But that's not what we're doing in this culture.

ARNIE STATES [13:27]: If my son, God forbid, if my son put on a pair of high heels, I would probably hit him with one of my shoes. I would throw a shoe at him. Because you know what? Boys don't wear high heels. And in my house, they definitely don't wear high heels.

ROB WILLIAMS [17:45]: Dawn, they are freaks. They are abnormal. Not because they're girls trapped in boys bodies but because they have a mental disorder that needs to be somehow gotten out of them. That's where therapy could help them.

ROB WILLIAMS [18:15]: Or because they were molested. You know a lot of times these transgenders were molested. And you need to work with them on that. The point is you don't allow the behavior. You cure the cause!

ARNIE STATES [21:30]: You got a boy saying, 'I wanna wear dresses.' I'm going to look at him and go, 'You know what? You're a little idiot! You little dumbass! Look, you are a boy! Boys don't wear dresses.'

ARNIE STATES [29:22]: You know, my favorite part about hearing these stories about the kids in high school, who the entire high school caters around, lets the boy wear the dress. I look forward to when they go out into society and society beats them down. And they end up in therapy.
Faced with a flood of angry responses, States and Williams have said it was all just a joke—the implication that we should lighten up already.
I profoundly disagree. (As does Andrew Sullivan.)
Although studies are scarce, what research is available indicates the risk of suicide among transgender youth is terrifyingly high.
Yet what is well documented is the high rates of violence against transgender children, teenagers and young adults, much of the violence occurring inside their own homes.
If you are a transgender American, you are 17 times more likely to be murdered than any other of your fellow citizens, the highest rate of any minority group in the nation.
So, no, abusing transgender kids—physically or verbally—is not a joking matter. When we talk about hate speech, this is exactly what we mean.
To direct such a diatribe against our most emotionally vulnerable children is unconscionable.
It deserves the strongest possible censure.
*****************************************************************************************************************
Photo by Jose Luis Villegas, for the Sacramento Bee