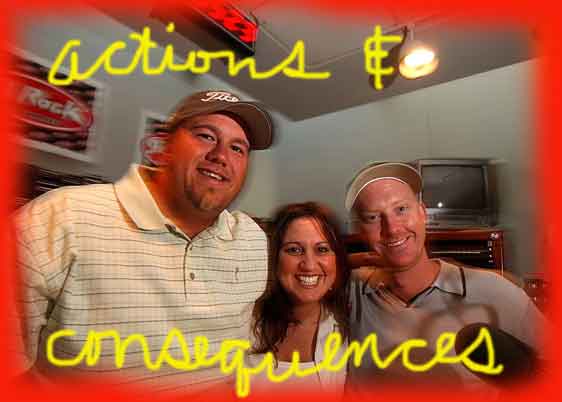 Complaints poured in to KRXQ, after radio hosts for the Sacramento-based radio station, Arnie States and Rob Williams, "joked" about how they would verbally and physically abuse a transgender child, and referred to transgender people as freaks with mental disorders. (The back story is here.)
In response, 11 sponsors of the station either pulled sponsorship outright or "committed to stop soliciting their wares and services on the station."
Among the sponsors who reportedly yanked support were: AT&T, Bank of America, CKE Restaurants, Chipotle, Guitar Center, McDonald's, Nissan, Snapple, Sonic, Verizon, and Wells Fargo.

After the sponsors started bailing, on June 7 the show's owner, host Rob Williams, posted a erse and seemingly chastened letter on the station's website.
It begins as follows:
TO OUR LOYAL ROB, ARNIE AND DAWN FOLLOWERS,

WE HAVE FAILED YOU. AS A SHOW, AS PEOPLE, AS BROADCASTERS, WE HAVE SIMPLY FAILED ON ALMOST EVERY LEVEL.

WE PRESENTED OUR OPINIONS ON A VERY SENSITIVE SUBJECT IN A HATEFUL, CHILDISH AND CRUDE FASHION; AND THEN, GIVEN THE OPPORTUNITY TO RETRACT THOSE REMARKS, WE DEFENDED THEM.

SINCE THEN, YOU, OUR LOYAL LISTENERS, HAVE MADE IT CLEAR TO US THAT WE WENT TOO FAR. THE RESPONSE HAS BEEN OVERWHELMING. NONE OF YOU SAID THAT WE COULDN'T HAVE OPINIONS, YET SO MANY OF YOU SAID THAT THE WAY WE GAVE THEM CROSSED THE LINE. FURTHER, YOU SAID THAT OUR ATTEMPT TO MASK OUR COMMENTS AS "JOKES THAT WOULD BE UNDERSTOOD BY OUR AUDIENCE," WAS UNACCEPTABLE. I WOULD SAY NOW THAT IT WAS WORSE THAN THAT, IT WAS COWARDLY. YOU HAVE MADE THAT CLEAR.
There's quite a bit more.

Most recently, Williams and KRXQ has said that the station will invite a transgender person and a transgender child on the show as a guest.
In the meantime, Williams wrote, the show has been suspended until this coming Thursday when the hosts have said they will make a statement and go from there.
A transgender man has written a thoughtful response on the Daily Kos in which he first talks about his own experience as a transgender child, then reminds the KRXQ hosts that, despite the harm they did with their original broadcast, the microphone and the public attention is now theirs, and thus—if they really are sincere with their statement—they have a tremendous opportunity to do a great deal of good.
Let us indeed hope that Williams and States find the courage to seize the opportunity.