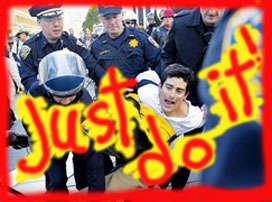 This month's Harvard Law Review has an article that calls for judges to engage in civil disobedience when the circumstances are sufficiently right for it—meaning when the demands of the law are sufficiently wrong.
Framing it in those terms is an interesting concept. It calls for judges to overturn the furniture, so to speak, if the cause is righteous. The HLR is specifically aiming at the draconian federal sentencing minimums that a weak-kneed Congress has been too cowardly to revise.

As their case in point, the Harvard folks' refer to a 2006 ruling by the 9th Circuit Court of Appeals called United States v. Hungerford. In this case, the court was asked to review a mandatory sentence imposed on a deeply screwed-up and pathetic Montana woman named Marion Hungerford who passively participated in a string of low-level robberies with her creep boyfriend. (She was never actually present at the robberies. But she knew about them, engaged to some degree in discussing and/or planning them, and benefited from the stolen money.) The creep boyfriend made a deal with prosecutors and got 32 years. Hungerford, who had no previous criminal record, took the case to trial, lost and got……159 years.

The 9th circuit was asked to decide whether Hungerford's obviously disproportionate sentence should remain in place. Since there is nothing in the law indicating that it shouldn't (and plenty of precedent indicating that it should), the court went ahead and upheld the sentence—although most everyone involved agreed that, while legally sound, morally the decision sucked.

The sentence was "immensely cruel, if not barbaric" wrote 9th Circuit Judge Stephen Reinhardt, and again urged Congress to revise the mandatory minimums.

The HLR says the court has a moral obligation to do more-–that if lawmakers won't get a grip and do the right thing, judges can and should take the lead.

"By dutifully affirming a lengthy and inappropriate prison sentence," writes the SLR, "the Hungerford judges passed up a chance to engage in a powerful, symbolic act of civil disobedience —the kind of direct public repudiation of unwise and unjust laws that has been central to social change throughout our history."
In California, the idea is particularly attractive since we have a pack of grossly overblown mandatory minimums that have crammed our prisons to double their capacity. Yet our spineless legislature and governor were so afraid being called soft on crime that, instead of the sentencing reform and prisoner rehabilitation programs promised, they passed AB900—a bill that will spend $6.1 billion building more prisons.

(In fact, if existing trends continue, says the San Francisco Chronicle, California will soon become the first big state in America to spend more on prisons than on colleges. Wooo-hooo! How cool are we?!!!!)
So bring on the "radical" judges. Hey, whatever works.
UPDATE & NOTE: Hat tip to Doug Berman's wonderful blog, Sentencing, Law and Policy, for pointing to the HLR piece to begin with, and also to commenter Richard L. Cicero, who reminds me I should tell you that this is a "casenote," which means it's an article on the significance of a single case written by a law student.

The whole article/casenote is worth reading, but here's a bit more of the heart of the HLR argument:
Federal judges should realize that they all have the power to craft a more just, humane, and cost-effective approach to criminal punishment. In fact, federal judges are uniquely well-suited to spark a movement against draconian sentencing by telling a credible, knowledgeable, and powerful story. To ignite and participate in this transformation, judges must step out from their traditionally prescribed roles.

Civil disobedience by federal judges is both justified and required when two conditions are met: first, when an essential contradiction exists between stated ideals and ostensible justifications on the one hand and how people are actually living and actually being treated on the other; and second, when such a contradiction is not likely to be exposed and remedied as effectively by social movements or other means absent judicial intervention. The ways in which America treats its criminal defendants and its prisoners satisfy both of these conditions, and the Ninth Circuit should have refused to apply the statute. It should have reversed Marion Hungerford's sentence.
Yep.
So there you have it.
Your Honors….Time to take it to the streets.