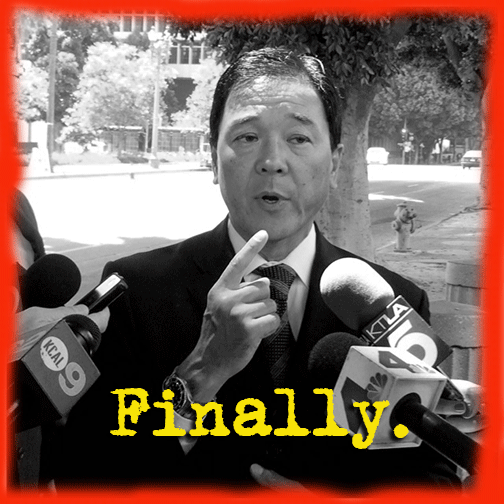 The indictment of Paul Tanaka, the former undersheriff of the Los Angeles Sheriff's Department, and the man that many considered the shadow sheriff during the last years of Lee Baca's time in office, will be announced at a 9 a.m. press conference Thursday at the federal building, according to sources. Former LASD Captain Tom Carey will also reportedly be indicted and is expected to self-surrender Thursday morning.
Although the FBI has reportedly been investigating Tanaka on a number of fronts over the last couple of years, Thursday's unsealed indictment is expected to pertain to an elaborate scheme of hiding of FBI informant Anthony Brown from his federal handlers, and related actions—a scheme that has already resulted in convictions of seven former department members for charges of obstruction of justice.
Tanaka and Carey testified at both of the trials that resulted in the seven previous obstruction convictions (all of which are being appealed to the 9th Circuit Court of Appeals, with hearings to take place next fall). Although, on the stand, Tanaka in particular disavowed specific knowledge and oversight of the hiding of Brown. Yet the testimony of others made it hard to see him as the distant supervisor who never asked his underlings about details, whom he attempted to portray himself to be. Carey too, as the head of ICIB, the department's unit for investigating internal criminal matters, appeared to be assigning many of the components of what came to be unofficially called Operation Pandora's Box.
Both men admitted on the stand at the earlier trials that they knew they were the "objects" of a federal criminal investigation.
More after the press conference.