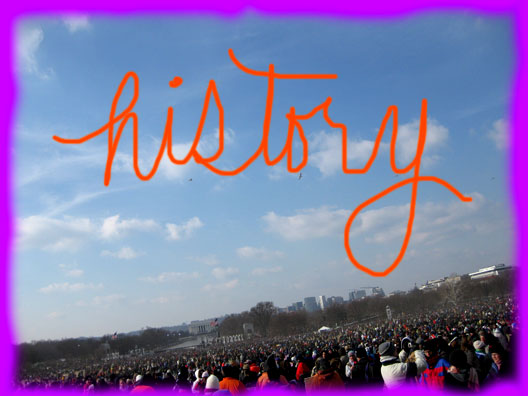 Two million people–actually more, I'm sure of it—were in it together.
On Tuesday morning, my friend and I took the Metro part way to the National Mall but, by Dupont Circle, we decided it was best to get out and walk.
The walk had its own extraordinary nature. For block after block on each of the streets that radiate out from the mall, hundreds of thousands of people strode together with steady optimism. This went on for hours, I've never seen anything like it. Ever. Not even close.
There was also the New Best Friend factor. It seemed that everyone one met Tuesday morning—on the metro ride, on the long walk to the mall, on the mall itself—was automatically a friend, a temporary family member, a companero.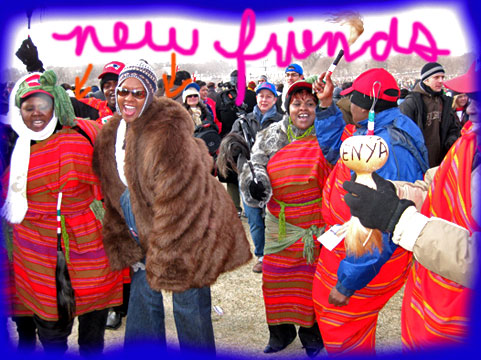 The crowd's delirious cheer was also part gasp when the new President-to-be finally became visible on the JumboTrons and began his walk into history, his expression at once dignified, emotional, fully-conscious of the moment.
As for Barack's inaugural speech, some thoughts:
More than any other president within memory, Barack Obama has a deep understanding of the power of words to inspire, motivate and heal. As I've mentioned here with boring frequency, prior to being in DC, I spent the last ten days in the company of two hundred writers at Bennington College. And, among writers, there is the strong feeling that, "Hey, this guy's one of us." In other words, Barack is not just an exceptionally smart man and an avid reader, he is a writer.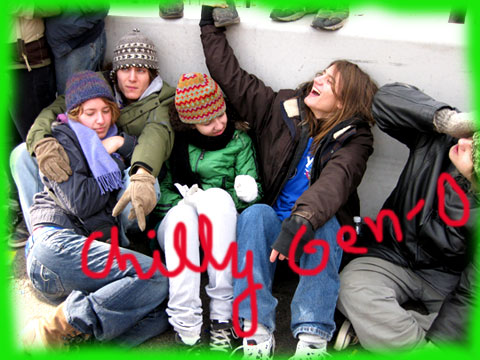 So as I listened to the sobering and moving content of Obama's speech from my cold windy perch near the Washington monument, amid a sea of expectant humanity, I found myself noting things like his word choices.
I noticed, for example, how often the man used nice, strong, active verbs, just the way we hector our writing students to do.
He told troublesome world leaders that America will "extend a hand if you are willing to unclench your fist." And "…know that your people will judge you on what you can build, not what you destroy."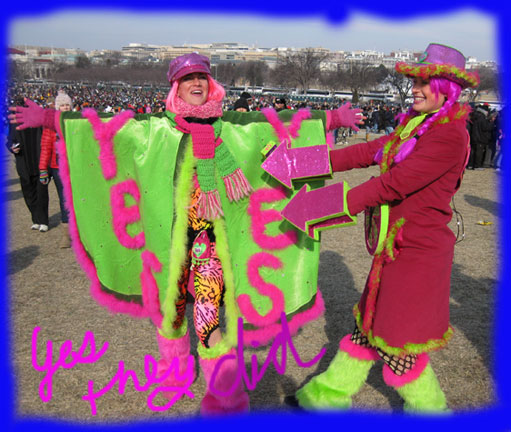 He talked about a "firefighter's courage to storm a stairway filled with smoke."
I also noted the symphonic structure of Obama's speech, with repeating refrains and well-orchestrated rises and falls in emphasis and intensity. To pick one example:
"Our challenges may be new. The instruments with which we meet them may be new. But those values upon which our success depends – hard work and honesty, courage and fair play, tolerance and curiosity, loyalty and patriotism – these things are old. These things are true."
The word patterns are poetic….new…new…old …true. As the speech moves along, the ideas build on one another until they acquire the rhythmic heft of a church hymn, full of major chords.
Although Obama's speeches tend toward the elegiac, he's also terrifically skillful at finding phrases that will draw people in and make us, as listeners, feel that we are all a part of something.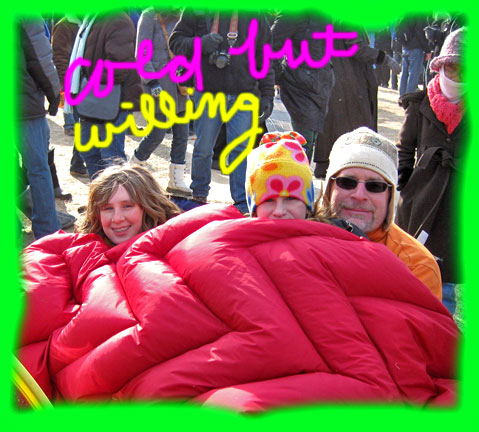 It is the kindness to take in a stranger when the levees break, the selflessness of workers who would rather cut their hours than see a friend lose their job which sees us through our darkest hours. It is the firefighter's courage to storm a stairway filled with smoke, but also a parent's willingness to nurture a child, that finally decides our fate.
This is the kind of rhetoric he will need if he is to get us working together to make the changes this country needs so badly.
(Here are some other writers' takes on the speech via Susan Salter Reynolds.)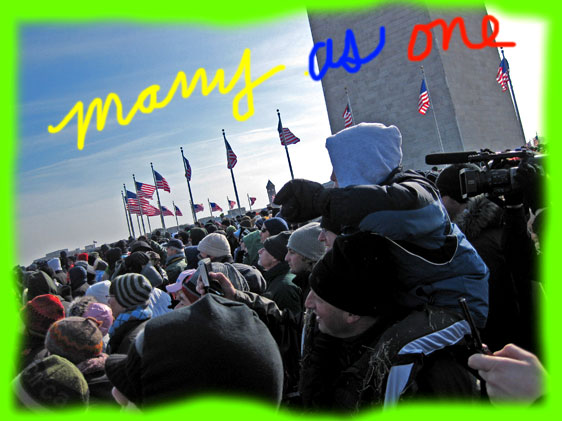 By the way, all the poets with whom I spoke were thrilled by Obama's choice of Elizabeth Alexander to write a poem for the inauguration. Sadly, however—but perhaps understandibly, given the windchill—on the national mall, the crowd began dispersing the minute Obama's speech was over. They failed to wait for Ms. Alexander's lovely poem. I could only assume that nobody standing near to me was a writer. Writers would never have left before the poet, windchill be damned.
This morning, Wednesday, the real work begins—and the challenges, as we all know, are well beyond daunting. But for one very cold Tuesday in January, it was pretty much all joy.