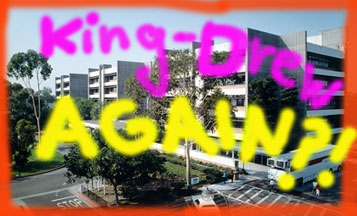 Last year, scandal-ridden King-Drew Medical Center had its staff and services slashed, was put under the management of another, more successful hospital, and was renamed as Martin Luther King Jr-Harbor—all in the hope of saving the facility that, for all its troubles, is crucial to many South LA communities
But did it get better?

Last week a story broke in the LA Times about a woman named Edith Isabel Rodriguez who was writhing in pain on the floor of the emergency room at Martin Luther King Jr. Harbor hospital, but no one treated her. She died on the ER linoleum.
MLK hospital and county officials insist that the woman's death, while a tragic situation, was not in the least typical of the newly reformed MLK. "It's not systemic," they said.

Yet I happened upon another MLK-Harbor hospital story that occurred two months before Rodriguez died. It suggests otherwise.

The story is running in this week's LA Weekly. But here are a few excerpts…
NOTE: The man in the story, Juan Ponce, was first brought into the hospital by blinding headaches.
…..in late February, Ponce understood he was in trouble. Barely able to walk, he asked his brother to drive him to the nearest emergency room — Martin Luther King Jr.–Harbor Hospital, a sprawling facility on South Wilmington Boulevard south of the 105 freeway.
…..Ponce and his brother arrived at MLK's emergency room sometime after 10 a.m. on Wednesday, February 28. After explaining Ponce's symptoms to a triage nurse, the men waited about three hours before he was ushered into an examining room where, after a quick assessment, a doctor ordered an MRI and a CT scan to find out what was going on in Ponce's head.

When the tests came back, two physicians met with Ponce and told him he needed surgery — but that the drastically staff-reduced MLK no longer performed the procedure, so he would be transferred as soon as possible. Whether it was because of the language barrier (Ponce is Spanish-speaking) or his woozy condition, Ponce at first didn't realize how bad the news was — that he had a brain tumor. Nor did he understand that while the tumor was serious, it was actually the least of his immediate problems.

The imaging showed Ponce was suffering from obstructive hydrocephalus — caused by the tumor blocking the circulation of cerebral-spinal fluid through his brain, like a landslide blocking a river. The blockage produced a buildup of fluid in his cranial cavity — a situation that can damage enough brain cells to cause irreversible blindness, loss of cognitive functioning, even death.

If caught early, obstructive hydrocephalus is treatable. But, with pressure on the brain, timing is everything. "The problem with the brain is that it's resting in an enclosed space," says Dr. Brian Johnston, the emergency department medical director for White Memorial Hospital in Boyle Heights, a 30-year ER veteran. "The liquid has nowhere to go. So the pressure continues to build unless it's relieved. Can it be fatal? Yes, of course it can be fatal."

Ponce's form of hydrocephalus is usually treated by drilling holes in the skull and inserting a ventricular catheter — basically a shunt and a tube (think siphoning gas out of a tank) to drain and reroute the fluid.

Since MLK no longer had the personnel necessary, the plan was to transfer Ponce to a better-equipped hospital as soon as possible.

But it never happened…….