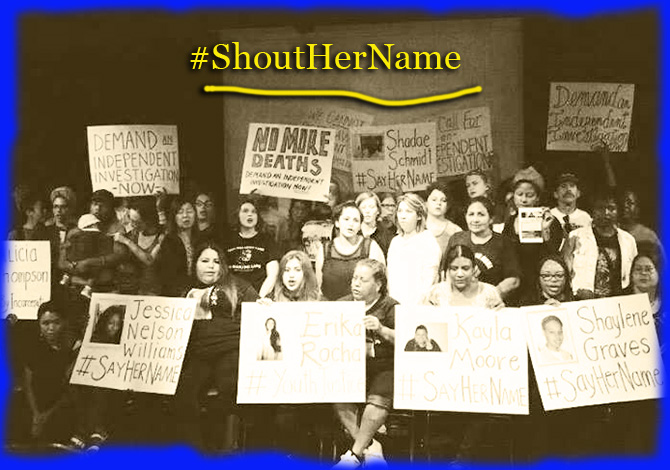 Cars full of protesters started showing up in the early afternoon on Saturday, October 1, in front of the California Institution for Woman, the Chino, California prison that this year has become best known for a plague of suicides and suicide attempts.
By 2:45 pm around 80 people had arrived at the vigil, many carrying signs, most of the demonstrators women themselves, some of them former inmates. Others were family members of inmates. Many wore T-shirts with the names of the prisoners who have died at their own hands at CIW. Some of the names were written, as has become the fashion, with hashtags: #ShayleneGraves #ErikaRocha #AliciaThompson #ShadaeSchmidt #StephanieFeliz #MargaritaMurugia #LauraAnnRamos #GuiFeiZhang…
Since the beginning of 2013, through this past summer, six women have succeeded in killing themselves at CIW. During that same period, there have been 73 serious attempts, according to the last figures from the California Department of Corrections, although advocate groups like the Coalition for Women Prisoners believe the attempt numbers are much higher. And the attempts themselves are often very serious indeed, like the hanging attempt last spring that reportedly put a woman in a coma.
The suicide rates at CIW are reportedly five times the state average, and nearly five times the national average for all female inmates in state prisons.
According to the vigil's organizers, the protesters had come to demand that the California Department of Corrections(CDCR) and CIW be "held responsible" for verbal abuse, sexual abuse, emotional isolation, unchecked bullying, neglect and unresponsive mental health care that prison advocates believe has allowed so many deaths—and near deaths—in CIW custody to occur.
(In August, former imate DeEtta Williamsfiled a lawsuit alleging daily sexual abuse by a guard for six months during her stay at CIW.)
"I don't want any other family to go through what my family has gone through," Freida Rocha told the smattering of reporters who came to cover the event. Freida Rocha's sister Erika Rocha, 35, killed herself in April right before the parole hearing that family members believed would lead to her release.
"My daughter's death will not go unanswered," shouted Sheri Graves, the mother of Shaylene Graves, who, at 27, was found hanging in her cell on June 1, after pleading with officials for a "bed move," explaining that she was being unmercifully bullied. When she died, Shaylene Graves was due to be released in six weeks after having served an eight-year sentence.
"We are here to make sure the world hears their cries," Sheri Graves said to the crowd. "Their lives matter and they will not die in prison."
State Sen. Connie M. Leyva, D-Chino, has called upon the state auditor to look into suicides in the troubled prison.
WLA has reported on CIW and the rash of suicides here and here. And be sure to check out stories by the LA Weekly's Hillel Aron, who has been doing an excellent job following this important issue.
---