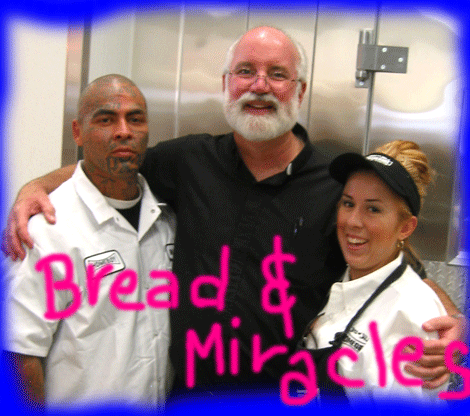 Nothing is simple. I hear that one of our poets from the Homeboy Stories Project has been arrested. A DUI, I think. And another young man I know from Homeboy Industries, a guy who's been to hell and back and come out the other side, has started using again. I could have sworn he was in the clear. He was so devoted to his kids. So proud of himself. But right now it seems his demons are stronger.

Yet in the eighteen years I've been around to watch, at Homeboy Industries the victories have far outweighed the heartbreaks. The dark is always, always outweighed by light.

A different-than-usual take on some of Homeboy's victories is outlined in a very nice article in today's New York Times—in the Business section (of all places). Here's how it opens:
IN Los Angeles, a corporation that runs several small businesses is demonstrating that the training and discipline of working in a small company can make a big contribution to changing the lives of former gang members.

The corporation, Homeboy Industries, runs a silkscreen business, for example, that produced revenue of $1.1 million last year from sales of custom T-shirts and other apparel for radio stations running promotions and college and private groups holding events. The business employs former gang members to make the T-shirts and uses the money to help offset the corporation's expenses. Homeboy Silkscreen started 12 years ago in a converted warehouse under a freeway overpass near downtown Los Angeles and now has 18 employees.

Homeboy Bakery has a new plant that has $3 million in ovens and machinery and its managers hope to produce millions of dollars in revenue within a year or two, said the master baker, Alvaro Ocegueda. He supervises 25 former gang members who have become bakers under his guidance and with professional training at Los Angeles Trade-Technical College, a two-year community college.

There is also a Homegirl Café, that has a staff of 27 girls who were "gang impacted" either as auxiliary gang members or as residents of neighborhoods under gang influence. The cafe has brought in more than $220,000 in five months of serving breakfast and lunch six days a week, said Patricia Zarate, who cooks for and manages the business.

Homeboy Maintenance takes in about $6,000 a month, and a Homeboy retail store sold $25,000 in Homeboy shirts and caps in a recent three-month period.

Though it may sound like a budding conglomerate, Homeboy is a nonprofit charitable corporation that last year had a budget of $5 million and goals that emphasize rehabilitation over revenue.
Read the whole thing. It's a good piece and it's nice to see our homegrown program recognized by those east coast folks. (Especially after the loathsome little fact-free mudballs thrown by Paul White last week with Steve Lopez' help and cooperation.)
In a tangentially-related matter, today the LA Times has an interesting Op Ed about economics and crime trends—and how to counteract the affect of a tanking economy on the crime rate.