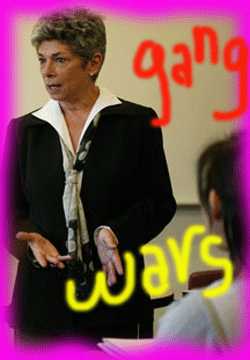 In this morning's LA Times, Tim Rutten has a worthwhile, if somewhat unorganized column in which he talks about the fact that law enforcement alone can't solve the gang problem (which everyone with any sense, including our police chief and our sheriff, has been saying for years).
But Rutten has another point to make. He writes that, although two city-commissioned reports (each costing megabucks) have told us in detail what kinds of gang intervention and prevention strategies the city ought to be supporting for maximum effectiveness, due to political squabbling and turf battles among city officials, nobody's very likely to convert the recommendations into action anytime in the near future.
(At least that's generally what he said. Rutten's column was littered with some strange analogies that, at moments, tended to muddy his thesis.)
Here are a few clips.

Gang violence is to Los Angeles politics as the weather is to conversation: Everybody talks about it, and nobody ever does anything about it.

Policing occasionally provides a temporary surcease, [surcease???] as it did last week when a drive-by murder next to a grammar school playground and a subsequent shootout between heavily armed gunmen and Los Angeles Police Department officers paralyzed parts of two neighborhoods northeast of downtown for hours. Early Wednesday morning, a police sweep apprehended 19 alleged gang members and seized guns and drugs.

But though the department is willing to take on gang violence where it becomes particularly virulent, treating this solely as a policing issue is a bit like asking the overextended, understaffed LAPD to engage in an endless game of Whac-a-Mole.
[SNIP]
Every few years, our political establishment runs out of ways to look away and begins demanding another study, a fresh approach, a new initiative. First came an assessment of Los Angeles' anti-gang efforts commissioned by the City Council and written last year by civil rights attorney Connie Rice.

She's one of those civic activists who is both principled and shrewd, but the report is a dead letter. It's more than 100 pages long and demands new programs by the carload.
[SNIP]

Meanwhile, City Controller Laura Chick this month issued her own audit of ongoing anti-gang efforts. She doesn't see a need for any new funds, but she wants to reallocate money from some programs and consolidate all of them under a single anti-gang czar, who would report directly to Mayor Antonio Villaraigosa. He likes the idea, as do Gov. Arnold Schwarzenegger and Police Chief William J. Bratton.

Chick's proposal, however, is unlikely to go any further than Rice's because it's opposed by Councilman Tony Cardenas, who chairs the Ad Hoc Committee on Gang Violence and Youth Development.
Ironic that good gang policies are falling victim to bickering about who controls what "territory" between the supposed adults.

Anyway, read the rest here.