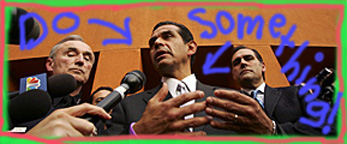 Yesterday evening, I was on Warren Olney's radio show, "Which Way LA" talking—- along with Civil Rights Attorney Connie Rice, LA City Controller Laura Chick, and Matt Szabo from the mayor's office—about what the City of LA is and isn't doing about gang violence.

(Here's the link for either podcasting or simply listening on your computer.)

To me the most revealing moment in the half hour show was when Warren asked Szabo when the mayor was going to name his promised gang czar—and Szabo fumfered a little then said "He'll be named soon." Or words to that effect. The curious part of this statement was that it was gender-specific. Szabo said "he." I suspect it was a slip—but a revealing one. It tells us that, while the mayor may or may not have already decided who his gang person is going to be, he has definitely decided who it's NOT going to be: Connie Rice—the person who is probably, hands down, the most capable.
Pity.