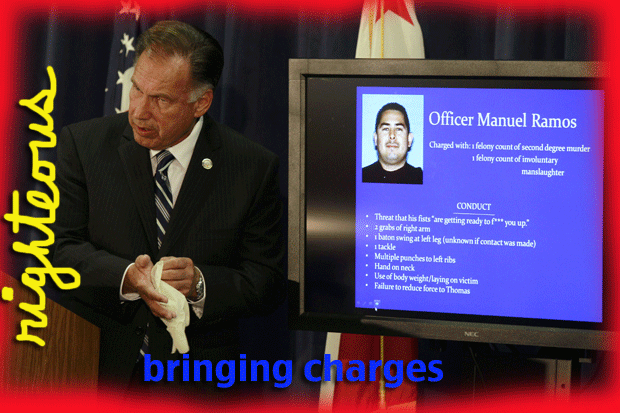 TWO FULLERTON POLICE OFFICERS CHARGED, ONE WITH MURDER, IN DEATH OF KELLY THOMAS
This is from the LA Times with multiple staffers working the story, most particularly Abby Sewell, Richard Winton and Scott Gold.
Here's the opening:
Two Fullerton police officers charged in the death of a homeless man made their first court appearance Wednesday afternoon, and one was set to be released on bail.

Orange County Dist. Atty. Tony Rackauckas took the unusual step of appearing in person for the arraignment of Officers Manuel Ramos and Jay Cicinelli, who are charged in the death of Kelly Thomas, 37. Thomas' father, Ron, also spoke out at Rackauckas' request during the arraignment.

Cicinelli pleaded not guilty to charges of involuntary manslaughter and the use of excessive force. He posted $25,000 bail and was slated to be released Wednesday.
The LA Times editorial board rightly praised OC DA Tony Rackauckas in the Kelly Thomas case for "conducting a thorough yet timely investigation into a homeless man's death at the hands of Fullerton police officers.."
In a separate article LAT's reporters Richard Winton and Abby Sewell write about how DA Rackauckas told those at a news conference how Kelly Thomas had begged for his life only to be pummeled and tased further.
Rackauckas gave a painfully detailed narrative of the July 5 events leading up to Thomas' death -– details that he said resulted in second-degree murder and manslaughter charges being filed against two police officers.

Rackauckas said Officer Manuel Ramos put latex gloves on his hands and brandished a fist at Thomas. Then, Rackauckas said, the officer, in a "menacing" manner, threatened Thomas: "These fists are ready to F you up."
The OC Weekly's reporter Scott Moxley, who has been extremely critical of the Orange County District Attorney over the years, reported that the press conference was Rackauckas's "finest moment."
At today's press conference, the DA seemed to finally fit the job, both in terms of decision-making and style. He didn't stutter. He didn't pause for an inordinate amount of time to think up dubious answers. He didn't run from hard questions. He didn't use cheap props. He was clearly comfortable and in command. There's no doubt he believes the severity of the charges are justified.

"In Orange County, we generally trust our law enforcement and with good reason," he declared. "[But] all people in this great country of ours have a constitutional right to be free from the imposition of unlawful and excessive force under the color of law…"
NBC said that Rackauckas may try the case himself, and is now listed as the attorney of record. Much of the press conference may be viewed here.
EXCELLENT STORY ON THE DIFFICULTIES OF BRINGING CHARGES AGAINST POLICE OFFICERS
Read this article by LA Times' reporter Jack Leonard.
Here's a clip:
Murder charges against on-duty police officers — such as the one announced by Orange County prosecutors in the Fullerton beating case — are rarely filed, and successful prosecutions in such cases are almost unheard of in California.

Legal experts said jurors who are naturally sympathetic toward law enforcement are not easily persuaded that an officer has committed the ultimate crime, even after seeing video of the death.

Ira Salzman, who has represented police officers, said defense attorneys in Orange County will have the added benefit of jurors who look favorably toward law enforcement and can make a forceful argument that police had the legal right to use force against a non-complying suspect.

Investigators interviewed more than 150 witnesses, analyzed video and reviewed stacks of documents as part of an intensive 11-week investigation leading up to the decision to charge Officer Manuel Ramos with second-degree murder in the July 10 death of a mentally ill homeless man.

But to obtain a murder conviction, Orange County prosecutors will have to convince jurors that Ramos intended to kill Kelly Thomas or acted with a conscious disregard for life.
---
COINCIDENTALLY, TWO MD POLICE OFFICERS WERE INDICTED TUESDAY FOR A BEATING OF A U OF MARYLAND STUDENT CAUGHT ON VIDEO
The Washington Post has that story.