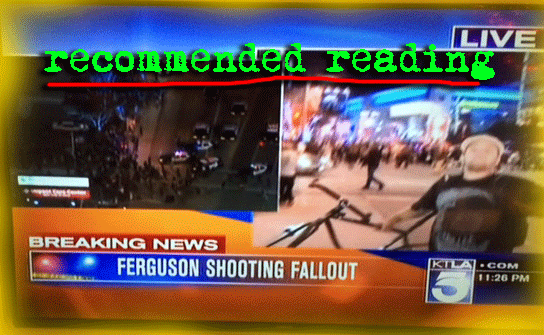 We will have lots of other news after the Thanksgiving weekend, but today we are focusing on Ferguson.
THE PROBLEM WITH BOB MCCULLOUCH'S GRAND JURY PROCEEDING
Instead of charging Darren Wilson with a crime and initiating standard criminal procedure that would likely have allowed a trial jury to find Wilson guilty or not guilty, St. Louis County Prosecutor Bob McCulloch made the highly unusual choices of opening a grand jury investigation into the fatal shooting of Michael Brown, and then dumping all gathered evidence in front of the jurors to consider without any overt guidance from a prosecutor—which was its own tacit communication.
The New Yorker's Jeffrey Toobin says that while a regular trial jury might have come to the conclusion that Wilson was not guilty beyond a reasonable doubt, Wilson should not have received the "special treatment" of a grand jury combined with an unprecedented and undifferentiated evidence dump that seemed to overwhelm jurors. Toobin goes on to ask what would have happened if McCulloch had treated Wilson as any other suspect in St. Louis County. Here's a clip: Here's a clip:
In sending Wilson's case to the grand jury, McCulloch technically turned over to them the decision about whether to prosecute. By submitting all the evidence to the grand jury, he added to the perception that this process represented an independent evaluation of the evidence. But there is little doubt that he remained largely in control of the process; aggressive advocacy by prosecutors could have persuaded the grand jurors to vote for some kind of indictment. The standard for such charges—probable cause, or more probable than not—is generally a very easy hurdle. If McCulloch's lawyers had simply pared down the evidence to that which incriminated Wilson, they would have easily obtained an indictment.

The grand jury chose not to indict Wilson for any crimes in connection with Brown's death. In a news conference following the decision, McCulloch laid out the evidence that he believed supported the grand jury's finding. In making the case for Wilson's innocence, McCulloch cherry-picked the most exculpatory information from what was assembled before the grand jury. The conclusion may even have been correct; based on a preliminary review of the evidence before the grand jury, it's not clear to me that a trial jury would have found Wilson guilty beyond a reasonable doubt.

But the goal of criminal law is to be fair—to treat similarly situated people similarly—as well as to reach just results. McCulloch gave Wilson's case special treatment. He turned it over to the grand jury, a rarity itself, and then used the investigation as a document dump, an approach that is virtually without precedent in the law of Missouri or anywhere else.
The Washington Post's Dana Milbank slams McCullough and his "joke of a grand-jury proceeding." Here are some clips:
What causes the outrage, and the despair, is the joke of a grand-jury proceeding run under the auspices of McCulloch, the St. Louis County prosecutor. In September, I wrote that it appeared he wasn't even trying to get an indictment; he had a long record of protecting police in such cases, and his decision not to recommend a specific charge to the grand jury essentially guaranteed there would be no indictment.

When McCulloch announced the inevitable result Monday night, he prefaced it by blaming the press and social media for whipping up emotions in the case with inaccurate information. He went on to ridicule witnesses who had given inconsistent testimony. He hid behind the grand jurors, as if he hadn't orchestrated their decision with the finesse of conductor Christoph Eschenbach: "Anyone suggesting that somehow it's just not a full and fair process is just unfair to these people" who "gave up their lives" to deliberate.

McCulloch essentially acknowledged that his team was serving as Wilson's defense lawyers, noting that prosecutors "challenged" and "confronted" witnesses by pointing out previous statements and evidence that discredited their accounts. "Physical evidence does not change because of public pressure or personal agenda," McCulloch lectured piously. "Physical evidence does not look away as events unfold."

[SNIP]

Asked Monday night whether he had any regrets about the way he handled the case, McCulloch replied, "No, not at all." This shouldn't be a surprise, given McCulloch's history. That his father, a police officer, was killed by a black suspect doesn't by itself disqualify him, but his record should have: not a single prosecution of a shooting by police in his 23 years on the job. Four times he presented evidence to a grand jury in such a case and didn't get an indictment; now he can add a fifth.
An NY Times editorial lays out the context of the Ferguson riots—from McCulloch's mistakes to citizens' mistrust of law enforcement officers. Here's how it opens:
The St. Louis County grand jury's decision not to indict the white police officer who in August shot and killed Michael Brown, an unarmed black teenager, would have generated widespread anger and disappointment in any case. But the county prosecutor, Robert McCulloch, who is widely viewed in the minority community as being in the pockets of the police, made matters infinitely worse by handling this sensitive investigation in the worst possible way.

First, he refused to step aside in favor of a special prosecutor who could have been appointed by Gov. Jay Nixon of Missouri. He further undermined public confidence by taking a highly unorthodox approach to the grand jury proceeding. Instead of conducting an investigation and then presenting the case and a recommendation of charges to the grand jury, his office shifted its job to the grand jury. It made no recommendation on whether to indict the officer, Darren Wilson, but left it to the jurors to wade through masses of evidence to determine whether there was probable cause to file charges against Officer Wilson for Mr. Brown's killing.

Under ordinary circumstances, grand jury hearings can be concluded within days. The proceeding in this case lasted an astonishing three months. And since grand jury proceedings are held in secret, the drawn-out process fanned suspicions that Mr. McCulloch was deliberately carrying on a trial out of public view, for the express purpose of exonerating Officer Wilson.
---
DARREN WILSON'S TESTIMONY
The New Yorker's John Cassidy gives a good summary of Darren Wilson's grand jury testimony. Here's a clip:
At this point, Wilson testified, Brown "grabs my gun, says, 'You are too much of a pussy to shoot me.'" Brown then pushed the gun down toward Wilson's thigh, the officer went on, and a pulling match ensued, during which Wilson twice tried to shoot the gun, but it didn't go off. Eventually, it did, blowing out one of the windows and drawing blood from somewhere on Brown's body. The gunfire startled both of them, Wilson said. Brown took a step back, and then looked up at him with "the most intense aggressive face. The only way I can describe it, it looks like a demon, that's how angry he looked. He comes back towards me again with his hands up."

Wilson tried to pull the trigger again, he testified, but the gun again failed to shoot, and Brown struck him. Wilson racked the slide on the top of his pistol and squeezed the trigger yet again, this time successfully. "When I look up, I see him start to run, and I see a cloud of dust behind him. I then get out of my car. As I'm getting out of the car, I tell dispatch, 'Shots fired, send me more cars.'"

Obviously, questions can be raised about the accuracy of this account, which Wilson prepared in conjunction with his defense attorney. But even assuming it's true, what stands out is that once the second shot had been fired and Brown had started to run, he no longer represented a deadly threat to the officer or to anybody else. He was a large, bleeding, unarmed man running down the street in an attempt to get away. Wilson, who chased after Brown, was the one with the deadly weapon.
The Root's Lauren Victoria Burke gives five points Darren Wilson makes in his grand jury testimony that are problematic and will likely come up again in a civil case. Here are two of the five:
3. Wilson testified that Brown handed cigars to his friend Johnson at the same time Brown was allegedly hitting Wilson in the face.

Johnson, who was with Brown the day of the shooting, told CNN in the days after Brown was shot that Brown passed him a handful of cigars as he ran away. But Wilson testified before the grand jury that Brown was punching him in the face with his right hand—the same right hand in which, Wilson told the grand jury, Brown held the cigars.

On Page 209 of his testimony, Wilson said, "When I start looking at Brown, first thing I notice is in his right hand, his hand is full of cigarillos."

Then, on Page 211 of the transcript, Wilson is asked, "Now, he was hitting you with what hand?" and Wilson answered, "I believe it was his right."

Wilson further testified that Brown freed his right hand by placing the cigars in his left hand and then handing the cigars to Johnson.

4. Wilson refers to Brown as "it" and says that he looks like "a demon."

"The only way I can describe it, it looks like a demon, that's how angry he looked. He comes back towards me again with his hands up. At that point I just went like this, I tried to pull the trigger again, click, nothing happened," Wilson testified.

It's interesting that Wilson referred to Brown as "a demon" and then acknowledged that Brown had his "hands up."
The NY Times' Juliet Lapidos has some interesting things to say about how Wilson viewed Brown. Here's a clip:
Much has been made of the fact that Mr. Brown was 6-foot-4 and weighed roughly 290 pounds. Mr. Wilson, though, is not a small guy: He's also 6-foot-4, and about 210 pounds.

But let's give the officer the benefit of the doubt. Let's say he was so genuinely scared that his fear distorted what was happening. Whether or not he committed a crime, as defined by a criminal justice system that tends to let cops off the hook, he shouldn't be carrying a gun. Someone who can let fear get the better of him—who sees a teenager like a super-villain—shouldn't have easy access to deadly force.
---
MORE ON THE DEMONIZATION OF MICHAEL BROWN
On To the Point, host Warren Olney talks with a number of guests about the Ferguson riots, the evidence and grand jury proceeding, and what the non-indictment means for the nation.
One of a number of guests was Delores Jones-Brown, of the John Jay College Center on Race, Crime and Justice. Jones-Brown (who comes on just before the 15-minute mark of the program) discusses the grand jury process, which she calls a "one-sided trial," and the demonization of Michael Brown. Here's a clip of the transcript:
…typically it's a secret proceeding, and evidence isn't given out. And I think, in this case, the evidence is given out for the purpose of convincing people who might be easily convinced—once you have demonized the victim—that that victim deserved the behavior that they received. And I don't think that it was not self-serving. I think it was a self-serving effort.

Olney: You said a couple of times that the victim was "demonized" not just before, but now in the process itself…What do you mean?

So, when the video footage from the Bodega where allegedly cigars were stolen (by someone I'm still not completely convinced was Michael Brown and his companion), that videotape was to indicate that this was a violent young man. So, when the officer, Wilson, then takes the stand and says to the grand jury that 'he looked demonic, or he was like a demon when he attacked me,' an otherwise incredible story—one that wouldn't easily be believed—becomes more believable, particularly for people who already have perceptions of young black men as dangerous and criminal. There was an emphasis on Michael Brown's size, so he's the large, scary young black man, and therefore he's dangerous, and he's going to act out like an animal, and that's why the officer had to shoot him.
Go take a listen.
---
MORE NEWS FROM FERGUSON
The AP and NPR have a combined story on the grand jury investigation, Darren Wilson's testimony, witnesses' testimonies, and the ongoing federal investigation, which Attorney General Eric Holder says will remain independent of the St. Louis investigation.
And, criticizing the grand jury process and decision, attorneys for Michael Brown's family say they will fight for federal charges to be brought against Darren Wilson, according to an AP update to the story.
Here's a clip from the AP section:
Attorneys for the family of Michael Brown are vowing to push for federal charges against police officer Darren Wilson.

They're also renewing their calls for peace, after a night of violent protests in which several businesses in Ferguson were burned to the ground.

The protests followed the announcement by prosecutors that a grand jury had decided not to indict Wilson in the fatal shooting of the unarmed black 18-year-old.

Speaking to reporters Tuesday, the attorneys said the grand jury process had been rigged from start to finish in order to clear Wilson in the shooting death. They criticized the types of evidence the prosecutor presented, as well as the way it was presented and the timing of the grand jury's decision. (Scroll below to see details of the evidence.)
And here's a clip from NPR's update from AG Eric Holder:
Attorney General Eric Holder says "far more must be done to create enduring trust" between police and communities they serve, even as his Justice Department continues to investigate possible discriminatory police actions in Ferguson, Mo.

Civil rights lawyers at Justice working alongside FBI agents have also been examining whether white officer Darren Wilson intentionally violated the civil rights of 18-year-old Michael Brown, the unarmed black man he shot dead Aug. 9.

Proving that Wilson, who was cleared Monday by a St. Louis County grand jury, violated federal criminal law will be difficult, DOJ veterans say.

But in the aftermath of the local grand jury announcement, Holder insisted the federal probe of the policeman is ongoing and independent of St. Louis prosecutors.

"And although federal civil rights law imposes a high legal bar in these types of cases, we have resisted forming premature conclusions," Holder said.
---
THE MARIJUANA IN MICHAEL BROWN'S SYSTEM
Reason's Jacob Sullum takes a look at the misleading picture prosecutors tried to paint about how much marijuana Michael Brown had in his system and what effects it might have had on his behavior. Here's a clip:
Kathi Alizadeh and Sheila Whirley, the assistant county prosecutors who presented evidence to the grand jury, did what they could with pot, raising the possibility that Brown had smoked enough to experience "paranoia," "hallucinations," and maybe even a "psychotic episode." They planted that idea in jurors' heads mainly by presenting a toxicologist's misleading testimony about the amount of THC in Brown's blood and the possible effects of large doses.

The toxicologist testified that Brown's blood contained 12 nanograms of active THC per milliliter, a level that he said indicated Brown had consumed cannabis in the previous two or three hours. That contradicted testimony by Dorian Johnson, the friend who was with Brown when Wilson shot him. Johnson, who said he was with Brown all day, testified that they had planned to get high (hence the cigarillos that Brown stole from a convenience store) but never got around to it. Despite the blood test results, Johnson could be telling the truth. Daily marijuana users have been known to register 12 nanograms or more when they get up in the morning, and they may even perform competently on driving tests at that level.

In a 2013 experiment sponsored by KIRO, the CBS station in Seattle, one volunteer, a medical marijuana user, tested at 16 nanograms when she arrived but nevertheless completed a driving course satisfactorily and continued to do so until she hit 58.8 nanograms. A subject in another 2013 experiment, this one sponsored by KDVR, the Fox affiliate in Denver, was already at 21 nanograms when he arrived, even though he had not consumed any marijuana that day, and reached 47 after he smoked some pot. He performed fine on a driving simulator at both levels.

Alizadeh noted that Colorado and Washington both have set five nanograms as the cutoff for drugged driving. But as the experiments by KIRO and KDVR indicate, that standard is highly problematic, treating many regular users as impaired even when they're not. The fact that Brown's THC level was "over twice" this arbitrary number, as Alizadeh emphasized, does not necessarily indicate he was too stoned to drive, let alone that he had consumed enough marijuana to precipitate a psychotic break.
---
READ ON…
By the way, St. Louis Public Radio has all of the evidence and a live blog on what's happening in Ferguson.
And for further reading, Andrew Cohen has a Ferguson news roundup over at the the Marshall Project.