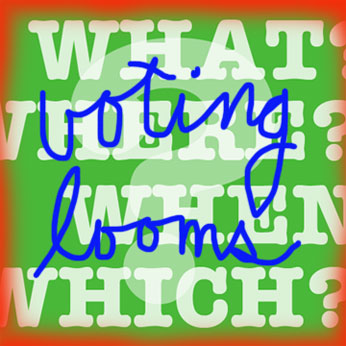 NEW STUDY SHOWS MORE WHITES USE WEED, BUT MORE MANY BLACKS ARE ARRESTED FOR IT
The LA Times has an editorial on the new study that shows that blacks are far more likely to be arrested for pot than whites—even though whites consume the stuff at a much more rapid clip. For instance, in LA blacks are 7 times more likely to be arrested for pot; in Pasadena and Inglewood, 12 times more likely.
The glaring disparity has gotten the NAACP and the National Black Police Association—among others— to support Prop 19.
However, the LAT editorial board harrumphs that it's still not enough of a reason to pass the measure.
---
IF PROP 19 PASSES, HOW WILL CALIF. LOOK THE DAY AFTER? (LEGALLY SPEAKING)
Julia Dahl of the Crime Report has a snapshot of what post-Prop-19 changes will and won't take place, should the measure win.
Here's the opening:
One week from tomorrow, the nation's most populous state may decriminalize marijuana. Polls indicate that California's Regulate, Control and Tax Cannabis Act of 2010, otherwise known as Proposition 19, is supported by between 39 and 44 percent of likely voters.

But even if the proposition becomes law, California's 338 separate police departments and 58 county sheriffs are likely to have the final word.

Several of the state's law enforcement authorities, such as Los Angeles County Sheriff Lee Baca, have already signaled they will continue to enforce federal laws against possession and cultivation of marijuana—no matter what happens.

"You're going to have massive confusion," predicts Rodney Jones, Chief of Police in Fontana, California, a city of 200,000 located 50 miles east of Los Angeles.
---
NINTH CIRCUIT REQUIRES AZ TO FOLLOW THE CONSTITUTION, ET AL (AGAIN) WHEN IT COMES TO VOTING REQUIREMENTS
Tuesday, the 9th Circuit Court of Appeals invalidated much of Arizona's 2004 Proposition 200, which required proof of citizenship in order to register to vote.
A legal ID will do fine, said the court. Here's a clip from the Arizona Daily Star:
The split decision by a three-judge panel determined that the requirement to show proof of citizenship — passed by voters in 2004 — is not consistent with the National Voter Registration Act.

[SNIP]

The majority noted that Congress was well aware of the problem of voter fraud when it passed the voter act, and built in sufficient protections, including applying perjury penalties to applicants who lie about their eligibility.

The court determined Arizona's polling place photo identification requirement, however, is a minimal burden and does not violate the Equal Protection Clause in the 14th Amendment.
And, by the way, before anyone starts nattering about the liberality of the 9th Circuit Court of Appeals, one of the justices sitting on the three-judge panel (and one of the two who voted with the majority) was an Arizona-raised Republican girl named Sandra Day O'Connor.
---
WHAT MEG WHITMAN COULD HAVE DONE WITH THE $140 MILLION—INSTEAD
Steve Lopez has been having much too good a time with this, in case you've missed it.
---

SCOTUS IS WA-A-AAAY MORE BIZ-FRIENDLY THAN IN THE PAST, STUDY SAYS
Really? Ya, think? (cough) Citizens United (cough, cough)
Greg Stohr of Bloomberg has the story:
The U.S. Supreme Court is more business-friendly today than it was 25 years ago, according to a study conducted by a group that advocates for environmental safeguards and civil rights.

The study by the Constitutionality Accountability Center in Washington takes issue with comments by Justice Stephen Breyer in a Bloomberg News interview earlier this month. Breyer said business groups aren't doing any better than they have historically……..

"Justice Breyer's flat wrong in suggesting that the chamber has always done well before the court," said Doug Kendall, the Constitutionality Accountability Center's president. "The Supreme Court's modern pro-corporate tilt — and particularly its sharp ideological split in favor of the U.S. Chamber of Commerce — are relatively new developments, traceable to the court's current conservative majority."
By the way, the conservative-leaning justices haven't given us all the worst of our biz-oriented decisions. (Not that every business-centric decision is bad.) It was the liberal-leaning side of the court that handed us: Kelo v. City of New London. (Look up that fun puppy here, in case you don't remember.)
---
LA COUNTY TEENAGERS WEIGH IN ON THE ELECTION
LA's wonderful youth-driven publication, LA Youth, has a number of elections-related articles.
In one article, 15-year-old Aaron Schwartz decides to research both gubernatorial candidates to find out whom he would vote for (if he was old enough to vote). After his examination, he eventually does select a candidate, but finds himself uninspired by either.
When it comes to Prop. 19, in another article called The Lows of Getting High , a formerly-pot smoking teenager (the author withholds her name for reasons of privacy) talks about the negative effect weed had on her life.
---
GREG BOYLE'S TATTOOS ON THE HEART WINS SO CAL INDY BOOKSELLERS AWARD!
The Southern California Independent Booksellers (SCIBA) had their big awards dinner Saturday night and gave out six awards. Father Greg Boyle's luminous and unforgettable "Tattoos on the Heart" won first in the nonfiction category. (Wooo-hooo! And really, I'd feel that way even if I wasn't totally partisan.)
Other winners included, the marvelous Aimee Bender for fiction, and my pal David Ulin, as part of a trio who won for Art, Architecture and Photography.
The full list is below:
Children's Picture Book: "All the World" by Marla Frazee and Liz Garton Scanlon (Simon & Schuster)
Children's Novel: "This Book is Not Good for You" by Psuedonymous Bosch (Little, Brown)
Fiction: "The Particular Sadness of Lemon Cake" by Aimee Bender (Doubleday)
T. Jefferson Parker Mystery Award: "The First Rule" by Robert Crais (Putnam)
Nonfiction: " Tattoos on the Heart" by Father Gregory Boyle (Free Press)
Glenn Goldman Art, Architecture and Photography Award: "Los Angeles: Portrait of a City" by Jim Heimann, David L. Ulin and Kevin Starr (Taschen)
---
A SERIOUS NOTE ABOUT CARLY FIORINA
All good wishes for very quick healing to Carly Fiorina who was admitted to the hospital Tuesday morning for observation and treatment of an infection related to her reconstructive surgery in July. Fiorina was diagnosed with breast cancer in February 2009, and had a double mastectomy as part of her treatment.
I don't like Fiorina as a candidate, but facing the rigors of the campaign trail this soon after her various surgeries and treatments, ain't easy. I wish her a speedy recovery.