"Somebody Got shot right now….I Gotta Go, But I'm Not Gonna Go"
In a troubling 51-second YouTube video that reportedly has gone viral among members of the Los Angeles County Sheriff's Department, an on duty LASD deputy appears to deliberately ignore a "gunshot victim" radio call.
As the video opens, the deputy—who has been identified as 26-year-old Jeremy Fennell—lounges in what appears to be the driver's seat of his stationary patrol car talking on camera to a female friend when, all at once, his radio screeches to life, and the voice of an LASD dispatch operator puts out a call to Lakewood patrol cars about a 417, person with a gun.
Fennell, who works out of the department's Lakewood station, then tells the camera, "She can go F— herself, Okay?"
As the video proceeds it becomes clear that it is the voice of dispatch who can go F— herself.
"I want you, you, you, you," the deputy continues, mugging as he addresses his personal video camera.
Fennell then appears to glance at his squad car's video screen looking momentarily thoughtful. "…Somebody got shot right now," he says. "What the f—?"
He listens silently for a few more seconds. "Look," Fennell says finally. "I gotta go, but I'm not gonna go…because…you mad.
Next we hear a new male voice speaking on the patrol car's radio. According to department sources whom we asked to watch the video, this second voice would most likely belong to the deputy at the scene of the shooting, who is attempting to tell those responding where the suspect is located.
"Somebody's gettin'shot," Fennell says, speaking in a sing-song voice. "Oh we-e-ll!" He stretches out the syllables, then says it again. "Oh, we-e-ll!" And then back to the personal video. "….I wanna make things right with me and you…" Fennell says, and pouts extravagantly.
The video goes on in the same vein for another 18 seconds or so before cutting off. Toward the end of the recording the deputy indicates that he will see the girlfriend at 11 p.m. that night, likely indicating, we are told, that the incident depicted occurred while Fennell was working a PM shift of 2 p.m. to 10 p.m., or 3 p.m. to 11 p.m.
According to those whom we asked to watch the video, it appears very likely that Deputy Fennell was required to respond to the call out for the shooting—although they cautioned it was difficult to know for certain without knowing what additional information might have appeared on the radio car's computer screen. One source noted the sound of three fast beeps coming from the car's computer at around the 37 second mark, which means, he said, that Fennell was being
sent on some kind of call.
Whatever the case, Fennell's behavior must be sanctioned, said the working and retired sheriff's department members with whom we spoke about the video.
According to former LASD commander Robert Olmsted, at the least, Fennell's actions are a breach of law enforcement ethics. "You've just violated every tenet that made you raise your hand and swear to protect and serve," he said. "You're the antithesis of what every good law enforcement officer should be like."
Another retired supervisor agreed. "What I just saw on this YouTube video is arrogant and shameful," he said. But, he added, "if the incident occurred anywhere near his assigned area of responsibility and he truly delayed his response, it is a prima facia case of dereliction of duty."
When we asked a sheriff's department spokesperson Nicole Nishida about the video incident she told us that the department is aware of this video and is "thoroughly investigating" it. "Deputy Jeremy Fennell was relieved of duty on January 25, 2017 pending the outcome of an investigation," the LASD spokesperson said.
---
Another Investigation
After inquiring about the video, we heard through other department sources that Fennell is also being investigated for what appears to be a domestic abuse incident that was serious enough to cause his pregnant girlfriend to apply for and receive a three year restraining order against him, which was granted on February 23 of this year, and does not expire until February 23, 2020.
(WitnessLA has obtained a photo of the restraining order, which you can see below.)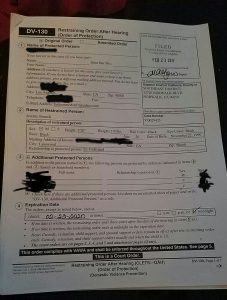 Although the department did not comment one way or the other on the domestic abuse allegation, for which WLA has obtained documentation (see below) showing that Fennell was arrested on January 25 of this year for an unspecified felony—which is also the day he was relieved of duty. He was subsequently booked on January 26, a Thursday, and was released that same day, presumably after his bail of $50,000 was paid.
Fennell's ex girlfriend, Priscilla Anderson, was granted her initial temporary restraining order six days later on February 1. Among other things, she alleges that Fennell pulled his service weapon and essentially made her a prisoner.
UPDATE: Following our publication of this story, Anderson spoke with ABC7 Eyewitness News and said more about the incident. "When I tried to leave," she said, "he would not allow me to leave. He did several things to me, like struck me on the neck, choking me out by the neck, destroying things in the house."
The arresting entity is listed as the department's Internal Criminal Investigative Bureau, or ICIB. Thus, it does appear the LASD is investigating Jeremy Fennell for something in addition to the video. Logic suggests that this additional investigation involves domestic violence.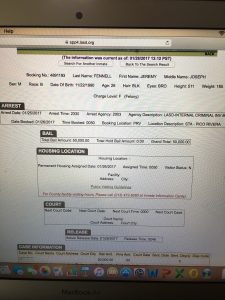 UPDATE: The department has since admitted that they are indeed investigating the domestic violence allegations against Fennell.
---
Two Generations
Ordinarily we tend not to run stories about a single deputy's bad behavior. Yet, following the recent federal conviction of former sheriff Lee Baca, we have concluded that it is important to keep an eye out for issues that may point beyond themselves to old toxic patterns in the LASD, left over from the period when favoritism, corruption, and a blind eye turned toward bad or brutal policing, too often ruled the day.
With this in mind, it may be relevant to note that Jeremy Fennell is the son of LASD Commander Joseph Fennell, who was known to be close to the notorious former undersheriff, Paul Tanaka. We have records of Fennell repeatedly donating money to Tanaka's campaigns for the office of mayor of the city of Gardena. We also have credible reports describing how Fennell insisted that those working under him donate a healthy chunk of cash to Tanaka's campaigns whether they supported the man or not.
We reported in the past about Joseph Fennell being sued for sexual harassment in 2013, by LASD lieutenant Angela Walton.
In Walton's legal complaint, she alleged that, as a part of Fennell's ongoing campaign to cajole/coerce/threaten her into having sex with him, the commander made references to power and influence he had acquired by running illegal errands during a two year period he served as Sheriff Lee Baca's driver.
Being the sheriff's driver sounds like an unimportant job. But as the LA Times' Cindy Chang reported in story on the topic, during the Baca years, it was anything but.
The civil jury decided against Walton's sexual harassment claims in a vote of 9 to 3. Yet, Fennell's admissions on the stand, plus trial testimony by members of the department upper management like Paul Tanaka, along with remarks made by jurors following their decision, suggested that, despite the verdict, unsettling questions still remain. (For more on the allegations and the trial look here and here.)
None of this, of course, says anything about Jeremy Fennell.
Yet, the issue of family members with connections brings up a related issue that deserves some examination.
---
High-Level Hiring Help?
In reporting this story, we heard from several department sources that when Deputy Fennell applied for his job with the LASD, he did not pass all of his background exams and investigations. Specifically, according to one source who did not wish to be named, he failed his psych exam. On its face, this is not all that unusual. We are told that many worthy candidates who have gone on to be fine department members failed the psych exam the first time through. In fact, there is a process by which an applicant may challenge the results, and then take the psych exam again. But this is a lengthy business that involves, among other things, paying for one's own new examiner, and the whole thing can take from six months to a year.
According to our source, however, Jeremy Fennell did not go through that official process. Instead, reportedly within two or three weeks of learning of the psych exam failure, through the help of certain powerful higher-ups, he was magically slotted into the next academy class.
If the reports about Jeremy Fennell's hiring circumstances are true, sadly they are not unusual for the general time period in which he applied–at least not according to an extensive LA Times investigation into highly questionable LASD hires, along with allegations of unsavory hiring practices made in the recently settled lawsuit brought against the department by former deputy Ban Nguyen. We also have a trusted source of our own who worked as a personnel examiner and told us specifics about being given orders—that reportedly came down from the LASD's top executives—requiring our ource to ignore any problematic issues in certain applicants' backgrounds, even those issues that plainly should have precluded hiring.
Was similar pressure brought to bear in Jeremy Fennell's case?
According to Robert Olmsted, the issue of Fennell's hiring is a crucial one for the department to investigate thoroughly and deeply. Higher-ups, he said, need definitive answers to the questions of "who brought him in and who approved it?"
And if it turns out there is some kind of issue of wrongful hiring, Olmsted said, the department needs to find out if it has "been able to plug the holes" that allowed such hirings in the not very distant past.
---
Postscript
Jeremy Fennell has been employed by the LASD since at least 2012, according to Transparent California, which also reported that, in the year of 2015, when he was 25-years old and had been on the job for only a few years, he made $136,386.31 in salary and benefits.