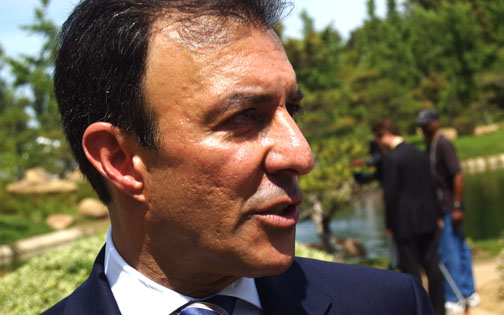 Triton to Water King: You're taking this all too personally
The last couple days have been busy here at L.A. Sniper headquarters. I've consulted with lawyers and plan to sue the Department of Water and Power's general manager, David Nahai, a.k.a. Water King, unless he turns over his water and electric bills by a week from Friday. He needs to accept his role as the man in charge of a very public agency and stop acting like he's back at his teensy Century City law firm, where he could rule by whim without regard to inconveniences like the California Public Records Act.
It's unlikely that Water King's image will suffer irreparable harm from the release of the bills for his Benedict Canyon palace. Sure, it might be embarrassing, and warrant a post or two in the blogosphere and a brief, at most, in the dailies. But whatever bad press ensues will fade and Water King can return to taking orders from the mayor and DWP's union boss without interruption. It's not like he was caught downloading porn.
I'm hoping that Water King can find rational voices to talk sense into him within the next 10 days and keep from blowing ratepayer money to pay for what should be my unnecessary lawsuit.
Here's the heart of my letter to Water King:
Water King:
I received your letter of June 13 in which you refused to release the requested documents that are so obviously public under California Government Code Section 6254.16 (e). I have consulted lawyers and intend to file a lawsuit to obtain this information if you do not provide it to me by 5 p.m. Friday, June 27, 2008.

As you know, the department would be on the hook to pay all of my legal fees associated with pursuing this successful case in court. Ratepayers deserve better than a general manager who takes requests like mine so personally, and digs in for a legal battle for which he has no basis.

My advice: Take a day or two to cool off from the mindset that produced your very personal letter of June 13. You need to heed the advice of public records experts, who, without exception, will agree that your water and electric bills must be released. In nearly three decades in journalism, I've rarely heard of instances where an individual official whose records are at issue responded personally to a California Public Records Act request. The government code clearly intends for your water and electric bills to be released to me because you are an "appointed
official with authority to determine the utility usage policies of
the local agency."

I hope you take my deadline extension until June 27 in the spirit of cooperation in which I make it. If you do not comply by the deadline, it will be abundantly clear to me that the only way to obtain the information is by suing you. As you know, the Public Records Act does not allow public officials to delay compliance with the law so that they can release information on their own terms. One additional request: Please set aside some time before the 5 p.m. June 27 deadline to review your bills with me so that I can fully get your side of the story, and understand your commitment to water conservation in Los Angeles.

Thank you for your prompt attention to this matter. I look forward to hearing from you.

Sincerely,
L.A. Sniper