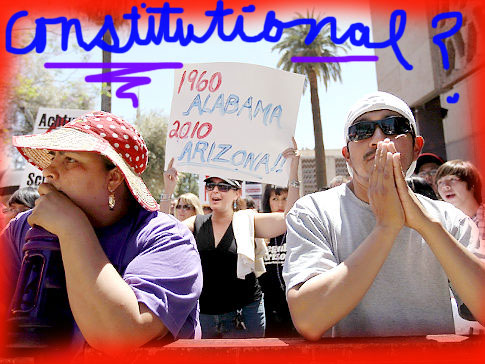 One of the topics that repeatedly came up on various nonfiction panels at the LA Times Festival of Books, and in casual conversation among the authors as they sat around talking between panels in the festival's "green room," was the news that Arizona's draconian new immigration bill had been signed into law on Friday by the state's governor, Jan Brewer. Much of the talk centered around the court fights that the law was going to trigger. [The full text of the bill is here.]
Over the weekend, the Arizona Republic addressed the issue of the court challenges that are readying for launch,
Here's the opening:
With Arizona's controversial immigration-enforcement bill now law, the battle will quickly shift from the state Capitol to the courts, where opponents plan to challenge it as an unconstitutional intrusion on federal authority and a violation of civil rights.

Proponents defend the legislation signed Friday by Gov. Jan Brewer as legally sound. But critics say the U.S. Constitution makes it clear that the federal government alone has the responsibility to enact and enforce immigration laws. Some fear other constitutional rights will be trampled through racial profiling and that vital federal money will be diverted from other national priorities.
Read the rest.