On Sunday, November 22, a store called 33rd Los Angeles had an event—a group art show— featuring nine nationally famous graffiti artists, one of whom was a 32 year-old star of the medium named Jason Williams, otherwise known as REVOK.
The store mainly retails high end graffiti supplies, including Montana paint, a graffiti-friendly brand made in Barcelona Spain.

Matt Stibbe, 33rd Los Angeles's owner, says that, while there are certainly taggers who buy at the store, his main clients are commercial artists and film and commercial production companies. These days graffiti art is used to sell almost anything.
And so is the work of REVOK. Here, for example, he was part of a three artist, six-city tour for Boost Mobile and Sprint.
"He's just starting to really reap the rewards of his skill," said Stibbe of Williams. "He's part of an artists' collective that has quite a few corporate clients and his work shows in galleries over the world. REVOK used to do a lot of street stuff. But, as far as I know, that's pretty much in the past for him."
Unfortunately, because of a little tagging-related tangle with the law last year out in Indio (not his first), Williams was on summary probation. And the terms of his probation were that he couldn't have any spray paint nor could he have the artistic accoutrements that go with the paint—tips and so on.
(And there was also that recent unpleasantness in Australia. But it's complicated, so let's skip it for now.)
In any case, it may have seemed logical from a judge's point of view, to forbid Williams the use of the tools with which he had broken the law, but it was also about as sensible—and achievable—as telling Kobe never to touch a basketball again or, maybe more aptly, telling a gifted hacker that he or she could never ever again touch a computer. Forbid all you like, but realistically, it just isn't going to happen.
For reasons that are not terribly clear (something having to do with something unwise he may or may not have said on his twitter acount—the LA County sheriff's deputies came looking for Williams on Sunday, I guess with the intention of searching him for tagger contraband as, due to the well-publicized event, they knew he'd be engaging in the activity forbidden to him, albeit by invitation in an otherwise legal commercial setting.
According to Stibbe, 15 or more cruisers circled the retail store's vicinity on Pico Blvd. West of La Brea, for most of the day, occasionally stopping patrons to ask if they were REVOK, or if they knew where REVOK was.
Eventually deputies succeeded in finding the actual REVOK around two-blocks away from 33rd Los Angeles. The officers searched him and found that Williams was carrying—quelle horreur—spray tips.
In short order, Williams was cuffed and arrested. Subsequently, sheriff's deputies searched Williams' home and found "hundreds of spray cans," LASD spokesman, Steve Whitmore told me.
(All involved were quite naturally shocked at this discovery.)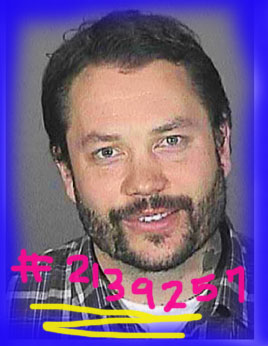 At Williams' house, Sheriffs also found a phony LAPD badge and a real detour sign. All the graffiti-related stuff was, at most, misdemeanor material. "But the DETOUR sign got him a receiving stolen goods charge," said Whitmore. "That's a felony."
Whitmore could not confirm or dismiss Stibbe's claim that 15 plus cars full of deputies had been involved in the take down of the tip-packing, sign-hoarding Williams.
But we did have a very nice, wide-ranging philosophical discussion about the sometimes fuzzy line between costly vandalism and real graffiti art—a line that REVOK has blurred with glorious skill and abandon over the years.
Williams' bail was set at $30,000. By the time that Whitmore and I talked Monday afternoon, he said he thought that REVOK had been bailed out.
---
Jason Williams booking photo courtesy of the LA County Sheriff's Department